WinZip for iOS Review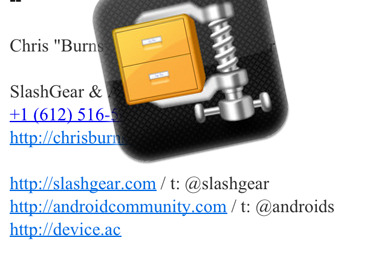 It's time to make the opening of ZIP files easy, finally, on the the iOS platform for iPhone, iPad, and iPod Touch. This application takes files that have been compressed with the .ZIP file extension and opens them up for you – but more than that, it's able to show you what's inside without you having to run the files in other applications. In the example we've got here, a simple image is sent in a .ZIP file through email, opened in the basic Mail app, and the image is previewed inside WinZip.
When you open WinZip for the first time, you get a set of instructions that you'll see below this paragraph. Because WinZip is an application that's supposed to work with you as an almost invisible tool, it's not something that you have to open from its icon to work with. You can toss it in a folder and forget about it, in fact, as the way you'll be working with it is through your basic pop-up menus anywhere you've got a ZIP file on your smart device.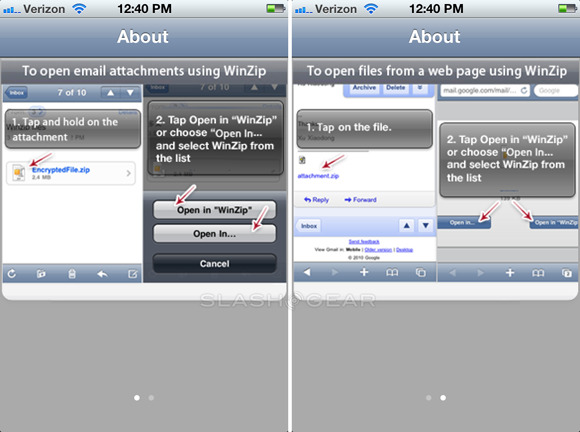 As you'll be able to see right away when you see your first ZIP file after you've installed the app, WinZip knows that you want to use it by default – you'll see the ZIP file take on the WinZip thumbnail image in all cases. It doesn't even ask you if you want to do this, in fact – it's sort of overly confident like that. It has a right to be, too, since what it's capable of doing is both simple and powerful – exactly what a utility app like this should be.
File types that can be previewed inside WinZip: .txt, .doc, .docx, .xls, .xlsx, .ppt, .pptx, .rtf, .pdf, .key, .numbers, .pages, .htm, .htm, .jsp, .bmp, .jpg, .jpeg, .tif, .tiff, .png, .gif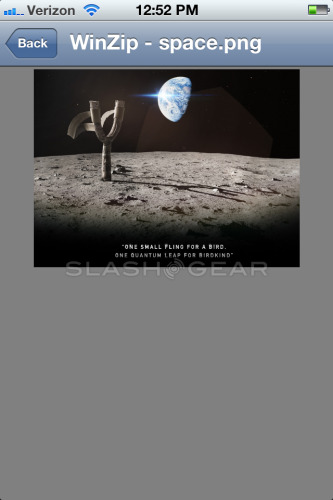 You can look at the individual files inside the zipped file, even if you wouldn't otherwise be able to read said file types (WinZip can read many, many things), and copy-paste works from ZIP files as well. Encrypted ZIP files can also be opened, and the whole darn thing is free. You can grab the WinZip application from the iTunes App Store right this second for no cost whatsoever – cheep!