Wine bottle thumb drive brimming with exclusive drink content

USB flash memory drives in bizarre shapes are nothing new, but with the exception of the U3 portable app suite preloaded content has always been a little underbaked.  A French wine company based in the tipple-friendly Bordeaux region is looking to change all that, however, with the release of the oddly-named Be Wine Connected: a bottle-shaped thumb drive complete with exclusive content about the drink as well as Open Cellar software to manage your own wine collection.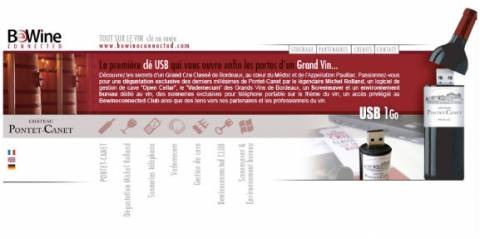 Shape aside, the memory stick has 1GB total capacity, half of which is taken up by the special content.  A custom launcher springs into action when you plug it in, giving access to wine tastings, ringtones, wallpapers for your computer, links to an online forum and more.
Of course, if you really love wine that much it's unlikely you'll be able to focus properly on the screen, but hopefully something like Be Wine Connected can at least ensure you're paralytic on good wine rather than bad.
It's priced at €35 ($50.24) plus shipping and tax.