Windows XP licencing extended to May 30th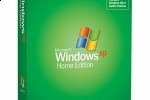 Windows XP has been granted another stay of execution, as Microsoft once again extend the licencing terms of their old OS.  Originally due to be axed on January 31st 2009, the company has now agreed to deliver licences up until May 30th; however orders for the OS still need to be placed by the January deadline.  The move is being seen as a response to OEMs stockpiling XP licences to offer either as downgrades from Vista or for installation on netbooks.
The new date will mean that XP licences have been shipping for sixteen months longer than Microsoft originally planned, with the initial retirement date being January 30th 2008.  Although exact sales figures are unclear, one common explanation for the platform's longevity is customer apathy toward Vista, launched early in 2007 but having come in for criticism ever since.
XP's position was secured, however, thanks to the sudden increase in popularity for netbooks, generally running Intel's low-power Atom 1.6GHz N270 processor.  These basic systems struggled with Vista, even in its most simple form, and so XP stepped in to take up the slack for those who preferred a more familiar alternative to Linux.  Earlier this month, several netbook manufacturers confirmed that Windows XP takes up to 90-percent of the netbook market.