90% of netbooks sold use Windows XP say Acer & Toshiba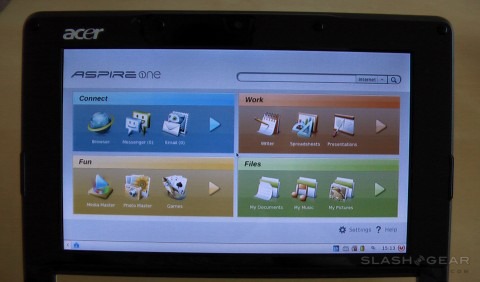 Acer and Toshiba have revealed that more than 90-percent of their netbooks – the Aspire One and the Satellite NB100 – are sold with Windows XP rather than one of the compact Linux builds that are offered on the budget ultraportables.  Dell, too, have confirmed that Windows XP sales have achieved similar dominance in netbooks as they have in the traditional PC space, while ASUS has shifted its Eee PC development priorities in response to the consumer demand.
In an email statement, ASUS suggested that Linux's early lead in netbooks was predominantly down to the limited availability of models running the Microsoft OS.  It would not, however, reveal the proportions of notebooks sold running Linux compared to those running XP.
"At the time of launch Linux volumes were higher as it was the only offering ... ASUS recognised a demand for a Windows-based netbook.  As such, the shift now is more towards Windows due to customer demand for Windows XP being that consumers are more familiar with the Windows platform" ASUS spokesperson
The news will likely come as a disappointment to open-source enthusiasts, who had harbored hopes that the wider availability of Linux as a pre-loaded OS would popularize it with the general public.  However earlier reports suggested that Linux netbooks were more likely to be returned than their Windows counterparts, as users were unable to get to grips with the unfamiliar OS.
[via Pocket-lint]