Windows Phone overtakes RIM in developer interest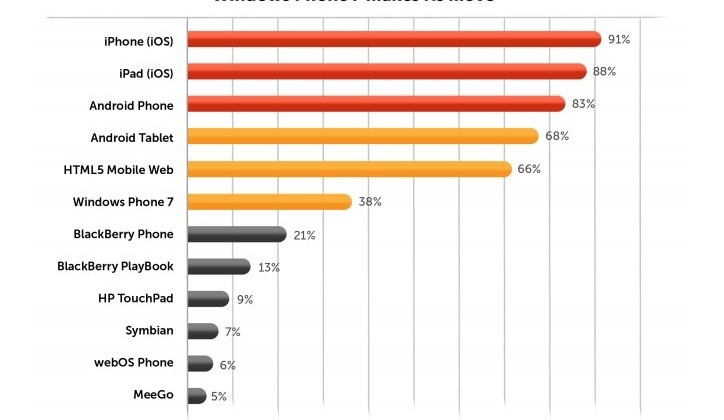 Windows Phone 7 has apparently overtaken RIM's BlackBerry OS to be the third most interesting platform for app developers, according to new research, with Microsoft's partnership with Nokia a key driving factor. Apple's iOS remains in the top spot for developer attention, Appcelerator's Q4 2011 report suggests, with 91-percent of those coders questioned reporting that they were "very interested" in creating iPhone apps; in contrast, 38-percent said the same about Windows Phone 7, with 28-percent saying they were keen to code for the Nokia Lumia 800 in particular.
Android sits sandwiched in-between, though both smartphone and tablet developer interest dropped in the three month period. 83-percent of developers said they were "very interested" in producing apps for Android phones, and 68-percent for Android tablets (versus 88-percent for the iPad). Apple's iOS 5 release was deemed the most important news of the quarter, followed by Samsung taking the smartphone top-spot.
RIM's results are less impressive again. Those saying they were very interested in developing for BlackBerry phones dropped 7-percent to 21-percent, while PlayBook developer interest dropped 6-percent to 13-percent. Smart TV platforms are also not finding favor, with Google TV interest falling to 20-percent from 44-percent last year. That could change as Google TV 2.0 rolls out in the coming weeks, with support for the Android Market.