Nokia Lumia 800 Review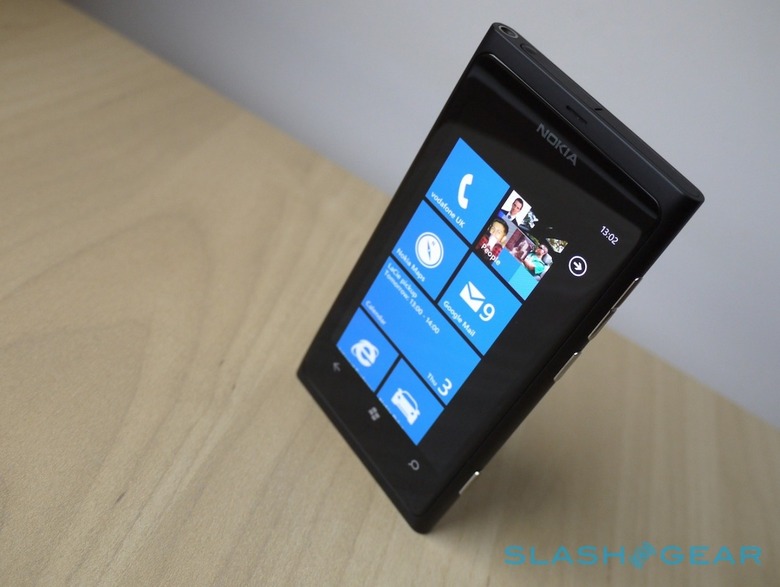 There's a whole lot riding on the Lumia 800. Nokia's first Windows Phone and the handset that will usher in – so the company hopes – a new era of smartphone relevance and a turnaround in fortunes. Question is, will the Lumia 800 be Finnish enough for long-time followers as well as mainstream enough for a new audience of smartphone users. Symbian may not have been universally appealing, but at least it was unique; has Nokia sidelined its independence alongside its faithful old platform? Check out the full SlashGear review to find out.
Hardware
If we hadn't already seen the Nokia N9, the Lumia 800's physical design would have been the biggest surprise of Nokia World 2011 last week. Like its MeeGo-powered sibling, which we reviewed last month, the Lumia 800 rocks a polycarbonate casing which Nokia's production lines fettle from a single chunk of plastic. The end result has a sleek, matte finish, sinuous curves, and a hand-feel different to just about any other device on the market.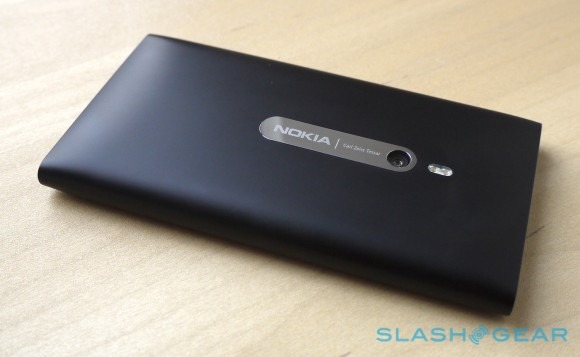 At 116.5 x 61.2 x 12.1 mm it's the same size as the N9, though at 142g it's ever so slightly heavier. Nokia offers the same three color options, too, of black, cyan or magenta, and each are the pure hue of the plastic itself: scratch your Lumia and you won't see grey underneath. It's actually surprisingly difficult to mark the case anyway, with the scrapes left from a vigorous scratching with a fingernail buffing straight off. If you're still cautious, Nokia bundles a rubber case – color matched to your Lumia, naturally – in the box. The 1,450 mAh battery is non-user-accessible, which helps the Lumia be creak- and flex-free. This, frankly, is the Nokia hardware we've been waiting for, though we certainly wouldn't argue with (nor be surprised if Nokia was indeed working on) an E7-style QWERTY device running Windows Phone too.
Nokia Lumia 800 Unboxing:
Beyond the similar first impressions, there are some key differences between the Lumia 800 and the N9. The side buttons still include volume up/down and a power/lock key, but now there's a dedicated camera shortcut button too. Microsoft's mandated back, Start and search buttons are in a touch-sensitive row under the display, and accommodating them has forced Nokia to use a smaller panel. The 3.7-inch WVGA 800 x 480 screen loses some pixels over the N9, but still relies on AMOLED ClearBlack technology for picture quality that is simply superb. Viewing angles are broad, colors rich and eye-catching, and the black background consistently found throughout much of Windows Phone is inky in its darkness.
On the bottom is a speaker with decent volume and clarity. Up top is the same 3.5mm headphone socket as the N9 and, under a flap, a microUSB port. Once you've opened the hatch – which is our single point of mild concern about the Lumia's durability, thanks to its seemingly delicate hinge mechanism – you can slide out the microSIM tray too. Unusually, Nokia told us it has been forced to tweak the headphone jack a little in order to work within the confines of the casing design. Its Monster-blessed Purity headsets actually come with a short adapter cable to allow them to be used with non-Nokia phones, though the bundled set of headphones in the box with the Lumia 800 lack that converter. Even so, we had no problems using either the bundled headphones with another phone, or using third-party headphones on the Lumia.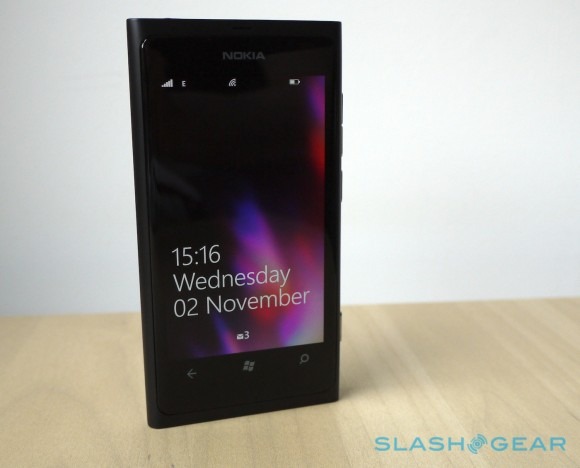 Inside things take a significant change of direction from the N9, with Microsoft's platform standardization meaning Nokia was forced to switch processor and radio. Qualcomm's 1.4GHz single-core MSM8255 takes center-stage, paired with 512MB of RAM and 16GB of storage (of which 13.86GB is available); there's no microSD slot to extend that. Nokia's favorite pentaband UMTS/WCDMA radio is absent, unfortunately, replaced with a quadband 850/900/1900/2100 alternative (along with quadband GSM/EDGE).
Then there's the usual WiFi b/g/n, Bluetooth 2.1+EDR and A-GPS, plus a bevy of sensors: accelerometer, proximity and digital compass, though no gyroscope. On the back is an 8-megapixel autofocus camera with Carl Zeiss optics and a dual-LED flash, capable of 720p HD 30fps video recording. Unusually, neither the Lumia 800 nor the Lumia 710 launched alongside it last week have a front-facing camera. Right now that's no huge loss, since Windows Phone doesn't make use of the front camera, but it could be a drawback as services develop.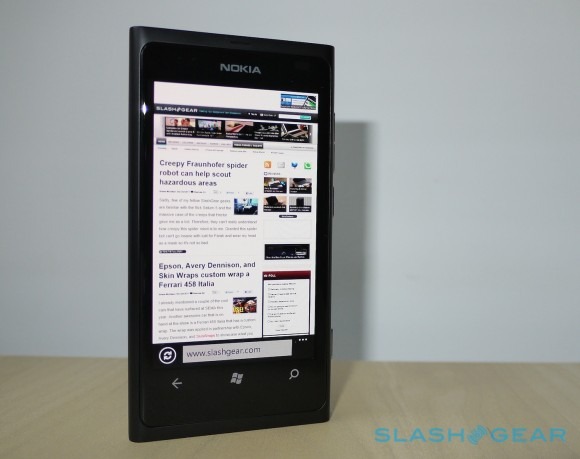 Performance overall is swift: the Lumia 800 may lack a dual-core processor – no Windows Phone has one so far, since the OS isn't optimized for them – but that doesn't hold back apps or the Windows Phone interface. Menus whip along at speed, our heavily-populated Gmail inbox loaded instantly, and there was no lag to be found.
Software
Windows Phone 7.5 Mango is a considerable step up from the original OS as launched a little over a year ago. We've reviewed the latest iteration comprehensively here, but the core premise is the same on the Lumia 800. Microsoft has trimmed away at the unnecessary chrome and ornamentation to leave a UI dominated by block colors, oversized typography and minimal buttons, with a system of user-arrangeable Live Tiles making up the homescreen. These tiles can show updates from the apps they're connected to, so the Phone tile shows the number of missed calls while the Photos tile previews the latest images.
Windows Phone 7.5 Mango Review (on Samsung Focus):
[vms 524fbf7ea5c519ca397e]
Microsoft also corrals themed content into Hubs, so your photos – whether you shot them yourself on the phone, shared them via your Facebook account, or have had them shared with you by your contacts – are all pulled into the same place. That approach has allowed Nokia to integrate its own applications and services into Windows Phone in a way that's far more seamless than the preloaded software on other platforms.
Nokia Music
Nokia's two-pronged music services are the first of the value-adds the company builds into the Lumia series, and thanks to Microsoft's Hub system they dovetail completely. Both purchase and streaming options are on offer, with the Nokia MP3 Store offering paid downloads from a choice of around 14m tracks (in the UK, individual tracks are generally priced between £0.79 and £0.99) in DRM-free MP3 format, while Mix Radio offers a selection of preset streaming playlists.
The MP3 Store works as you'd expect, requiring a Nokia account – and a registered payment card – but downloading tracks straight to the Lumia. You can then manage them using the Zune PC software or the more basic Windows Phone Connector app for OS X, or indeed transfer your own existing music collection over to the handset.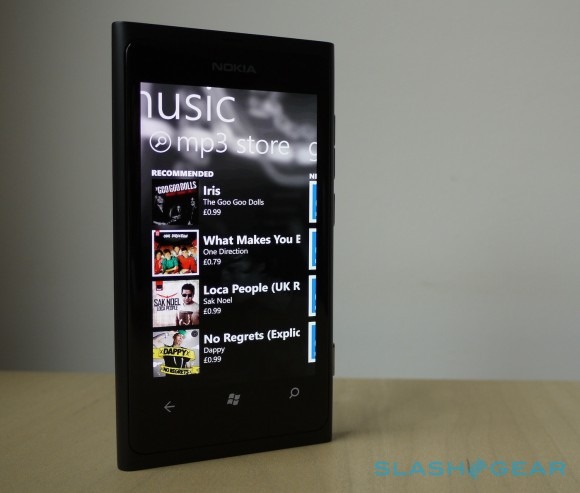 Mix Radio is more interesting. Nokia is offering a choice of up to 100 different preconfigured playlists for streaming over 3G or WiFi, separated out into categories like pop, rock, dance and classical. Each category has multiple playlists, so for instance under pop you have a choice of new releases, bestsellers, tracks from the last year and the like. Nokia's gimmick is that there's no subscription or even registration required to listen: once you get past the initial warning that streaming songs can use a lot of data, there's no barrier to picking a playlist and starting to listen.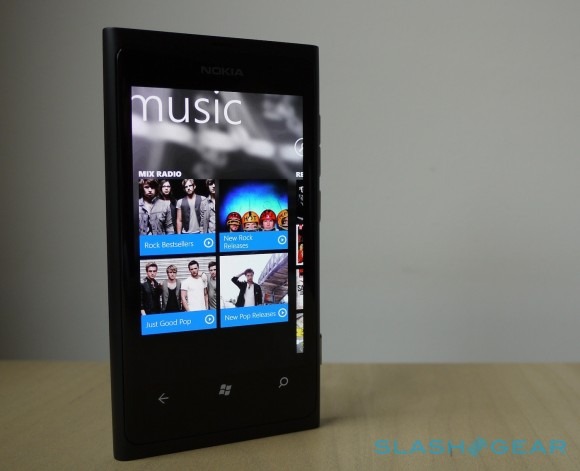 It works well, though it's not a Spotify replacement. There's no apparent way to see what the playlist actually contains, only the current track playing, and like online radio station services such as Pandora, you're limited in the number of track skips you can make in short succession. Our review Lumia lacks the offline playback support and the ability to pin individual playlists to the Start screen, though Nokia tells us those features will be pushed out in time for the 800's imminent commercial release.
Nokia Music demo:
In short, it's a good replacement to traditional radio – no annoying DJs, no ad breaks, no repetitive jingles – but it's not as flexible as a true streaming jukebox service. We can see it being popular, however, especially if Nokia follows up on its promise to leverage country-level teams to put together their picks of interesting, local music. That would make it a good way to discover new music a regular radio station might never play. On the downside, we experienced a few hiccups with streaming, and on occasion a track would restart from the beginning rather than resume playback.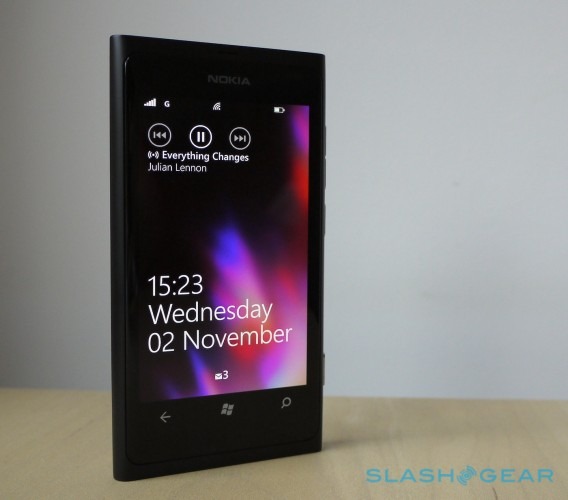 Audio quality from the bundled headphones is solid, though the earbuds themselves proved uncomfortable for some of the people that tested them out. There's an in-line microphone for voice calls with a single multifunction button: during music playback, clicking once toggles between play/pause, while double-clicking skips forward.
Nokia Drive
Nokia Drive – along with Nokia Maps – is the second strand of the company's main software strategy. It's a combination of general and exclusive functionality: Nokia Maps, based on the company's NAVTEQ data and supporting 2D and 3D views together with points of interest, will be released for any Windows Phone user through the Marketplace, while Nokia Drive will be exclusive to the company's own phones.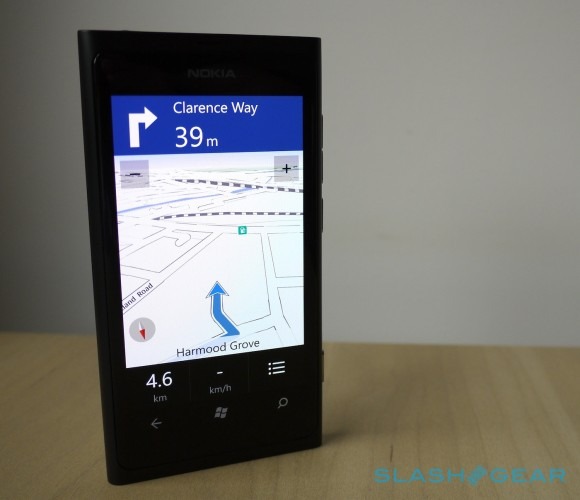 Drive is what adds turn-by-turn voice guided directions to the platform, along with a chunkier UI that's more suited to stabbing at while driving. It's pretty much what we've seen on the N9, neatly skinned to match Windows Phone. Search for a destination and you get a list of results with icons to suggest what category they might fall under – a bed for a hotel, for instance – while tapping them shows a preview map of each result that can be side-swiped to flick between them. Hit the "Drive To" button and the Lumia 800 calculates distance, route and time, and you can tap the map pane to expand it and check which roads it will have you taking prior to setting off.
Nokia Drive demo:
The first time you use Nokia Drive, it prompts you to download a voice pack – there are options available for multiple languages, with some having both male and female choices – which is roughly 4-5MB. You can also choose to download maps on a country-by-country basis, meaning you can navigate without a data connection.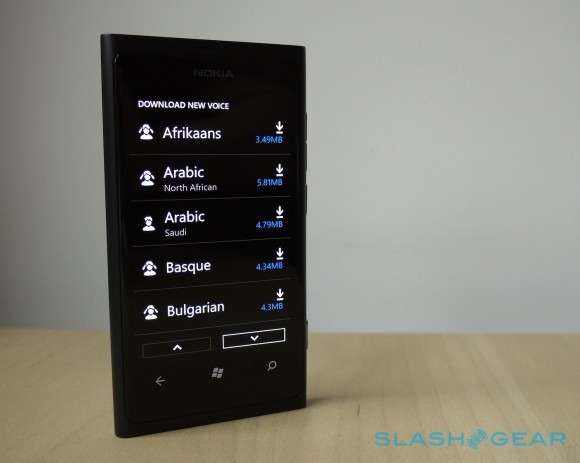 We've always been keen on Nokia's mapping app, from our experience with Symbian devices, and while the UI is a little different to, say, Google Maps, functionally it's very strong. The Lumia 800 locked onto a GPS position very quickly, in just a manner of seconds, and managed to re-orient itself even faster after we'd been indoors or on the underground. If you'd rather stick with Microsoft's own Bing Maps, that's still preloaded.
App Highlights
Windows Phone lags behind iOS and Android in how many apps are available to download, but Nokia still believes users could benefit from some guidance through third-party software. App Highlights is the result, a collection of suggested downloads split into "featured", "starter kit" and "top games" categories and which Nokia promises will be regularly updated.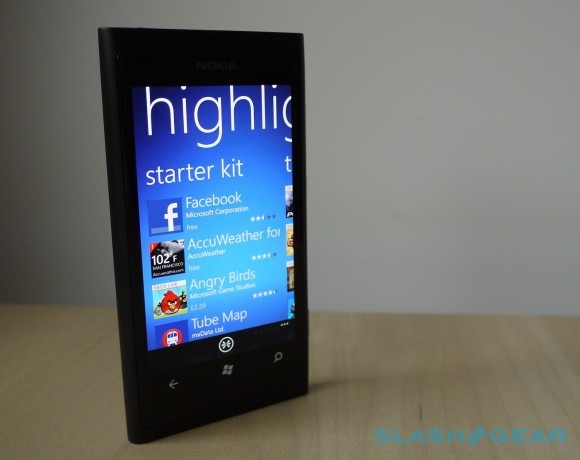 Actually selecting an app takes you to its listing on the regular Windows Phone Marketplace, so Nokia's system is more of a gateway than anything else. Still, the company has built in an unusual suggestion feature: shake the Lumia 800 and it suggests an app at random.
Nokia App Highlights demo:
Camera
Nokia is rightly proud of its cellphone cameras, and while the Lumia 800 might not pack the sort of photography system you'd find in the N8, its 8-megapixel sensor and Carl Zeiss-blessed f2.2 aperture optics are still excellent. Windows Phone mandates a dedicated camera shortcut button, which can bypass the lock screen and take you straight to the camera app, and Nokia has opted for a useful two-stage control that can lock focus with a half-press and then fire off the frame when pushed all the way. Once you've taken a photo, there's a basic on-phone "auto-fix" tool to edit it. That tweaks exposure and contrast to try to make a mediocre image better, and it generally does as well as any of these auto-correction apps can.
You're better off transferring your images to a computer and editing there in earnest, however, since the Lumia 800 is capable of some decent photography if given sufficient light. As you can see in our outdoor sample photos, the Nokia copes well with London's grey, foreboding skies, with colors somewhat muted but generally accurate.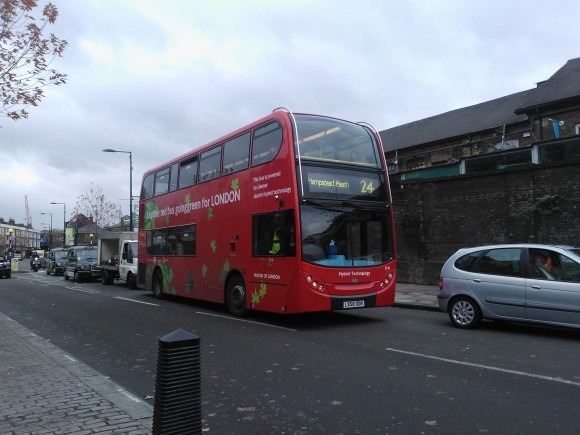 Indoors, with the flash turned off, however there's noticeable noise; the LED does make closer subjects brighter, but we certainly wouldn't argue if Nokia managed to fit the Xenon flash from the N8 inside instead. There's also something of a difference between what the Lumia 800's preview shows and the eventual photo the camera actually takes. Colors in the preview generally showed up richer, whereas in the resulting still – even if viewed on the phone itself – was more subdued.
Video, meanwhile, is recorded at up to 720p HD resolution and at 30fps. Clips are saved in MPEG-4 format and there's a 3x digital zoom along with digital video stabilization. Generally performance is good, with little in the way of smearing during faster moving scenes, though there was some brief focus-hunting when dealing with closer subjects. Audio is recorded in stereo, thanks to the twin microphones.
720p Lumia 800 video sample:
Phone and Battery
In-call quality has been solid, with both incoming and outgoing audio clear and easily heard. The Lumia 800's speaker can crank up surprisingly loud, but with an inevitably loss of quality along the way. Still, it's perfectly sufficient for an impromptu conference call. There's Bluetooth support for headsets if you'd prefer to cut the cord.
One issue we experienced on a few occasions was intermittent loss of signal, despite other phones using the same network being able to connect while side by side with the Lumia. Most of the time the phone would automatically reconnect once we tried to get online or make a call, but at least once we needed to power-cycle the Nokia to restore service. It's possible this could be addressed by a firmware update, however.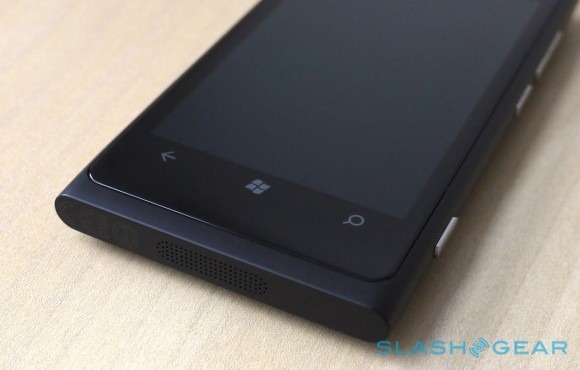 Microsoft added support for internet sharing – turning your phone into a mobile hotspot, and sharing its 3G connection via WiFi – in Mango, but availability on specific devices depends on manufacturers, carriers, firmware version and WiFi chipsets. The feature was not present on our review Lumia 800, but the smartphone is due at least one firmware update prior to retail availability. We'll update when we know for certain whether or not the sharing functionality will be added in.
Symbian smartphones always offered good battery life, and so we had high hopes for the Lumia 800 tempered by the knowledge that Windows Phone could well spoil things. Nokia quotes up to 9.5hrs of 3G talktime or up to 335hrs of 3G standby, or alternatively 7hrs of video playback or 55hrs of music playback, from a full charge of the 1,450 mAh battery.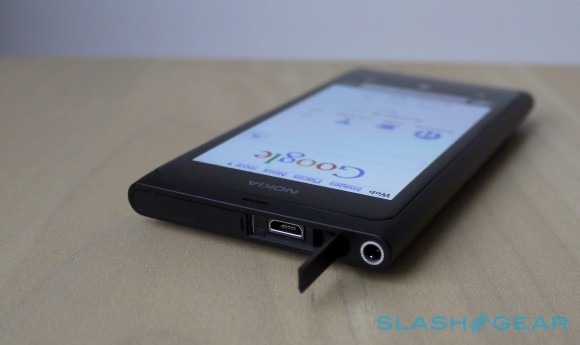 With double the processor speed compared to most Symbian devices, we weren't expecting multi-day runtimes from the Lumia 800. Sure enough, this is a charge-nightly handset. With a full day of use – a couple of short calls, push Gmail, some browsing over both 3G and WiFi, photography, GPS and streaming music through Mix Playlists – the Lumia 800's battery gage was almost empty by the evening, though it's worth noting it still managed to last a couple of hours longer before expiring. We did notice streaming Mix Playlists did take a particular toll on battery life, particularly over 3G, something to consider if you're an avid music listener.
Wrap-Up
It may not be the first time we've seen the Lumia 800's design language, but Nokia's unibody style is no less appealing second time around. Elegant and tactile, it's a clean step away from the "just a big screen" ethos we've seen proliferate among Android devices and, increasingly, Windows Phones too. Pentaband is an obvious omission, but beyond that we have primarily only good things to say about Nokia's choice of display and other hardware.
Comparisons to MeeGo and the N9 are obvious, but futile: one phone represents Nokia's future, and the other does not. The Lumia 800 lacks some of the more endearing features of its cousin – on more than one occasion we found ourselves double-tapping the display to wake the handset, something supported on the N9 but not in Windows Phone – but it makes up for that with far more app choice and the reassurance that the platform is unlikely to disappear any time soon.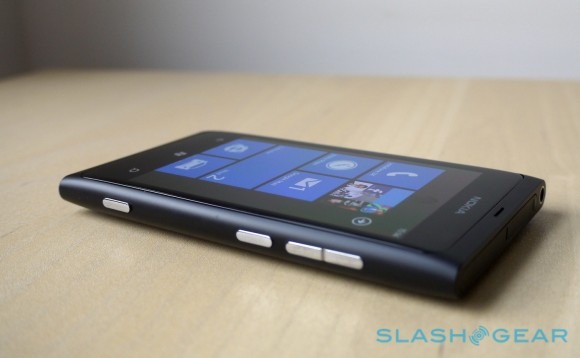 The Lumia 800 suffers the same drawbacks of all current Windows Phone 7 handsets, not as much third-party developer support being the most obvious, but Nokia seems emboldened to do something about that rather than simply watch owners complain. Developer outreach efforts are still in the early stages, but Nokia has been liberally promising sample hardware for those keen to produce Windows Phone apps, and Nokia World last week was a veritable charm offensive to encourage Qt developers to consider coding for Microsoft's platform instead.
That will take some time, but even now there's plenty to like about the Lumia 800. We've been begging for a different OS on Nokia hardware for more than a year now, and the first results of that change don't disappoint. A brilliant camera and compelling design, paired with a usable and clever platform, add up to a handset that's straightforward enough for first-time smartphone users but still has enough appeal for those more familiar with advanced phones. It's the first foray of what will be a far longer battle, but with the Lumia 800 Nokia is off to a very strong start.