Windows Phone Mango Supports Music Streaming From SkyDrive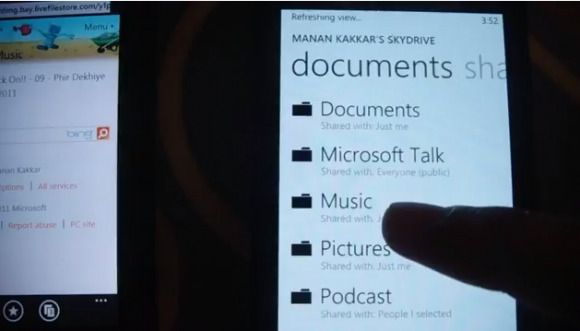 The Windows Phone Mango update promises more than 500 new features, one of which includes the integration of Microsoft's online cloud service called the SkyDrive. The feature lets you store photos, videos, and documents in the cloud for easy access and sharing. But with the newly released Mango beta build to developers earlier this week, it was discovered that the SkyDrive can also be used to stream music.
The SkyDrive music streaming was discovered by Manan Kakkar, who put together a video to demonstrate the new feature. He was able to stream MP3 songs on his Zune from the Office Hub showing that Mango allowed users to stream music stored in their SkyDrives using Internet Explorer 9.
Kakkar questioned why Microsoft had kept quiet about the addition, which seems to deserve some acknowledgement, and it turns out to be an unsupported feature. The SkyDrive team had responded via Twitter revealing that they were glad that people enjoy the Mango/IE9 ability to play music on the web, but that their focus was mainly on seamless access to photos and documents.
Perhaps Microsoft has something else much more comprehensive in mind for a cloud-based music streaming service. To keep pace with competitors, whom now all have a cloud music service of some sort with Google's Music Beta and Apple's upcoming iCloud, it would seem that they do, but have so far made no official announcements.
Mango's release to manufacturing build was just issued on Tuesday, meaning the remaining work for the update mostly involves optimizing the code for manufacturer and carrier partners. The first Mango handsets should arrive in the U.S. in September, although the very first model has already been unveiled as a Japan-only handset from Toshiba-Fujitsu.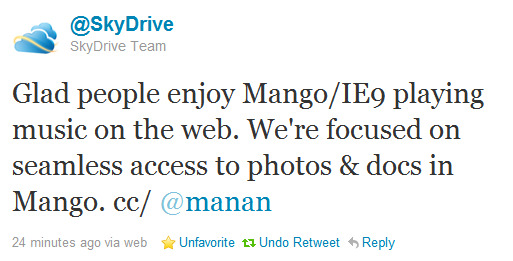 [via WinRumors]