Windows Phone 8S by HTC Review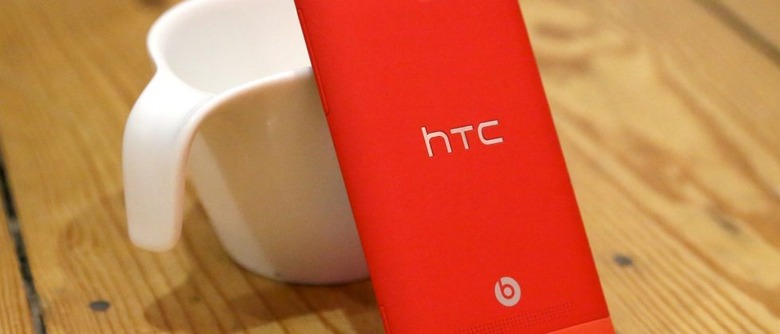 HTC dug deep for its Windows Phone 8 line-up, coming out with a pair of distinctively designed smartphones that promptly earned Microsoft "Signature" status. The Windows Phone 8X already impressed us, and now it's the turn of its smaller sibling, the 8S, to have its moment in the spotlight. Is the 8S more than just a pretty face, or has HTC cut too many corners to hit the midrange price tag? Read on for our full review.
Hardware
With the trend toward bigger and bigger displays, the 4-inch 8S is almost an outlier. At 120.5 x 63 x 10.28 mm it's broader and thicker than the obvious 4-inch alternative, the iPhone 5, though shorter; the sharp bevel around the edges of the rear panel does help disguise some of the thickness, however. HTC's polycarbonate plastic is bright and tactile, and the range of colors the 8S is available in is a welcome change from the typical choices of black, white, or silver. The two-tone finish – with the earpiece grille and camera surround matching the capacitive button section – shows admirable attention to detail for the midrange.
Buttons are the Microsoft-mandated usual, with touch-sensitive keys for back, Start, and search under the screen, a power key on the top edge, and finally a volume rocker and camera button on the right edge. The headphone jack sits on the top edge, while the microUSB port is on the bottom; that whole section unclips (with no small amount of difficulty) to reveal a microSD slot and micro SIM slot.
A removable memory card is a useful addition, considering HTC has been fairly humble with the 8S' specifications overall. You get 4GB of onboard storage and 512MB of RAM paired with Qualcomm's 1GHz dualcore Snapdragon S4 processor, WiFi b/g/n (though not dual band 5GHz support), and Bluetooth 3.1 (not 4.0). No LTE, but dual band HSPA (900/2100) and quadband GSM/EDGE, plus GPS/GLONASS, an accelerometer, proximity sensor, and ambient light sensor.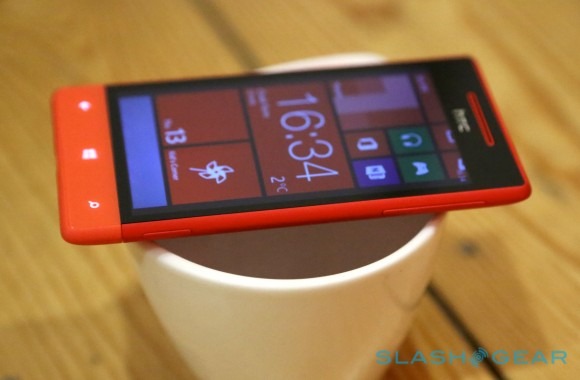 HTC opted for WVGA (800 x 480) resolution for the 8S' Super LCD, and while that seems a shortage of pixels at first glance, the relatively small dimensions of the display mean it's less of a drawback than you might expect. In fact, the screen is bright and clear, and while not the smoothest when it comes to on-screen graphics, the angular lines of Windows Phone's Metro-style interface do a good job of working with the limitations of the resolution on offer. It suffers some when you take it outdoors, however, struggling to keep up in direct sunlight.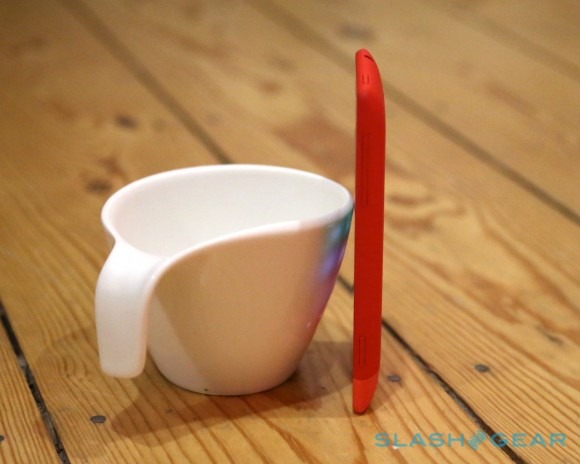 The biggest compromise is in the camera, however. On the back there's a 5-megapixel shooter with an LED flash, but it misses out on the finessed lens we've seen on some recent HTC Android devices; instead, you get an f/2.8 aperture lens and 720p HD video recording. There's no front facing camera whatsoever, which means no Skype video calling. Considering HTC has been leading the way with wide-angle front cameras – fitting more people in-frame than rivals can – it's a sad omission.
Software
We've already comprehensively reviewed Windows Phone 8, and despite some rough edges we like Microsoft's latest platform. It's distinctive in the handset segment, and straightforward for new smartphone users to get to grips with, though at the same time held back by a shortage of apps. That's gradually changing, true, but it still makes recommending Windows Phones tricky, since if there's a specific title someone needs, there's a fair chance a device running Windows Phone won't have it.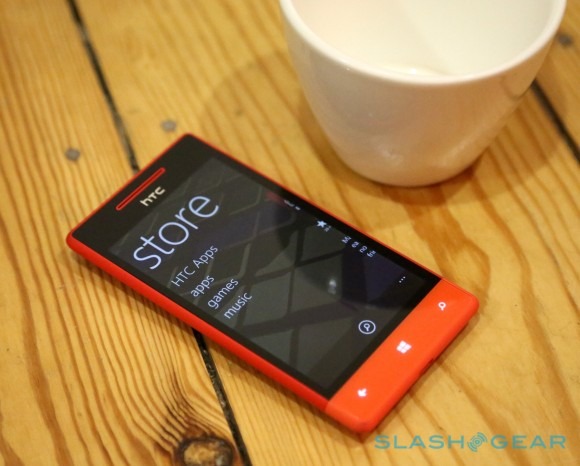 On top of all this, HTC adds its own customizations, though they're relatively minimal in comparison to HTC Sense on the company's Android phones. There's an HTC hub with weather, stock alerts, and news headlines (you can add more sources from HTC's list, but there's no apparent way to add further RSS feeds) and the Photo Enhancer tool we've seen before, as well as a Connection Setup app.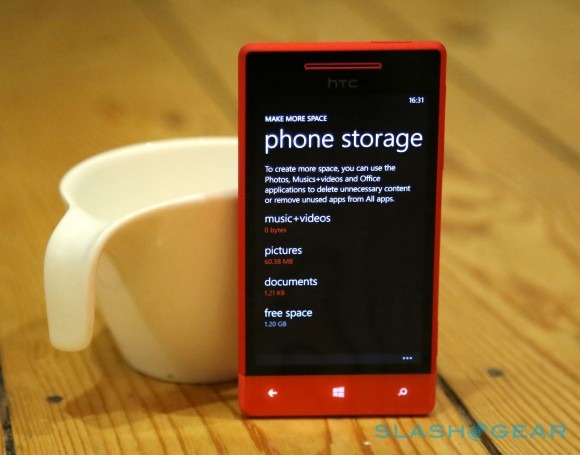 The literally titled "Make More Space" tool shows you exactly what's eating up your storage – split into music and videos, pictures, and documents – and then suggests you use the relevant apps themselves to actually delete any unwanted content. FInally, there's a Beats Audio option added to the Settings page, though it only allows you to turn the system on or off; no more granular adjustments are possible.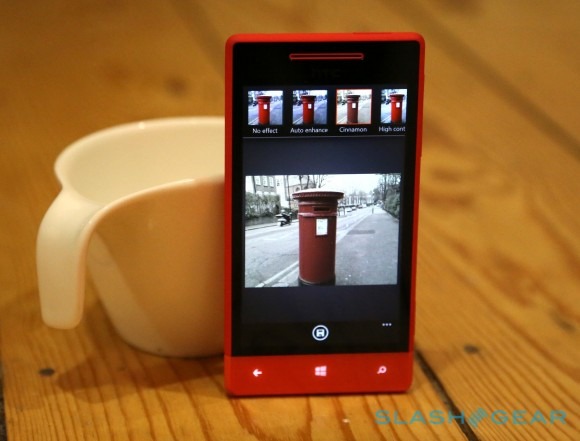 In practice, we found the 8S to be smooth running for the most part. There were the occasional hiccups, particularly when loading or switching between apps, though not to any extent that we'd consider them deal-breakers. The fact that HTC opted for 512MB of RAM means you shouldn't come across any third-party apps which won't be compatible, unlike some of Nokia's cheaper Lumias.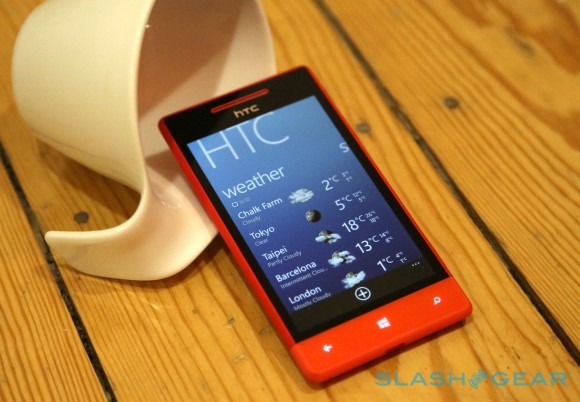 Camera
5-megapixels is pretty underwhelming for a smartphone today, though the midrange is a competitive place and we're not especially surprise that HTC opted to cut costs here. Still, megapixels aren't everything, and we've seen decent shots produced from humble cameras. Unfortunately, that's not a claim to fame the 8S can make.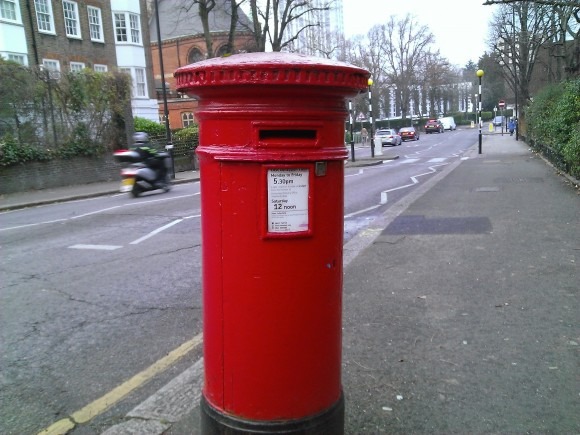 There's an odd blue tint to white sections in the frame, and grays – such as the overcast sky in our London sample shots – become strangely purple in the hands of the 8S. Meanwhile yellows and greens are muted and dull, while reds are slightly too saturated for the rest of the frame. Close-ups fare better, with text crisp even at short distance, and a reasonable amount of detail on show.
Video, meanwhile, is recorded in 720p at most, and suffers from noticeable blurring. There's also occasionally an odd flickering to the footage, and smearing during faster pans. Audio quality is fair, but doesn't hold up to what the 8X can produce.
HTC 8S camera video sample:
Phone and Battery
The 8S doesn't get any fancy in-call audio processing, at least none that HTC is shouting about, but it still puts in a good showing for calls. Earpiece audio is strong and capable of loud levels, and the speakerphone mode is similarly blunt. On the other end, callers said they could hear us with no problems, even when in areas with fairly loud ambient noise.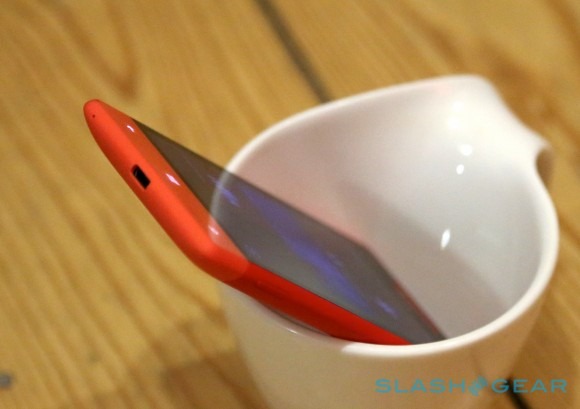 HTC equips the 8S with a 1,700 mAh non-removable Li-Poly battery, and it's sufficient for more than a day of use. We had push email switched on, and use the 8S for a combination of web browsing, messaging, photography, and some Bing Maps use, and it lasted through the day with charge still showing.
Wrap-Up
HTC very nearly nailed the Windows Phone 8 market. The 8S is well designed and a great size: not everybody wants a huge smartphone, and many people who told us they liked the design of the 8X but wanted something scaled more like an iPhone 5 had no such complaints about the smaller model. Where the story starts to fall apart is in specifications, and where HTC has opted to cut corners.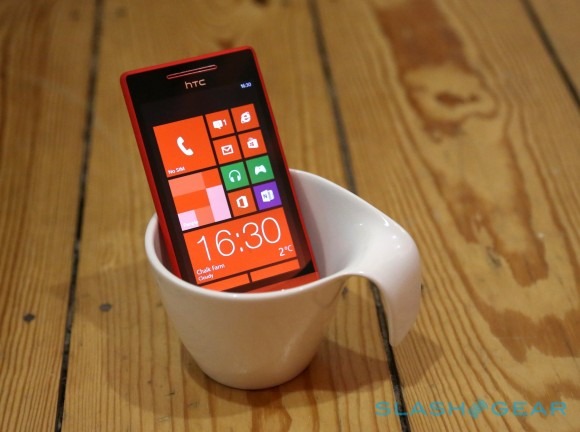 Yes, the camera is poor, but HTC's big problem is Nokia. In the time since we first saw the 8S and its arrival on the market, Nokia has revealed the Lumia 620: it pairs a pocket-friendly 3.8-inch screen with both front and back cameras, NFC, and interchangeable back shells that are just as distinctive as the 8S. It also looks like the 620 will be cheaper than the 8S when it arrives early in 2013.
There's no denying that HTC has crafted a good looking phone in the 8S, and the general user experience is solid. What makes it tough to recommend is the subpar camera performance and the absence of a front-facing camera; Microsoft is only going to emphasize Skype more, and for a new Windows Phone to launch without hardware provision for that is myopic cost-cutting. There's certainly room in the market for a well-performing, affordable, compact Windows Phone 8 handset, but the HTC 8S lacks the all-round polish to fill that niche.