Windows Phone 8 adds Nokia Maps: Offline maps, navigation, more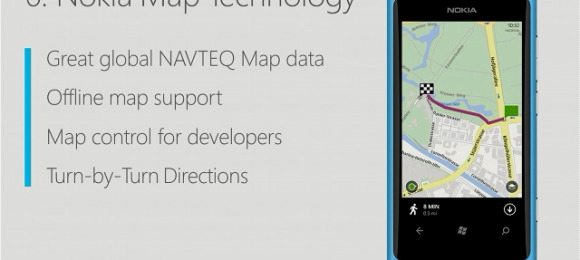 Windows Phone 8 will have Nokia Maps built-in, Microsoft has confirmed today at the Windows Phone Summit, with offline mapping and turn-by-turn directions. The unsurprising inclusion means that Bing Maps has been retired on Windows Phone, with Nokia's NAVTEQ subsidiary providing mapping data for the native Maps app on handsets, as well as for third-party developers with an open API.
We've already seen Nokia Maps work its magic on Nokia's own Lumia range, but Windows Phone 8 will see all handsets getting the same advantages. Mapping data can be downloaded to the phone – including to the microSD card, if installed – so that travelers can shut of data, avoid roaming fees, but still navigate.
Turn-by-turn navigation, meanwhile, will support public transportation data as well as regular roads and pedestrian routes. That, again, has been demonstrated on Lumia devices, though it's unclear if the Points-of-Interest Nokia provides will also be carried over to other manufacturers' handsets.
Developers, meanwhile, will be able to take advantage of the maps API so that they can integrate navigation and location-based services into their handset. More on Windows Phone 8 in the timeline below.