Windows Phone 7 Officially Unveiled on October 11th by Microsoft and AT&T, Sources Say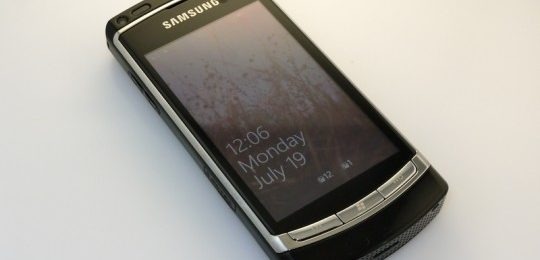 Today, sources speaking to The Wall Street Journal have claimed that, at an event in New York City, both Microsoft and AT&T will finally pull the curtain off the upcoming Windows Phone 7-based handsets launching on AT&T this year. These sources don't give out too much information, but there's definitely a running theme here: October 11th seems like the day of days for Microsoft's Windows Phone 7.
The sources claim that AT&T and Microsoft will officially unveil the Windows Phone 7 devices heading to AT&T on October 11th. The devices are said to be from HTC, LG, and Samsung (one from each). The sources go on to say that the devices will be available for purchase beginning the week of November 8th of this year. Simply put, it just seems like the rumors are lining up, as we've heard in the past that November 8th would be the official availability date, and that October 11th would be the announcement. And considering Microsoft does indeed have an event planned for October 11th, there doesn't seem to be any more questions needed. And we'll be there, live, giving you all the latest information as it happens, so mark the date on your calendar.
The sources weren't able to give out any more information, but considering we're only a short term away from getting the official announcement from AT&T and Microsoft, there's really no more need for any kind of leaks. Though, if you are a fan of seeing things early, the HTC Spark is certainly looking good today. Read the official statement from Microsoft below.
Official Statement
Microsoft Consumer is going to be in New York on Monday, October 11 for our annual Open House event. This holiday season is a big one for Microsoft with the launch of Xbox Kinect and Windows Phone 7, as well as new stuff from Windows Live, new Windows 7 PCs, great shopping services from Bing and more. A few groups will be on hand and would love to set up 30 minute meetings with you to demo the latest technologies and gifts for this season. Are you available on 10/11 from 11:30am – 5:00pm EST to speak with the Mediaroom team? If so, I can schedule these for you. Hoping that the Columbus Day weekend might make it easier to sneak out of the office.

We're also hosting a party that night, 7-11pm. Should be a fun time with good food, great drinks, interesting people and you can get more hands-on time with the full range of consumer tech from Microsoft.
[via Wall Street Journal]