Windows Mobile 6.5 Review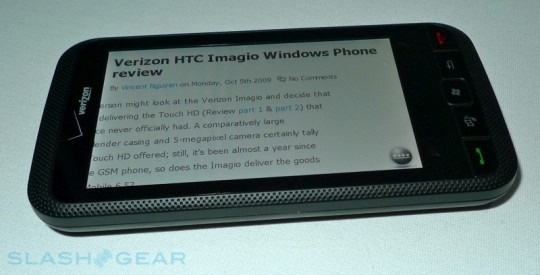 It's been more than eighteen months since Microsoft pushed Windows Mobile 6.1 out of the door, itself a relatively minor update to a smartphone platform dating back to February 2007. In that time, Apple have shaken the smartphone segment to its core with the iPhone, Google and Palm have launched Android and webOS respectively, and so-called feature-phones have punctuated a consumer market ever-more mature in its mobile demands. So, is 6.5 a legitimate release, or just a stopgap half-measure on the road to Windows Mobile 7 next year? Read on for the SlashGear review. Click to Read Windows Mobile 6.5 Review
Windows Mobile has always been at its best when used with an Exchange server, and 6.5 looks set to show its true colors when Exchange 2010 debuts. That will bring with it Conversation View, which groups sent and received emails into a themed conversation, the ability to check whether a contact is free or busy from their global address list card, and a "nickname cache" which auto-suggests contacts for the To: field in an email based on previous correspondents, even if they're not a saved contact. It'll also debut speech-to-text transcription of voicemails, which will slot neatly into unified messaging, and preserve reply/forward flags not only on the smartphone but over to Outlook on the desktop.
Even before Exchange 2010 arrives, however, there have been some much-welcome usability tweaks to contacts and calendar management. It's now possible to select more than one contact entry and beam them wirelessly, copy them to the SIM/Outlook, or delete them, something we can't quite believe has taken this long to arrive. Push-To-Talk has also been integrated with contacts, SmartDial and call history, and since conference calls are now more common your Windows Phone can now not only keep one caller on hold while on a second call, but alert you to an incoming third call too. You can also bypass the contacts app altogether, and save new numbers directly to your SIM. Similarly, emails embedded in SMS or email messages can be pulled out and saved to a new or existing contact, and Windows Mobile 6.5 now supports the Bluetooth Phone Book Access Profile (PBAP) for remote administration.
Little changes make pleasant differences when trying to navigate within and between apps, such as the ability to call a phone number in the body of a meeting invitation (complete with passcode sequences) and new typing shortcuts; tapping "T", for instant, shoots you to the top of the page, while "B" moves you to the bottom. A double-space tap automatically enters a period and a space, while holding letters capitalizes them. There's also a new Gesture Physics Engine which introduces common "rubber band", "bounce" and "scroll" animations to gestures, which means that kinetic scrolling is possible and lists bounce when you flick down to the end of them. Third-party developers will be able to access these touch and gesture APIs for their own software.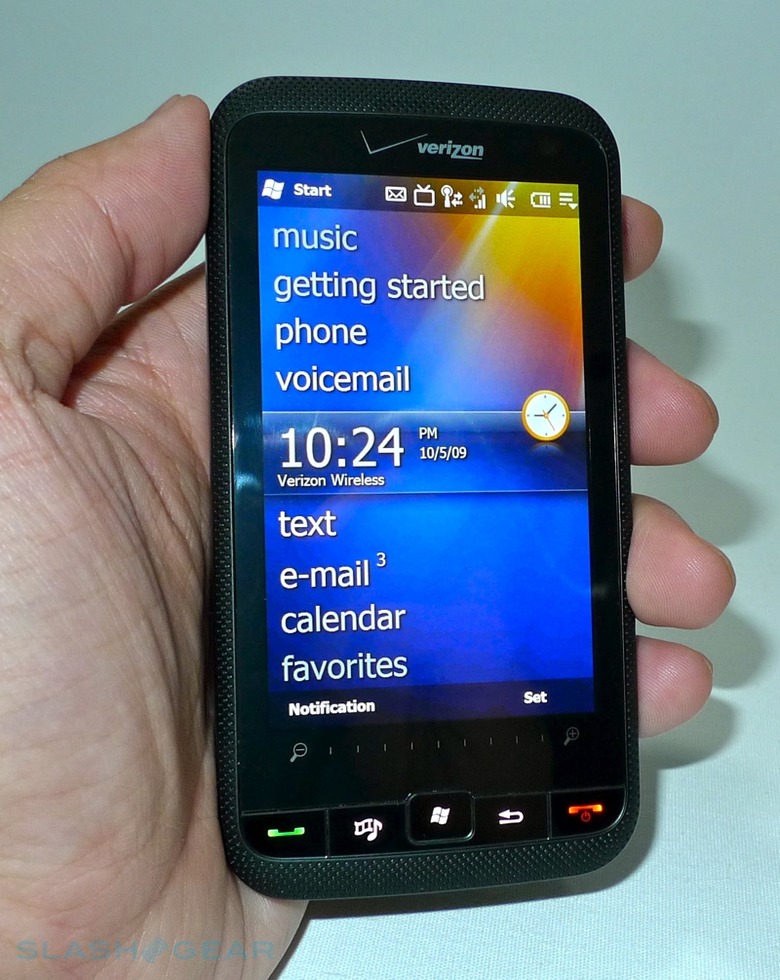 The biggest graphical work comes in the new home, Start and lock screens, however, which see Windows Mobile 6.5 Professional learn – and advance – from the non-touchscreen 6.1 Standard. The new Windows Phone homescreen has been well previewed in various pre-production leaks, but basically lists key apps as touch-friendly plug-ins that serve both as shortcuts and as notifiers. As standard, Home/Clock, Calendar, Music, Photos, Phone, E-Mail and Text are included, and as you scroll or tap through them they each show their status: how many new SMS messages are present, for instance, or how many missed calls there have been. A second tap takes you directly to that app.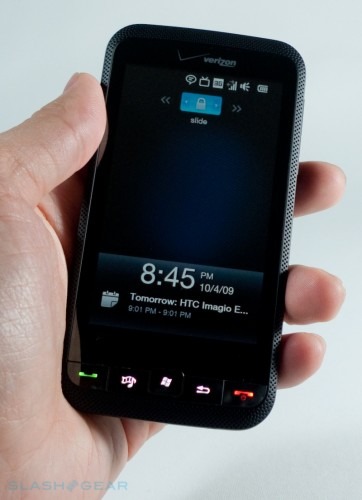 The lock screen, meanwhile, becomes far more usable, with notifiers brought down from the status bar across the top of the display and into the main body of the page. That gives Windows Mobile 6.5 room to list missed calls, voicemails, e-mail, text and calendar items separately; not only that, you can unlock the smartphone and go straight to the item of interest, rather than having to navigate there from the homescreen, or even listen to voicemails or return calls without unlocking the handset at all. This is actually one of the most successful changes Microsoft have implemented, and makes far more sense – using the main body of the display rather than merely the uppermost quarter-inch – than in previous versions.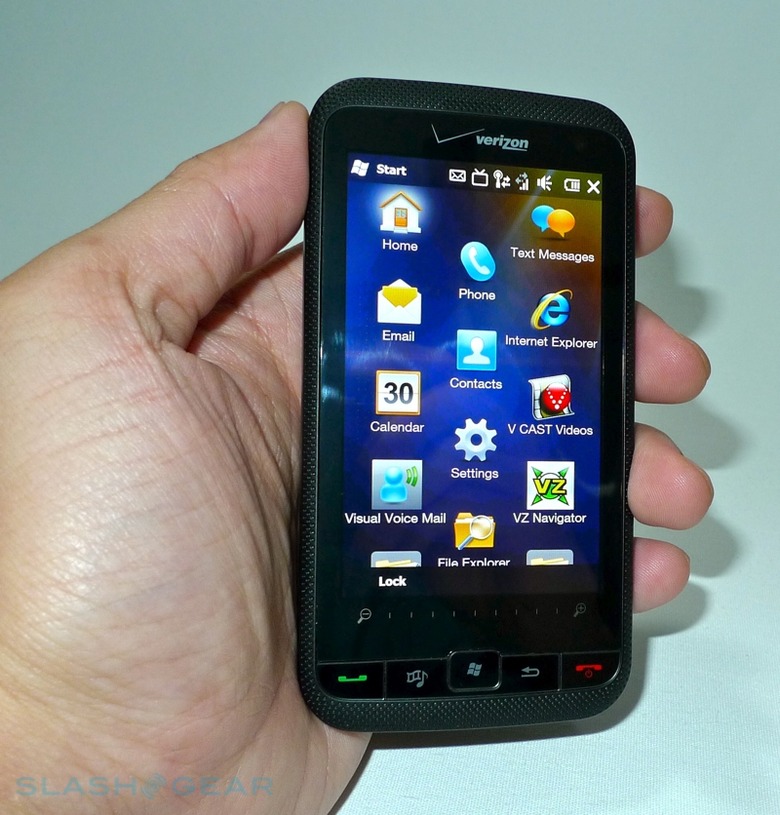 Finally, the Start menu gives up on attempting to recreate a Windows desktop feel on a mobile device, and instead kicks you into a distinctive honeycomb launcher. Bigger icons (together with kinetic scrolling) make finger-navigation more straightforward, and it's easy to reorganize the default list to suit your commonly-accessed apps. Rather than picking 8-10 top applications and then having to kick through various panes of the Programs menu for titles beyond that, all of the programs – plus folders, such as for Games shortcuts – are presented on the one screen. It's quicker, certainly, than navigating the Windows Mobile 6.1 Start menu, and there are some neat touches like the honeycomb scrolling in screen-sized chunks each time you flick.
Altogether it's a significant change to the native UI, though it's hard to tell exactly how many new Windows Phone users will ever see it. Part of the problem lies, ironically, with Microsoft's own hardware partners, who over the past few years have been forced to become software developers in order to keep their products competitive. Given the comparatively dreary UI of Windows Mobile 6.1, companies like HTC and Samsung have developed their own interface shells that sit on top of the core OS and generally aim to make it more finger-friendly. HTC TouchFLO 3D and other shells have helped keep Windows Phones afloat, but they also mean that some of the more obvious changes – to 6.5's UI – can be lost by to the end-user.
Still, it's possible to turn off TouchFLO 3D, TouchWiz and the others, should the mood take you, though we found it wasn't as straightforward as it could be on the Windows Mobile 6.5 review devices we had in. Happily there are other places where the new Windows Phone OS makes its mark, one being the browser. In previous iterations, Internet Explorer Mobile fell far short of the usability experience of rival third-party browsers, prompting manufacturers to put alternatives such as Opera Mobile in place instead. With 6.5, Microsoft debut Internet Explorer Mobile 6, and it certainly offers more flexibility than its predecessor. In addition to supporting Flash Lite, for online video, there's also better touch-zoom control and a cleverer rendering engine. Even so, however, we found it struggled with some CSS formatting, while the success of streaming video proved very dependent on the smartphone's processor and available memory.
Also new to the platform is Windows Marketplace for Mobile, Microsoft's own take on the on-device application download store. Like Palm and Android's stores, Windows Marketplace lacks the breadth you'll find in Apple's App Store for the iPod touch and iPhone; however, unlike those two, Windows Mobile already has a vast back catalog of software that's already been written for the platform. The Windows Marketplace only went live this past week, but the limiting factor for what's on offer is likely to be how fast developers can submit their wares (tweaked to satisfy the policy guidelines Microsoft demand for inclusion) and how fast Microsoft themselves can check and approve each submission.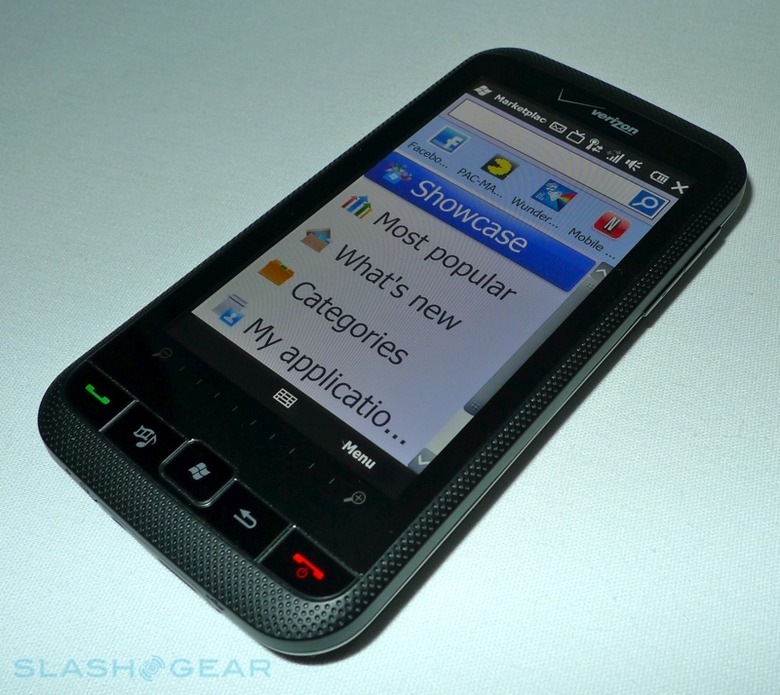 The download store itself is split into categories (and sub-categories), including most popular apps and most recent additions, with filters for paid or freeware titles. There's a full search function, and each app has a description, reviews and screenshots; to download, you'll need a Windows Live ID, and paid apps are either charged to a credit card associated with that ID, or directly to your phone bill if your carrier supports it. Downloads take place in the background and are queued up for installation, and a similar system flags up available updates; from that same menu you can rate, review or remove an app.
It's all straightforward, and should make finding new software for your Windows Phone a much easier endeavor than it has been in the past. Interestingly, Microsoft is looking to play ball with carriers and develop individual Marketplace sections for them, but in return the network has to offer mobile billing. Since that's arguably easier for the end-user than associating and maintaining a working credit card with a Live ID, it's a neat way to make the consumer experience slicker. As before, you're free to sideload applications from outside of the Windows Marketplace for Mobile, or use a third-party software browser if you choose, which does at least make Windows Mobile 6.5 more open than, say, Apple's iPhone.
Another addition to 6.5 is Microsoft My Phone, the company's wireless smartphone backup service. As we've seen in beta for some months now, My Phone keeps an online store of contacts, photos, videos, text messages and other information which is not only there in case your Windows Phone is accidentally wiped, but can be accessed via the web-interface. Should you lose your smartphone you can ring it, lock it or even remotely wipe it via that same website, similar to how Enterprise users or Apple MobileMe subscribers are able to. However, it's worth noting that Microsoft offer MyPhone free (though the remote-wipe demands a fee) whereas both of those other systems are not.
Microsoft have obviously put a lot of work into streamlining the smartphone ownership experience, and given how far ahead in the consumer space rival platforms are, that's a good thing. Over-The-Air (OTA) firmware updates are now supported – network and handset manufacturer depending – and there are many behind the scenes bugfixes and tweaks intended to make the OS less clunky. In its native form, it's a more attractive, cleaner and more usable platform than Windows Mobile 6.1 could manage.
However, it's not the all-out OS relaunch that many are, not only hoping for, but relying on to pull them back to Microsoft's platform. The menus may have been reskinned, the settings pages streamlined, but Windows Mobile 6.5 still feels a lot like its predecessor; those coming from devices with manufacturer-led UIs, such as HTC's handsets, will be even harder pressed to identify the changes. It's saying something when an OS refresh many months in the making feels, to some extent, like another UI shell.
Faster, more stable and more capable it may be, but Windows Mobile 6.5 still leaves us hungry for Windows Mobile 7 simply because that OS promises the revolution Microsoft's platform so badly requires. Windows Phones do some things very well – their Exchange integration is superb, and that functionality will only get better once Exchange 2010 launches – but Microsoft face a tough struggle promoting them as consumer devices. Enterprise users will likely find this latest version a decent mixture of the familiar and the new, but Windows Mobile 6.5 still falls short of a knock-out blow against webOS, Android and the iPhone.
Windows Mobile 6.5 Demo:
[vms b9530df88f7f002e78ea]