HP is readying a $199 Windows notebook for the holidays, as Microsoft pushes Windows 8.1 against Google Chromebooks, one of a number of more affordable PC options. The HP Stream laptop, confirmed during the Microsoft Worldwide Partner Conference, will be one of at least three models, though versions from Acer and Toshiba will be slightly more expensive, at $249 apiece.
Specifications for the HP Stream have not been confirmed yet, though according to Microsoft CEE Kevin Turner there'll be 7- and 8-inch versions too, priced from $99, running "versions" of Windows.
As for the Acer and Dell models, the Acer is the larger of the two, with a 15.6-inch display. Already on sale , the Aspire ES1 is $249.99 and runs an Intel Celeron 2.16GHz processor with 4GB of memory. It has a 500GB hard-drive.
Meanwhile, the Toshiba version will arrive this holiday season, with an 11.6-inch screen helping keep weight down to 2.4 pounds. You sacrifice storage space, however, with Toshiba opting for a mere 32GB of SSD capacity, and it's unclear what processor is inside the unnamed machine.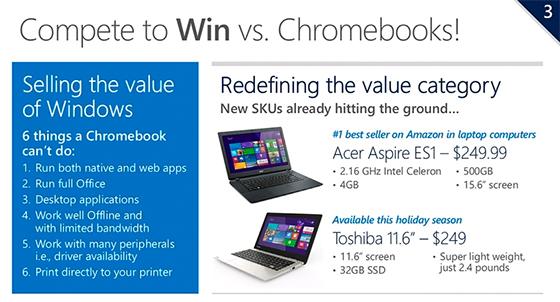 Microsoft isn't shying from drawing Chromebook comparisons, either, and unsurprisingly the company paints a portrait of a limited platform against which Windows is triumphant.
The arguments are all well-trodden ones, and arguably growing increasingly tenuous as Google improves Chrome OS. Offline support still isn't perfect for Chromebooks, for instance, but is considerably better than it once was, and Google's online office app suite has itself improved.
There's certainly value in the familiarity of Windows for those who are used to the OS on existing computers, but there's more to this than in the days of netbooks, where the form-factor only really took off after Linux gave way to Windows XP.
The issue with netbooks, however, was decidedly mediocre performance, and Microsoft and its hardware partners will need to strike a balance between price and specifications if Windows 8.1 isn't to struggle.
SOURCE The Verge