Windows 8 Tablet - Which one to buy?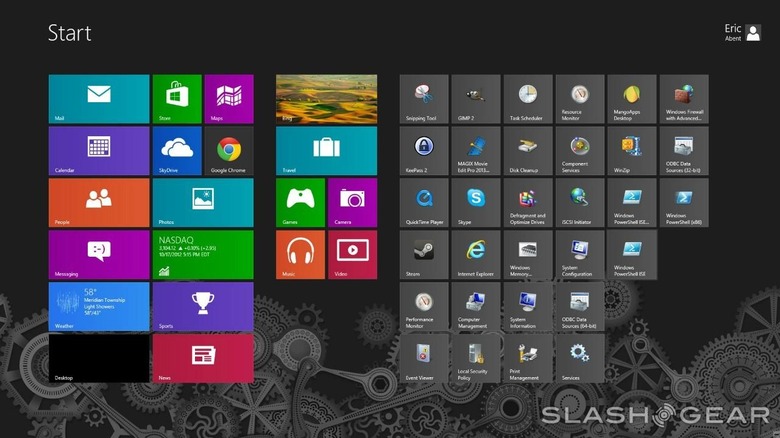 With the impending release of Windows 10, Microsoft's operating system is becoming interesting again. Or curious at the very least. But if you're looking around for a decent Windows tablet for work and for play, you don't have to wait for Windows 10 to come out to get one. And it doesn't matter how much you're willing to spend on a purchase. There is a surprisingly varied selection of Windows tablets out there. To help get you started, here are three of the top tablets in our eyes, one for each size of your wallet.
The Budget Savior: HP Stream 7 ($99)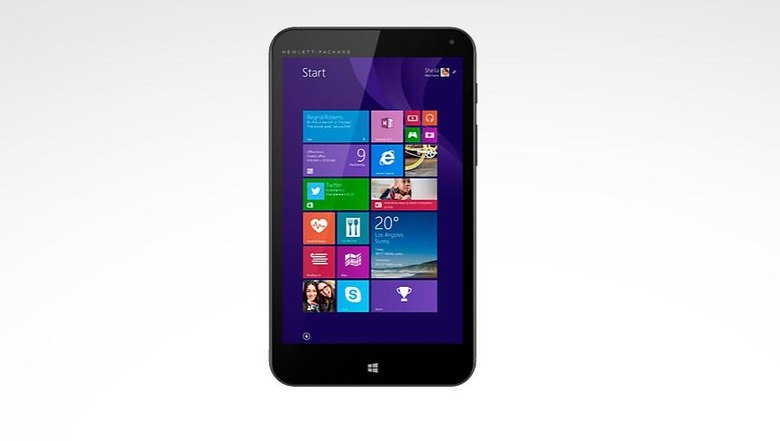 A $99 tablet? Yes, that price tag is usually only associated with cheap Android slates, but yes, Windows has a lot of them if you look hard enough. Actually, you don't need to look hard enough because HP has gone one right here. The HP Stream 7 tablet definitely won't win any races, but if you need a mobile Windows experience, the full one, mind you, on the go without costing you even a finger, then this tablet is the perfect fit.
[amazon B00PJDNP5K] The Intel Atom Z3735G might look a bit dated, but it is the chip that powers almost all low-end Intel slabs in the market today. The Bay Trail mobile quad-core processor can run at 1.33 GHz, or even 1.83 GHZ when needed. 1 GB of RAM might be cutting it close, but you probably won't be doing any video editing on this thing. The 7-inch 1280x800 screen, however, is just about right for that 720p video binge anywhere you want. 32 GB of storage might also feel a bit cramped considering this is Windows, but the microSD card slot will fulfil its duties well as your file storage. And at only 0.8 lbs, this thing barely weighs more than an iPad mini 3. And all for that sweet price of $99.
Granted, you will be severely limited by the hardware. But browsing, checking e-mail, word processing, and even watching videos are easy work for this little wonder. But if you do need a bit more oomph, you might want to consider our next contender.
The Middle Ground: Dell Venue 11 5000 (Starts at $429)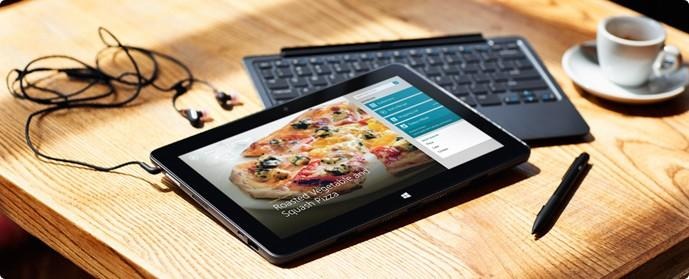 Admittedly, this gave us a bit more trouble than first thought. Who would have expected about half a dozen choices playing around the same $500 range? In the end, we had to make a choice, and the Dell Venue 11 5000 series won by sheer number of choices.
There are actually 4 models available in this line, if you really want choices, with slightly different processors and resolutions, and, of course, varying price tags. Our best bet, however would be the 64 GB non-LTE model at $499, giving you the best bang for the buck. It has the same 10.8-inch 1920x1080 Full HD screen as the next higher option, but doesn't go overboard with price tag ($629) just for an LTE modem. Unless, of course, you actually need that. The rest of the specs would be on par with what you'd expect in a mid-range tablet, including a quad-core 2.4 GHz Intel Atom Z3795, 2 GB of RAM and, finally, 64 GB of storage. You might even find some use for the 8 megapixel rear camera from time to time.
What sets this particular tablet apart from the competition (which we'll mention below) is the totally optional but desirable accessories. The Venue 11 wants to be sort of a like the Microsoft Surface, so it has an optional dock keyboard, which happens to also have a extended battery, and an active stylus. That said, the keyboard costs $104 and the stylus another $33, so if you try to get the whole package, you will end up roughly around $640.
Runners-up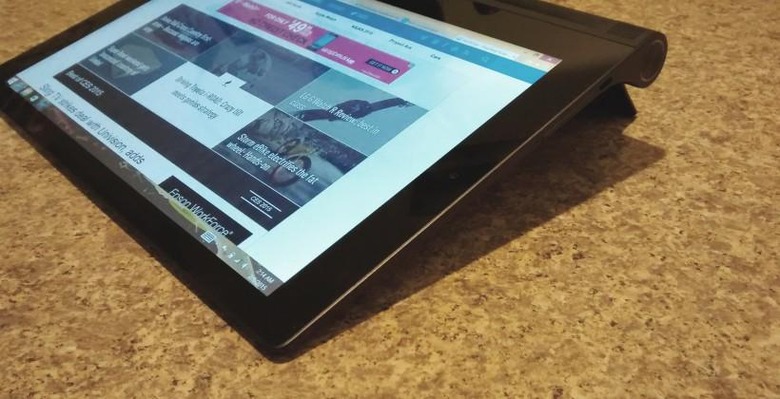 [amazon B00PGEALO0] If you're a bit tight on budget but don't want to go way below the threshold of hardware specs, Lenovo might actually have an option. Or actually two. If you can get around the funky design. The Yoga Tablet 2 offers slightly lower specs, like a 1.33 GHz quad-core Z3745 for example, though with also slightly higher 1920x1200 resolutions. They also come with lower significantly lower price tags, with the 8-inch model costing only $300 followed by the 10-inch's $370. There is also an optional keyboard dock, though it uses wireless connection instead. And no stylus for this one. Undecided? Be sure to check out our review of the tablets to help you make that decision.
We would be amiss not to mention the Surface 3, Microsoft's latest beauty. And we really do mean beauty, because it would be one of the most stylish Windows tablets you'll ever be able to hold. And hold it you will, as it comes with a discernibly lighter, and smaller, body. This smaller Surface Pro 3 would have been almost perfect if not for the price tag. The price starts at $499, with 2 GB or RAM and 64 GB of storage. But the ideal model would be the 4 GB/128 GB deadly combo, with an equally deadly $599 mark. Add in the $130 Type Cover and the $50 Surface Pen, because you'll really want these two, and you're already up at $680 or $780.
The Highest Bidder: Microsoft Surface Pro 3 (Starts at $799)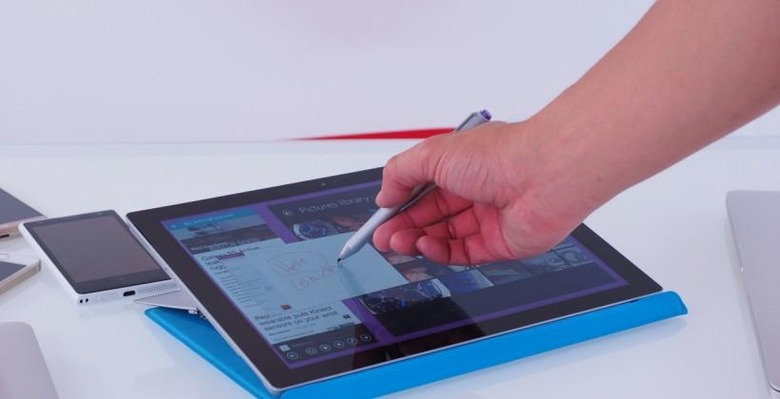 It probably shouldn't surprise you that Microsoft's standard bearer would be at this rung of the ladder, simply because it is one of the best but also the most expensive option, especially when you factor in the almost necessary accessories. True, there are other choices in this tier, some of them bending in yogic flexibility and others carrying all power in their girth, but if we're going to talk about real tablets, the Surface Pro 3 is the one to beat. The device practically a year old by now, but based on the rumors floating around about its successor, it pretty much still holds the throne. Plus, prices might even go down a bit because of those same rumors.
[amazon B00KHR4T8U] As you might already know, the Surface Pro 3 comes in various configurations depending on CPU and storage, but we really recommend the Intel Core i5 ones, which cost $999 for 4 GB RAM/128 GB storage or $1,299 for 8 GB/256 GB. The $7999 Core i3 feels almost like a sellout and only the most hardcore will probably need the heat-generating Core i7. And if you consider that you'll be adding $130 for the Type Cover and $50 for the Surface Pen, which will net your around $1,179 to $1,479, then you'll probably want to save every dollar that you can.
Admittedly, the Surface Pro 3 won't be to everybody's tastes, even as a Windows tablet. This monster of a slate is billed to be the tablet that can replace your desktop, which is a point of contention for many. Check out our review of the Surface Pro 3 to see what has us finally impressed with Microsoft's self-made tablets.
Wrap-up
WIndows tablets are much maligned compared to their iOS or Android counterparts, partly because of its rather ambiguous and schizophrenic nature (thank you, Windows RT). That duality, however, can also be a strength, allowing users to do everything their used to on desktops and laptops on their tablets, but also have the option of some touch-based apps. They are practically constrained only by their hardware, and the budget they're willing to spend. Many, but probably not all, are promised to be addressed in Windows 10. The great news for those buying these tablets now is that they will get the update for free. Even the small HP Stream 7 will get the full Windows 10 Continuum experience, and not the almost RT-like setup "for small tablets".