Windows 8 Phone Functionality Spotted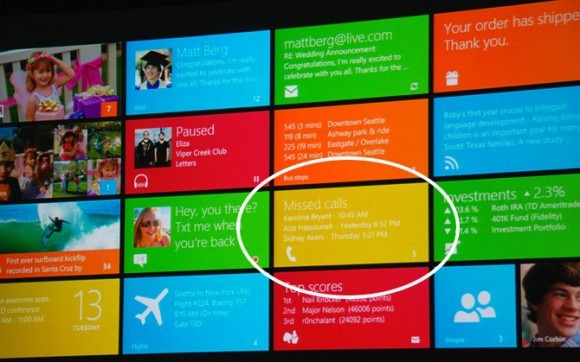 Windows 8 could support voice calls, it's been suggested, after a Metro UI tile for phone functionality was spotted during a BUILD 2011 session last week. The slide, istartedsomething caught, has a Windows Phone 7 style "Missed Calls" dialog complete with times and dates of recent incoming voice calls. However, it's also possible that this could be a VoIP service, or indeed some form of wireless call management when pairing a Windows 8 tablet or phone with a Windows Phone 7 handset.
We've already seen an example of the latter in webOS, with HP allowing TouchPad tablet owners to make and receive calls, as well as send and receive SMS messages, on their Pre3 handset via a Bluetooth link and a dialog on the slate itself. Microsoft could well have a similar strategy in mind, trying to encourage platform loyalty among users by boosting the integration between its mobile and desktop OSes.
Of course, with Microsoft buying Skype, the calling functionality could well be VoIP baked into the platform. Still, digging through the Samsung tablet hardware distributed at BUILD last week has turned up a voice-capable 3G modem, which could imply that native calls are on the cards too. Whether users would actually want to turn their tablet or notebook into a cellphone remains to be seen.