Windows 8 October 25 launch will hopefully spill Surface pricing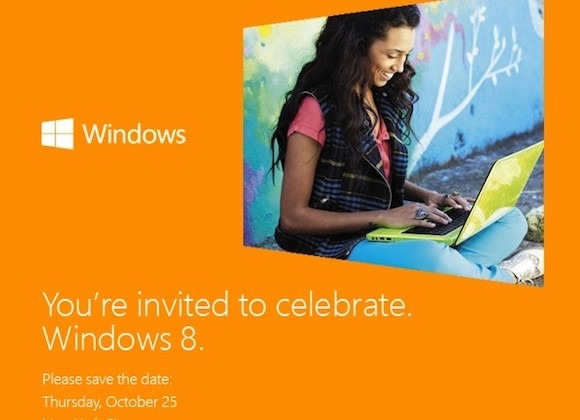 Microsoft has announced it will be launching Windows 8 on Thursday, October 25, pushing out its new OS baby officially and kick-starting its next generation of PCs, laptops, and tablets. The event, to be held in New York City, is something of a mystery going by the invite – which merely shows a happy laptop user, presumably mesmerized by Windows 8's tiled UI – but we're expecting to hear more on the upcoming Surface tablets.
The biggest omission in our understanding of those slates – one of which runs Windows RT on an ARM-based processor, the other which runs full Windows 8 on an Intel x86 chip – is exactly how much they'll cost. Microsoft has hinted at pricing roughly akin to the rest of the tablet mainstream and to ultrabooks, respectively, but exact figures will give us a far better idea of how the Surface models hold up to Apple's best-selling iPad.
There are still plenty of other Windows 8 details still to be gleaned, and more than a few OEMs who will be wanting to show off their latest wares. Tablets have made the most headlines to-date, though the bulk of Windows 8 purchases are certain to be more traditional desktop and laptop models.
Then there's gaming, with far greater integration between Windows 8 machines and Xbox, something which Microsoft hopes will encourage 360 owners to consider picking up a PC (and maybe even a Windows Phone 8 smartphone). We'll know it all on Thursday, October 25, though there's still plenty of time for leaks to steal Microsoft's thunder.