Windows 8 grabs Skype Video Messaging in cross-platform bid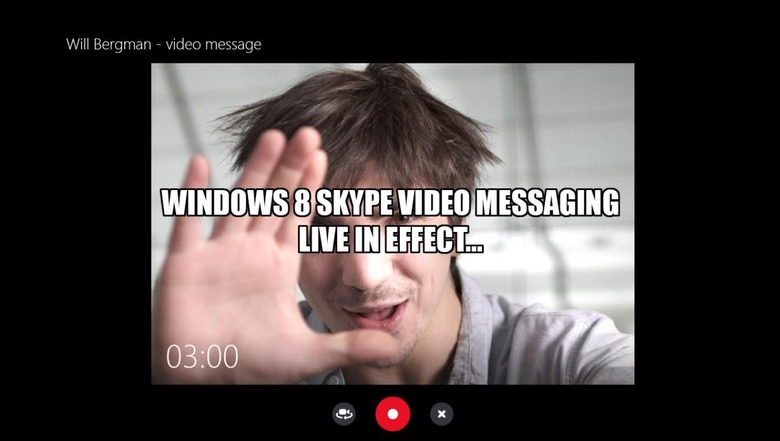 As the Skype Video Messaging universe expands, it would seem only natural that the Microsoft-owned company might have brought the service to Windows 8 first and foremost. As it is, this final push for the service hit their hero operating system last. Here it is, at long last – the Windows 8 version – fully functional, this time – of Skype Video Messaging. Let the away messages in video form begin!
With the Windows 8 version of Skype you'll now be able to both record and send as well as receive and view video messages. This means you're recording a video of yourself with Skype, sending it to a person who isn't actively on Skype at the moment, and allowing them to see the video independent of yourself. This differs from Skype's normal functionality which is text chatting or real-time video chat.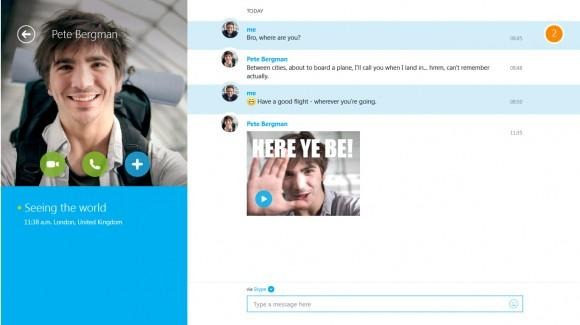 This release allows for the latest release version of the app called Skype for Windows 8 to catch up to the versions on Mac, iOS, and Android. You'll notice that Windows Phone 8 is not on this list – we're expecting this and other current-release functions to appear on the platform sooner than later. For now though: courage.
The release being populated in your direction today is Skype 1.7, mind you – make sure you're up to that version in Windows 8 for full functionality. This version also has a set of languages coming in at the same time as the original English version thanks to a series of what Microsoft says are volunteers – well done!
Bulgarian: Nikolina Filipova & Nikolay Filipov

Czech: Petr Silon

Dutch: Kees Koenders

German: Claudius Henrichs & Dick Schiferli

Lithuanian: Viktoras Kriukovas

Norwegian: Stig Auestad

Polish: Karol Szastok

Portuguese: Francisco Ferreira

Romanian: Péter & Mónika Henning
[via Skype]