Windows 8 Consumer Preview displayed as tablet-friendly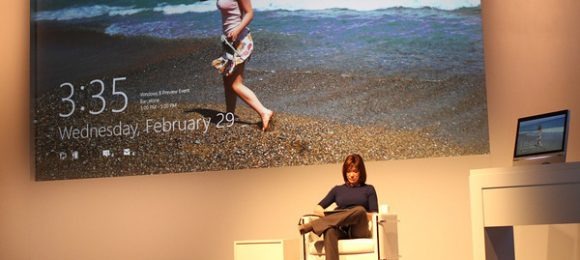 Speaking on stage at the Windows 8 Consumer Preview this week at Mobile World Congress 2012, Julie Larson-Green of Windows Program Management and Antoine Leblond of Windows Web Services outlined how Windows 8 will work with you, the consumer. Larson-Green spoke first of the edges of the tablet, saying that the edges were likely the most important piece of the device itself because holding the device with two hands, one on either side, is the easiest way to work with it and hold it for an extended period.
Showing off a Samsung tablet on stage, Larson-Green spoke on how a massive amount of apps will work fantastic in tangent with one another in Windows 8, arranged and allowed to work together in a "super functional experience." You can pinch to see the entirety of your set of Metro interface, many sets of squares, or grab and move any element, be it one whole home screen or a single panel, and place these elements with a tap.
This entire ability is shown to be working fantastically from the edge of the tablet, with the Charms menu and the URL menu to the bottom and to the right of the screen whenever you need them, be they in Internet Explorer 11 or in your Xbox Live app. Continue to follow along with this event with us through our [MWC 2012 portal] and [Windows 8 portal] today and through the week!