Windows 8.1 Hands-on: The hidden gem features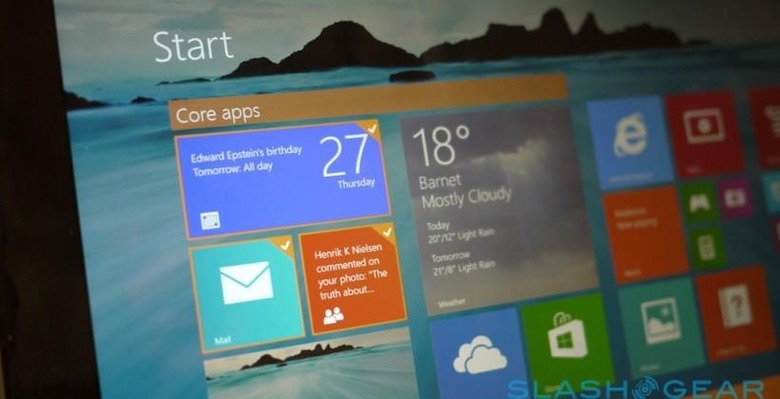 Windows 8.1 is, Microsoft claims, the culmination of listening to feedback around Windows 8 and finessing the features users have been most demanding or vocal about. The original version shook up long-standing PC fans, with its Live Tile interface and marginalization of the traditional desktop, but there's more of an attempt to merge the two in Windows 8.1. That's certainly not all the new OS has to offer, however; we caught up with Microsoft to dig through some of the features the company is quietly proud of: read on for our pick of the hidden gems.
The new start screen had been one of the most contentious parts of Windows 8, and Windows 8.1 brings various tweaks to how it can be organized and managed. Most useful is the fettled way of managing tiles, either singly or in groups; rather than simply dragging around, which could be a shortcut to frustration as you inadvertently rearranged your homescreen, it takes a long-press before they move. Then, you can select multiple tiles and drag them all, including pulling them into new groups which can then be optionally named.
While you're rearranging them, you can also switch between three sizes – small, medium, and wide – to show either more live information or fit more tiles on-screen at any one time. Meanwhile, in the settings menu there's the option to condense down the whole interface, fitting even more on the page. The gestures – which involve pulling out app drawers, options, and task-switchers from the edges of the display – can still be hit & miss, however, and there's a fair amount of "lining up" where you swipe from and to in order to get them right first time.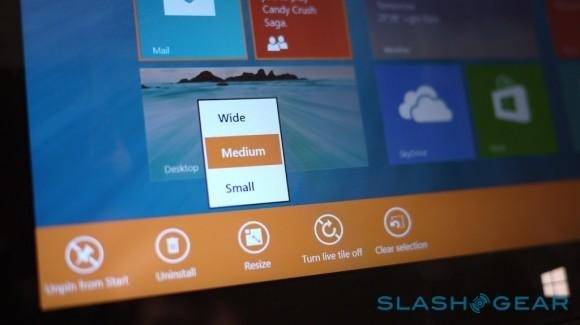 The snappable split-screen system is still present, but now there's more choice in where the split happens. On something like the Surface, you can have two apps on-screen at any one time, with three places for the division to go – either 50:50, or a roughly 60:40 split with bias on either side – but on PCs hooked up to bigger displays you can have up to four apps sharing the screen simultaneously.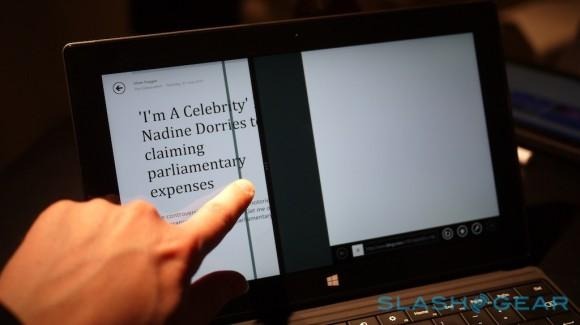 The keyboard has new features too, including easier access to numbers from the QWERTY layout. Rather than jumping between the regular and number/symbol pages, you can now swipe up from the top row of letters to insert the relevant number. There's also support for scrolling through the list of auto-predicted words by swiping left and right on the on-screen spacebar, with a tap to select.
Windows 8.1 – Five hidden gem features:
Some of the neatest features are buried in Microsoft's own apps. The Food & Drink app, for instance, which offers a recipes binder, can be switched into hands-free mode: that includes larger fonts and turns the webcam into a motion sensor. Swiping your hand left and right in front of the camera moves through each page of the instructions. It works surprisingly well, meaning you don't get greasy or wet fingers on your touchscreen or keyboard, though you need to be within around 9-12 inches of the webcam.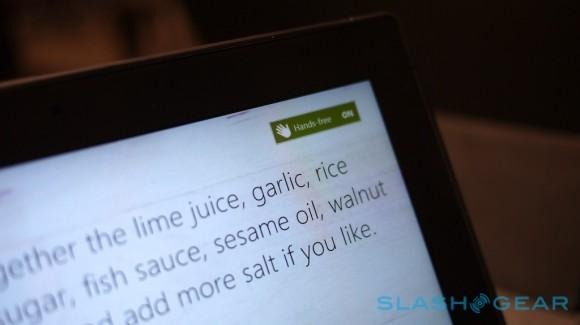 The Health & Fitness app is also Microsoft's own handiwork, with a food and exercise tracker, health record – complete with graphs to show your progress – and an exercise guide with multi-angle videos to walk you though new routines. Hypochondriacs needn't resort to Google (or Bing) to hunt down their illness, with the app also including a diagnosis tool that allows you to pick the part of the body giving you trouble, the symptoms you're experiencing, and then potential causes along with further reading.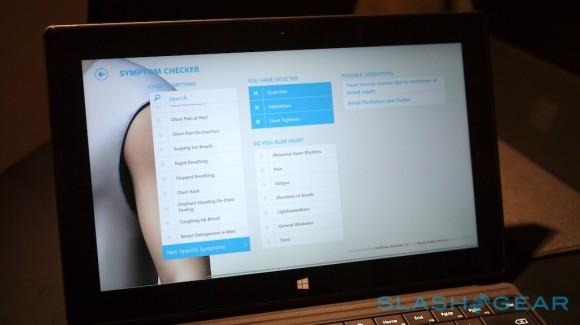 Pulling content normally found in the browser into a single place is something of a theme in Windows 8.1. The new search layout takes individual terms and then crafts what Microsoft describes as an "app-like" UI from them; so, a search for Madonna for instance brought up music from Xbox Music – which could be played directly from the search results – as well as Wikipedia pages – which opened in the local Wikipedia app – and other information, all in a neat, side-scrolling layout.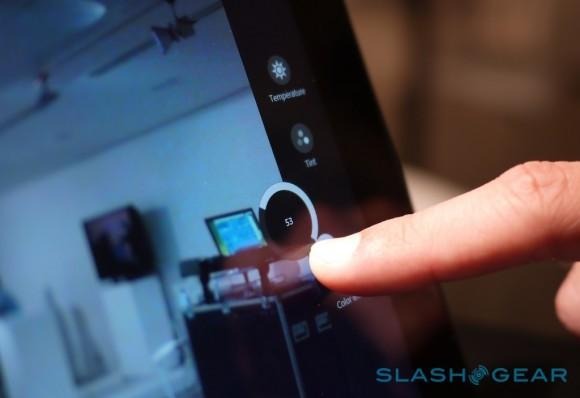 There are also new native photo editing tools. You can now access the camera from the lockscreen without having to unlock your PC first, and then there are cropping and color editing options as standard. One of the neatest is the color saturation picker, which allows you to drag a highlight to a certain color on-screen and then, using a draggable dial, increase or decrease its saturation across the whole image.
It's relatively early days for Windows 8.1 – we were testing it out in beta form, and there were still some obvious glitches along the way – but already the OS feels more user-friendly and considered than before. You can download the beta now, and the full release will come later this year.