Windows 7: GUI, multitouch, Media Center & more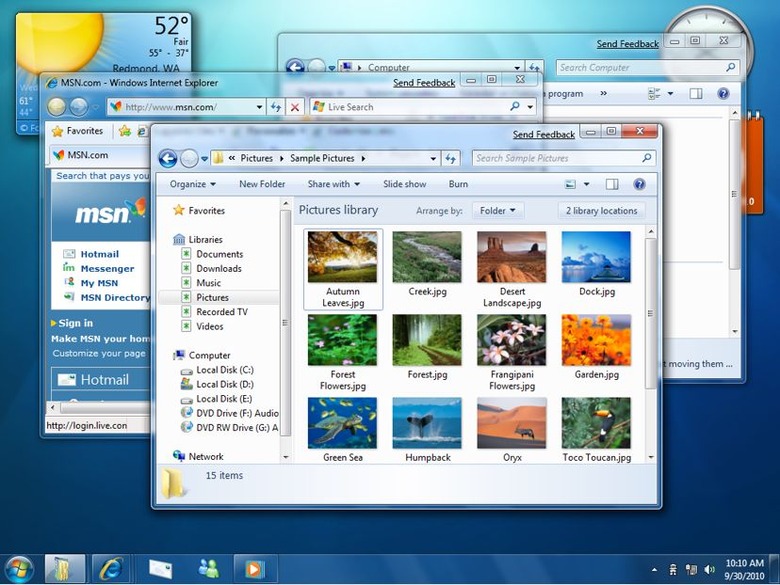 With Windows 7 officially outed, the screenshots, video and first-impressions have been coming thick and fast.  Whether you're a media junkie, a tableteer or just wondering what your work desktop might look like after the next upgrade cycle, we've been gathering up all the details you need.
The pre-beta feature list was revealed yesterday, as was the first shot of the Windows 7 desktop; Microsoft have also put up the keynote videos from the PDC (you'll need Silverlight to watch them).  The most noticeable GUI change is the taskbar, which has dropped text labels for running apps in favor of bigger icons.  Right-clicking summons up not only the usual restore/minimize/etc. options but shortcuts to key functionality in that app, and while in Vista a preview thumbnail pops up when you hover over the app's button, in Windows 7 all the apps on the desktop go transparent so you can see that program.
Gadgets have been released from their sidebar to roam freely across the desktop, useful for those with limited screen real-estate, but multiple monitor support has also been streamlined for users with the opposite problem.  Security, which Microsoft tried so hard to get right in Vista – but then found themselves lambasted for over User Access Control – has been fettled so as to be less intrusive and more useful, with more granular control over what alerts are shown.  Microsoft are obviously hoping to avoid "click anything" syndrome where frustrated users will say yes to anything in order to get rid of dialog boxes.
Tablet PC users get a new math input panel for written equations, as well as a pre-completed (in handwriting, no less) TIP for easy URL entry; check out the screenshots from GBM and their video below.  Controls such as the taskbar and Start menu can be set to larger, finger-friendly sizes, but it's still not the complete, ink-enabled environment we might have hoped for.  Like Vista and XP, the inking tools seem added in rather than integrated.
Media Center is a far slicker implementation, however, with more visual and functional harmony between Windows 7 and the latest Microsoft Zune GUI.  Charlie Owen from the Media Center team has a full gallery of screenshots, including the tweaked menus that manage to fit more information in without looking cluttered, and the new on-screen displays adding extra detail during TV and film playback.  The photo viewer looks to have borrowed some of the Microsoft Surface multitouch table's style.  Meanwhile We Got Served wax lyrical over the new Music Wall, which scrolls through album art.
Speaking of multitouch, Microsoft plan on giving all applications at least basic functionality from the start, with the usual pinch-zoom and gesture controls.  Individual apps will then get more subtle (or complex, depending on how you look at it) multitouch optimization; in the video below, from FayerWayer, you can see how the same gestures that scroll in non-advanced apps perform more complicated actions – such as prompt the context-menus – when in optimized apps.
Behind the scenes, we're promised improved performance from graphics hardware thanks to Windows 7's better handling of GPU capabilities and support for the Direct3D 10.1 API.  In fact, they're claiming 50-percent less graphics memory consumption per open window, despite offering higher-resolution and more richly animated thumbnails and previews.  A good example of that is the color hot-track, which picks the dominant color in an program's icon and uses that to highlight it; check out the demo video by Tom Warren from Neowin below.  Portable machines, too, will have improved performance; Laptop Mag have been playing with an impressive Lenovo ThinkPad X300 running Windows 7.
The disclaimer to all of this is that the screenshots and video are from a pre-beta version, and could likely change before the first release beta expected early next year, never mind by the final release of Microsoft Windows 7.  What's clear, though, is that a whole lot of thought has gone into the OS, and produced something that isn't a mere clone of Apple OS X.  I'm pretty impressed, and am looking forward to trying it out myself; let me know your thoughts in the comments.
Multitouch on Windows 7:Inking in Windows 7:Color Hot-Track on Windows 7:
]