Windows 10 Maps now available for preview to 'Insiders'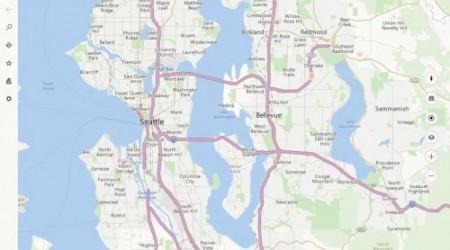 Windows Insiders — those who are involved in beta testing Windows products ahead of Microsoft's Windows 10 launch — can now take a new Maps app for a spin. The new Maps app is available for both desktop and mobile, and comes with a host of new features and an experience Microsoft says "delivers a single and consistent mapping experience across all your Windows devices". Utilizing both Bing and HERE maps, Windows' Maps app provides local data search, aerial imagery, and even voice guided navigation.
With a touch-enabled device, you can pinch to zoom in or out, rotate and tap on labels to launch detailed info about a business or landmark, and tilt the map as needed. You can also tap a 'Show my Location' button to zoom in on your current position, or 'Map views' to activate Bing aerial imagery.
Search comes on the back of Bing, which brings up a host of popular search topics like restaurants and hotels. If you search for a business, landmark, or other location, Bing will feed you details about the area or place of interest as well as reviews.
Navigation features come courtesy of HERE, and provide detailed turn-by-turn directions for the best route, which is decided for you based on traffic or settings like toll road avoidance.
A big aim for Windows 10 is ease of use and apps looking and acting similarly across devices. To that, Microsoft says any Windows device you're logged into will sync with your settings and recent searches.
Source: Microsoft