WIMM Wearable Platform hands-on [Video]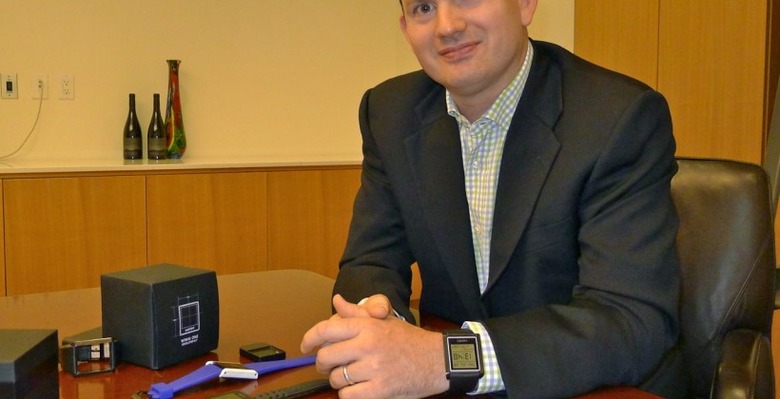 Wearable sub-displays keep coming around, and WIMM Labs is the latest company to try its hand at the segment. Its WIMM Wearable Platform – a 1.4-inch color touchscreen, scaled to be wearable on your wrist, and paired with WiFi, Bluetooth, various sensors and running Android-based "Micro Apps" – obviously stood out of the crowd, having caught the attention of Foxconn and two rounds of financing from the huge manufacturing/ODM company. We caught up with the WIMM Labs team to check out the Wearable Platform and find out if it stood more chance of success than, say, Sony Ericsson's LiveView.
The basic premise of the Wearable Platform isn't new. People carry their phones and tablets in pockets and bags, not in their hand, and so when nuggets of information, alerts and updates come in, they need to be taken out in order to check them. A wearable display – strapped to your wrist, hanging on a lanyard from your belt or bag, or otherwise attached to you – means at-a-glance review, allowing you to decide whether you need to fish out your phone or if it can wait until later.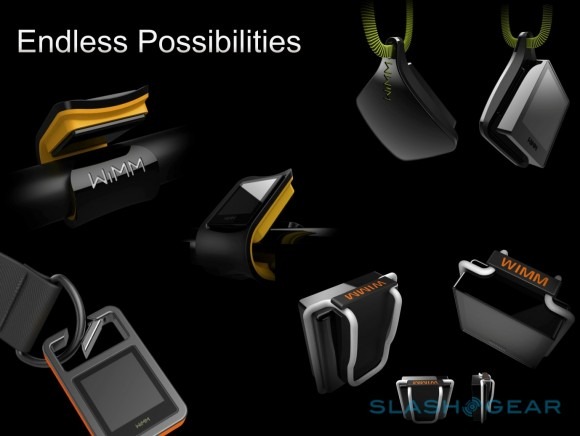 WIMM's One developer kit hardware is a step ahead of some systems we've already seen. The 1.4-inch capacitive touch display operates in dual-modes, either as a regular screen or transflective backlight-free so that it's still readable (albeit in monochrome) but battery life is extended. This passive display mode works in tandem with a 667MHz Samsung microcontroller, WiFi, Bluetooth, GPS, an accelerometer and a digital compass, all contained in a waterproof casing – made of either plastic or of a new wireless-compatible ceramic – measuring 32 x 36 x 12.5 mm and weighing 22g.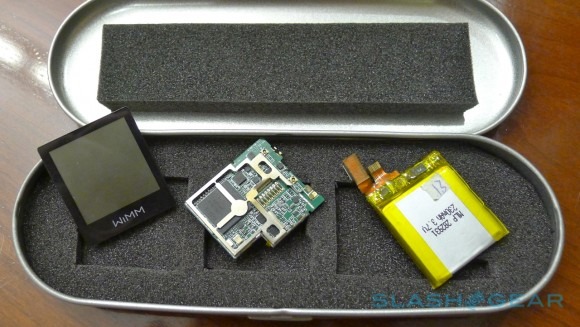 That casing, WIMM says, should be standardized so that each unit – the Wearable Platform will be licensed out to third-party companies – will hopefully be interchangeable with the same mounting pins. That way, if you buy a new model from another firm, it should be able to snap into your existing watch strap. Up to 32GB of memory is supported, and the One can notify you with audio or tactile alerts. Battery life is said to last at least a full day, and it recharges using a magnetic charger (that plugs in via microUSB) or a collapsable desk-stand that adds an integrated battery good for up to four recharge cycles and useful if you're on the road.

Control is via a series of taps, swipes and physical gestures (the sensors allow the Wearable Platform to react to movement), including a two-finger swipe to pull down the watch face. WIMM will preload a handful of apps – the multifunction clock, a real-time information viewer showing weather, etc, and a cellphone companion which can show incoming caller ID, a preview of new SMS messages, and assist you in finding a lost phone. Pairing can be either via WiFi or Bluetooth, and the micro-display will work with Android, iOS and BlackBerry devices. Apps are selected from a side-scrolling carousel, loaded by flicking them up toward the top of the screen, and closed by flicking them down.
[vms 753132652ae09963a05e]
However, the preloaded apps are only to get you interested: the real movement, WIMM expects, is in the Micro App store. The Android-based SDK means there's few hurdles for existing Android developers to get up to speed, and licensees of the Wearable Platform will be able to roll out their own app stores, based on WIMM's white label service, picking and choosing which titles they want to include. The company is targeting performance sport and medical applications initially, with potential apps including exercise trackers, heart rate monitors and medication reminder services.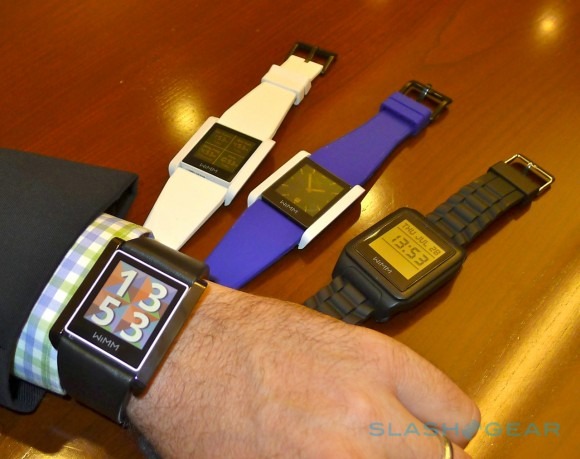 Although we've seen similar promises from earlier platforms, WIMM's relationship with Foxconn might prove the tipping point to bring wearable displays to the mass market. As well as privately investing in the company, Foxconn is the "preferred supplier" and has given WIMM access to over 100 of its engineers, various development resources and IP. It's also promising to build the custom hardware that licensees demand, and ship it direct, giving WIMM a significant boost in becoming production-ready.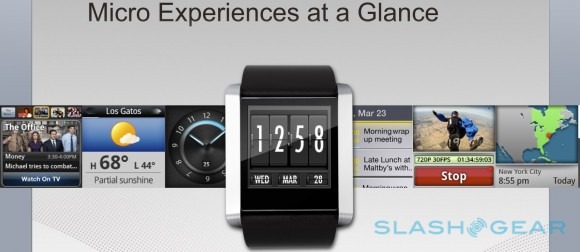 WIMM expects to include select developers in its early-access "Innovator Program" over the course of this month, with the WIMM One kit going on sale later in Q3. That will be followed by the launch of the app store beta, around about the end of September, in addition to the release of a Watch Face Creator Beta tool and a developer contest to drum up coder interest. Owners will be able to manage the device – and Micro Apps for it – via a web-based interface or mobile apps for the various platforms.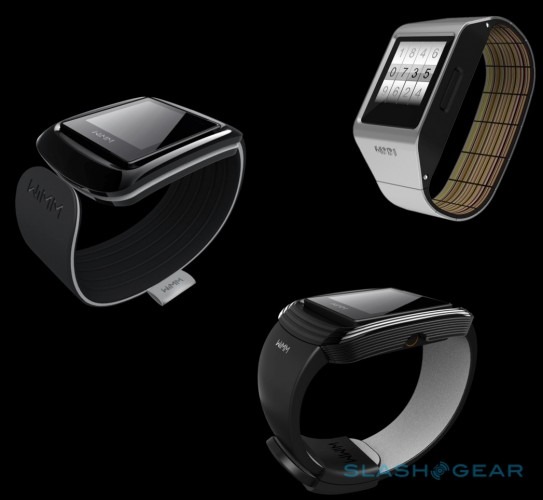 The company isn't the first, but it's the most rounded wearable display idea we've seen so far. The initial hardware in the One developer kit is clunky, but versions targeted at consumers should be slicker. So far, ideas like Fossil's Meta Watch (based on TI's MSP430 "smart watch" chipset) have been promising but lacked scale: niche developer groups respond well to them, but they don't get market traction. WIMM isn't talking brand name partners at this stage, nor developers, but they're really the last stages in the puzzle: the hardware itself is solid and the OS responsive and usable. Perhaps for the first time, this is a wearable display that we'd give wrist-room to.
[vms 58a7bbfd8b132435c596]