WIMM One Developer Kit Review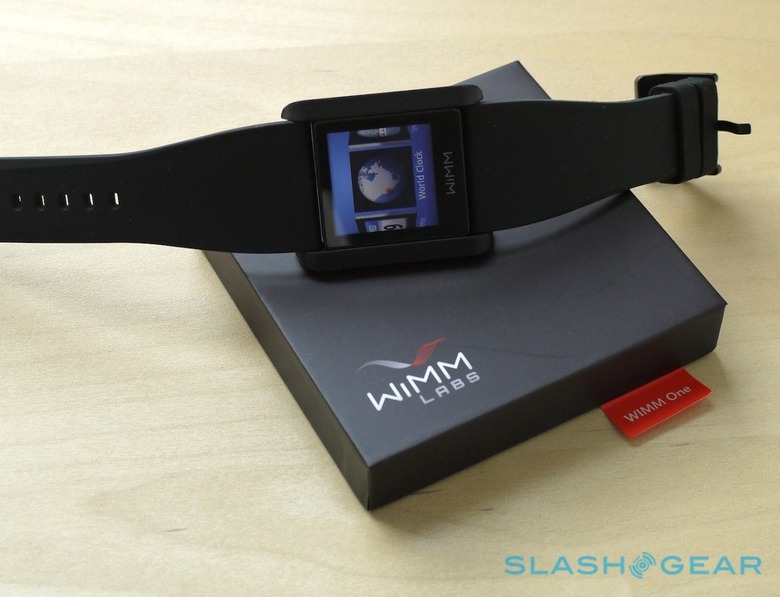 The WIMM One has a worthy ambition: shifting information from your smartphone screen to your wrist, and allowing you to get on with life rather than pulling your phone from your pocket every thirty seconds. To do that, WIMM's smart watch harnesses Android, a high-tech display and more sensors than you'd expect from the standard Rolex or Omega. The company also has its eye on smart watch world domination, with enthusiastic plans for third-party developers and hardware manufacturers. The WIMM One Developer Kit is the first step in that journey; check out the full SlashGear review after the cut.

Hardware
Tiny display and tiny chassis: the WIMM One is certainly compact. The 32 x 36 x 12.5 g case weighs a mere 22g, and is fronted by a 1.8-inch 160 x 160 capacitive touchscreen. The display panel itself is actually a bimodal one: it can operate as a regular LCD, in full color, for indoor use, or as a monochrome transflective panel for low-power and outdoor use, visible even in direct sunlight.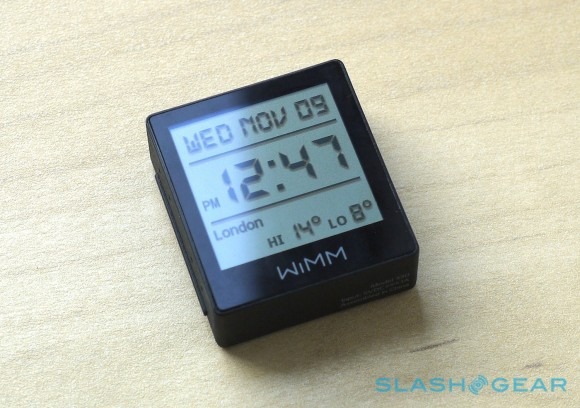 Inside, there's a 667MHz processor paired with WiFi, Bluetooth, an accelerometer and digital compass, speaker and a vibration alert. The case itself is splashproof, and has only one physical control: a recessed power button on the right side. On the back, there's an 18-pin proprietary connector, which matches up to a microUSB sled that the WIMM One magnetically latches to for recharging and synching with a computer (where it mounts as an external drive, showing 2GB of onboard storage). We did find the watch could shift around on the charger base and lose contact if we weren't careful with how we placed it, though there's an LED to show when it's actually charging.
WIMM One Hardware Overview:
WIMM also includes a microUSB cable, a USB power supply and a rubberized watch strap. The latter – which has a frame into which the WIMM One slots – is a chunky, oversized thing, bulky on the wrist and hardly shows the smart watch off at its best. WIMM has plans for alternative options, like lanyards, clips and third-party watch straps, but for the moment this is your only option.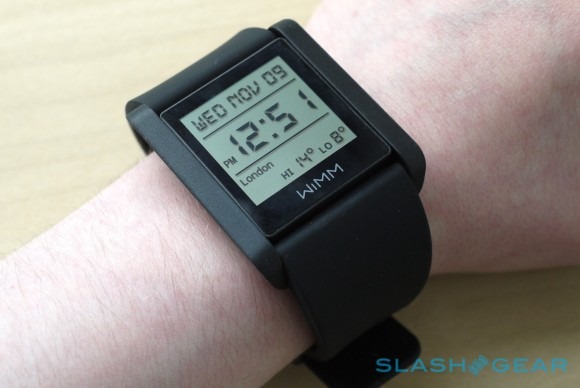 Battery life is billed at a whole day's use, and we found – with a persistent Bluetooth connection to our smartphone – the WIMM One lasted well into a second day. The low-power screen mode helps on that front, switching into transflective mode automatically after a few moments of sitting idle. When left to sync over WiFi, battery life was worse of course, though we still got a day's casual use out of it.
Software
Setup of the WIMM One is through a web-based interface, shown in your desktop browser and in a browser-based tab of the Android and BlackBerry smartphone apps. WIMM is working on an iOS app, but it's not ready for release yet. Initial setup requires a WiFi connection and then punching a code shown on the smart watch's display into WIMM's site: that pairs the watch with your account.
From there it's a matter of setting time and date, choosing your home city and setting up sync frequency. Further tabs take you into a selection of different watch faces, which can be hidden and reordered, as well as settings for the Micro Apps. Again, these apps can be shuffled around in the order they show on the app carousel, or hidden altogether if you don't find yourself using them. Some have further settings, such as choosing cities in the Weather and World Clock apps, or registering your Google Calendar or Exchange Calendar to be shown in the WIMM One's Calendar app.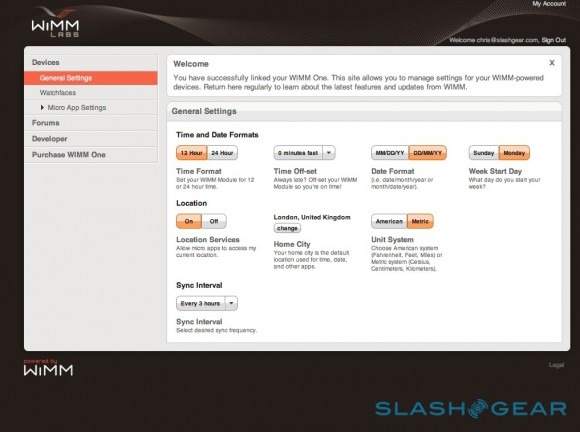 Under the hood it's a modified version of Android keeping things ticking, though you wouldn't know it to look at the smart watch. WIMM has customized the whole UI to suit the compact display, and in general it works well. The standard control scheme is tapping or swiping up to open an app, swiping down to close it, and using two fingers to pull down the watch face (with its date, time and weather information). A further swipe down shows the battery gage, Bluetooth and WiFi status, and whether the WIMM is in flight mode with all radios shut off.
WIMM One Functionality:
In general, the WIMM One proved responsive. We occasionally experienced issues getting the touchscreen to respond to taps or swipes first time, but there was none of the prolonged lag that leads you to wonder whether or not you've actually pressed a control. Apps load quickly and, while 1.8-inches and 160 x 160 is hardly spacious, do a reasonable job of showing sufficient on-screen information while also accounting for normal eyesight.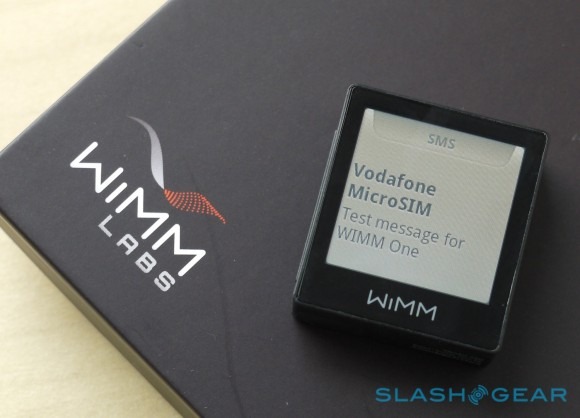 On its own, the WIMM Android app supports pushing SMS and Caller ID notifications to the smart watch. Receive a text message and it's shown on the WIMM, complete with sender and the message body. Incoming calls show Caller ID – if you have the name of the person stored in your phone – and an option to divert to voicemail. It's worth noting that you can't respond to an SMS or answer a call from the watch; instead you have to pull out your phone in the usual manner.
Apps
Out of the box, there are six native apps loaded on the WIMM One: Weather, Calendar, World Clock, Timer, Alarm and Stopwatch, then the Settings page. Functionality is pretty much self-explanatory. The Weather app shows day by day forecasts for the cities you've selected, side-swiping taking you through each location, as with the World Clock. The Calendar pulls in your appointments from a single Exchange or Google Calendar, flagging up notifications on-screen. The Timer, Alarm and Stopwatch let you set count-downs, timed alerts and measure time respectively, including a lap feature on the stopwatch.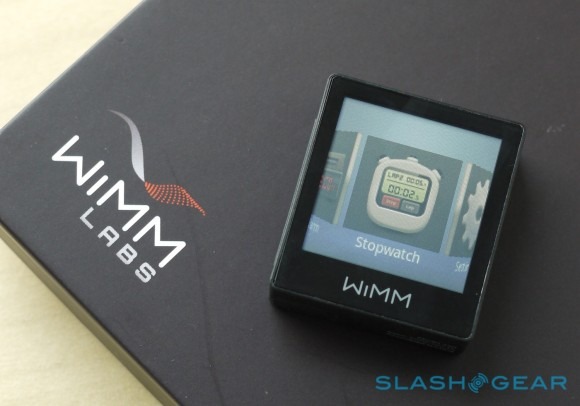 WIMM has bold ambitions for its smart watch platform, and key to fulfilling them is getting developers onboard. They'll be able to release so-called Micro Apps, adding functionality to the WIMM watch that's either an extension of your smartphone's abilities, or standalone features that you might want easy access to on your wrist.
Eventually, there'll be a WIMM Micro App Store – available online and in the companion smartphone app – through which users will be able to browse apps, read reviews and install/uninstall them. At present, it's a case of downloading a .apk file, transferring it via USB to the WIMM One and then watching as it shows up in the app carousel. Uninstalling is a more tricky procedure right now – you can either use ADB (Android Debug Bridge) to remove individual apps manually, or do a Factory Reset to get rid of them all – but that will be changed in the future.
Apps are currently distributed through WIMM's forums, though there's relatively slim pickings today. Currently there are five stable titles to try, though given developers are only just being allowed to buy WIMM's hardware, that's no great surprise. There's a Coffee Card for Starbucks app that allows you to register your loyalty card and scan it when you grab your morning latte, and a News Reader app that lets you either choose from a preset list of RSS feeds (including news, tech, politics, sport, etc.) or log into your Google Reader account and see your own feeds. Stories are presented as headlines in a list, and tapping them takes you to the full article; swiping left and right moves through the articles in order. It's a useful way to catch up on the latest happenings, though there's no way to flag or share articles for the desktop or other people.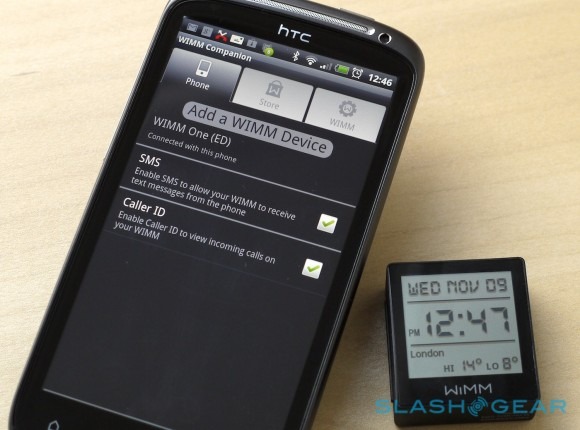 The Simple Calculator app does what it says in the description, giving a straightforward way to make basic calculations, while SportyPal Active is a companion app for the existing SportyPal Android software: you can track your current and past exercise from your wrist. WIMM is also working on a pedometer API to track steps and lifts, which should make fitness apps like these even more useful.
Finally there's the app we could perhaps spend longest with, Balance Ball Micro, a Labyrinth style balancing game where the WIMM One's accelerometer is used to navigate a ball through a maze. It's a good demo of the sensor's sensitivity. WIMM also has an area of its forums for untested applications, though given the early nature of the platform (and the difficulties in removing apps that potentially don't work) we stuck to those titles the company thought were ready for primetime.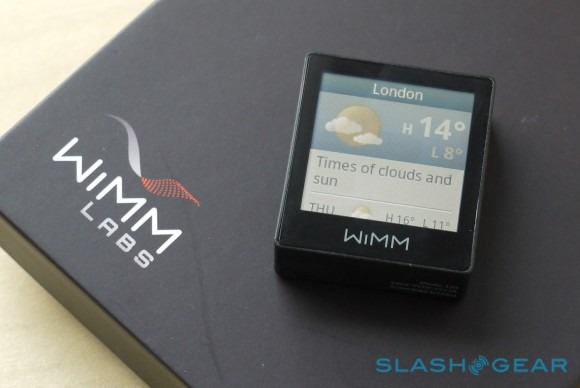 Unfortunately there are still some obvious apps that are missing in action. We receive far more Gmail, Twitter, Facebook and Google+ notifications than we do calls and text messages these days, but so far there's no way of seeing those alerts flagged up on the WIMM One. In fact the smart watch doesn't even ping when they come in, meaning you'll still have to listen out for your phone beeping whenever there's an update. Similarly, no IM apps are represented in WIMM's catalog: it would be great to see Google Talk, Skype and other IM clients flag up incoming messages on the smart watch's display.
Future
Omissions are understandable, however; this is a product that's only just hit the market after all. Developers were invited to buy the WIMM One watch kit earlier in the week, priced at $299.99, but even without the hardware itself it's possible to download the SDK and begin coding for the platform. Porting Android functionality over from app to Micro App is apparently a relatively straightforward process, so that should help reduce lead-time before we see more titles become available.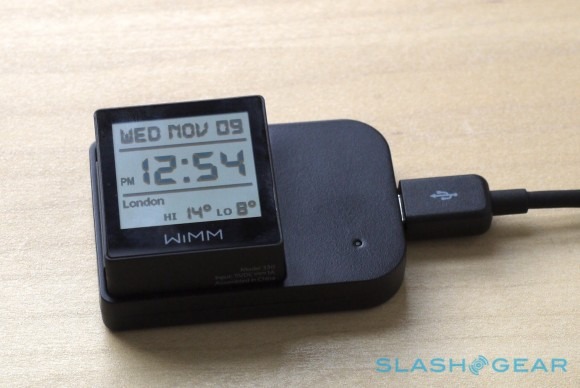 Meanwhile, WIMM is pushing ahead with its hardware development program, kicking off an HDK (Hardware Developer Kit) alongside its software counterpart that includes the WIMM One module's precise dimensions and various CAD files, the latching mechanism, tech specs and recommendations on what materials accessory manufacturers might want to use. The hope is that soon WIMM One owners won't have to use the clunky rubber watch strap bundled with the smart watch face, and will instead have a range of alternative straps, clips, badges and other options.
Beyond that, there's open peripheral support, using the WIMM One's fourteen pin connector to develop active accessories that will integrate new sensors and outputs. We're yet to see the first fruits of third-party developers taking advantage of the HDK, but WIMM has a "preferred supplier" agreement with manufacturing giant Foxconn that certainly suggests the firm means business.
Wrap-Up
Usually at this point in the review we'd give a final opinion: is the WIMM One worth buying, or should you steer clear? In the case of this smart watch, however, it's far too early for such decisions. WIMM is taking its first steps, and the WIMM One is targeted, today, at developers rather than the mass market.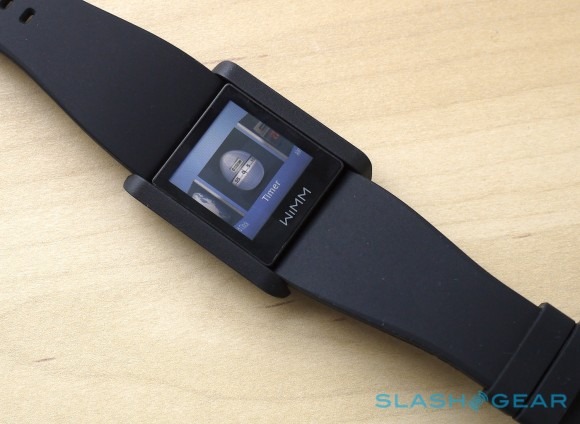 What we can say is that, of the smart watch projects we've seen to-date, WIMM's is the one that has captured our attention most thoroughly. The combination of a broadly-accepted Android base, open approach to software and hardware standards, and pre-emptive agreements with well-known manufacturing partners adds up to probably the best chance of succeeding in a segment that has seen many launches and many failures. The WIMM One Developer Kit isn't something we'd recommend everyday users buy, but we'll certainly be following the WIMM One project with interest.