Wilson X Connected Football hands-on: The IoT gets competitive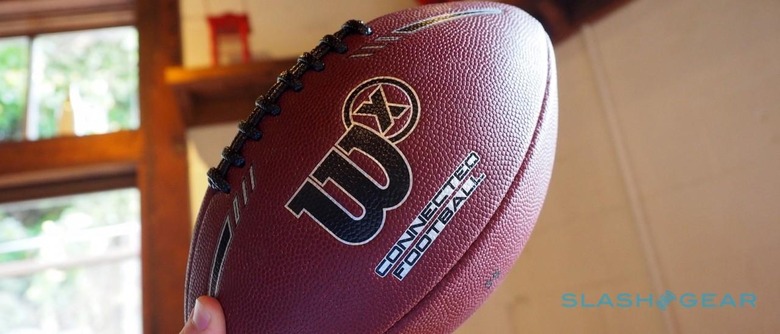 With the Super Bowl upon us, what better time to preview the latest in Wilson X's wirelessly-enabled sports tech, the Connected Football. Though it's stuffed with Bluetooth and a bevy of sensors, at first glance you'd be forgiven for mistaking it for a regular football but, as Wilson demonstrated when I met with them in San Francisco this week, it'll unlock a wealth of new data when it arrives in time for the 2016 season.
Where the Wilson X Connected Basketball was targeted a pro-athletes, the company is looking to a broader market with the Connected Football. Though it's on a par with one of Wilson's pro-level balls, and thus suitable for proper teams, it's also being pitched at enthusiasts looking, so VP of product R&D Bob Thurman explained to me, for "evolved experiences" that build upon the traditional game.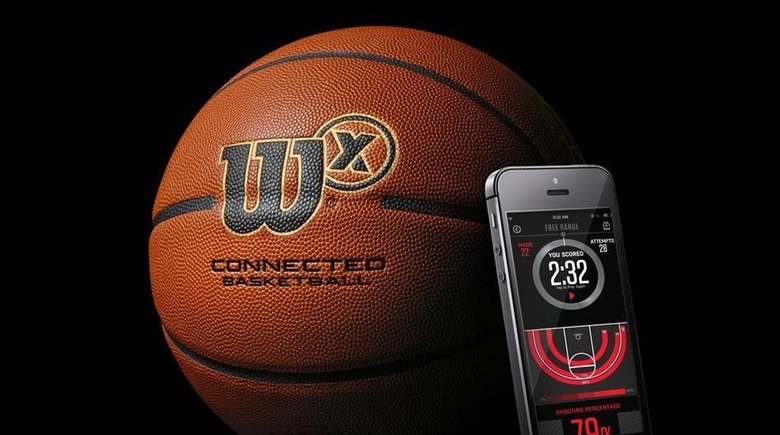 Delivering those experiences is a ball packed full of sensors and a companion app for your iOS device. They track distance, speed, spiral efficiency, and whether the ball was caught or dropped, and pipe that across to the smartphone via Bluetooth.
It's no toy, either, though Wilson is doing its best to gameify the existing game. The app itself is still a work-in-progress, but Thurman showed me an early build in which you're assigned a score for the strength and accuracy of your throw.
Eventually you'll be able to compare that with other athletes, to see whether you can compete with a pro, an all-star, or even a Hall of Famer. Initial feedback on that suggests a surprising degree of addictiveness, too: kids wanting to beat their best score, or families getting competitive with each other.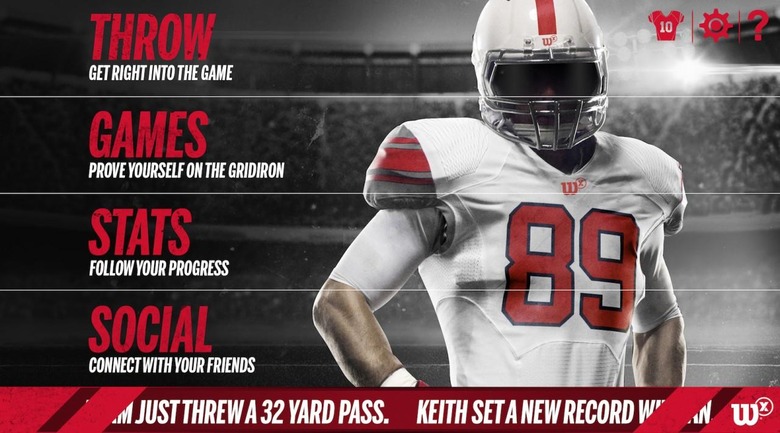 In the pipeline, meanwhile, are more serious metric-tracking apps. In keeping with the Connected Football's professional intent, Wilson will have software with which coaches can track player training, for instance.
Online leaderboards will allow for high scores to be shared, as well as results compared between players, schools, teams, or even state by state. Various APIs will be baked in for linking in with third-party apps, and Wilson says it's open to game developers and other possibilities. The company itself has a roadmap of games it plans to push out through the app.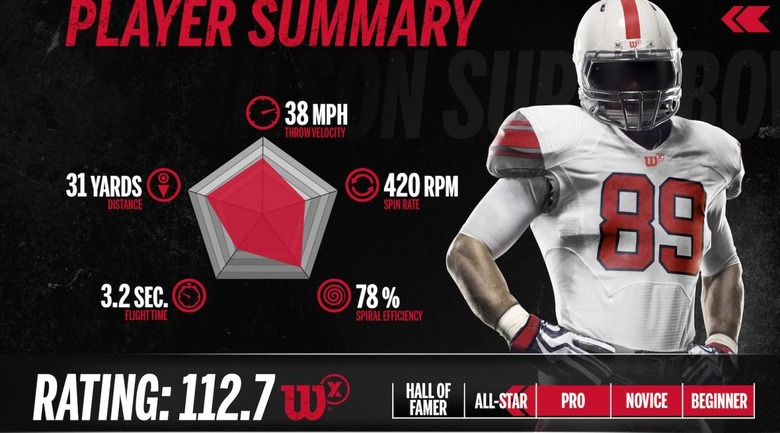 "We see it as a console," Thurman says, explaining that the Wilson X is effectively competing for time: there's no shortage of ways for people to occupy themselves, after all, including being sat on the couch in front of an Xbox or PlayStation.
With no physical controls, Wilson had to get clever with how the Connected Football is operated. Usually, it's in standby mode: you turn it on by holding it upright momentarily and then cleanly rotating it, first 180 degrees and then another 180. That, Thurman points out, is a motion unlikely to happen casually, meaning the ball can be left to roll around in the trunk of a car without wasting energy.
A slap – tracked with the sensors inside – tells the ball that a play is underway. Bluetooth range is around 150 feet, or half the length of a football field. At the other end of the throw, machine learning can figure out whether it was caught cleanly, fumbled, or dropped altogether. After around thirty seconds idle, it puts itself back to sleep.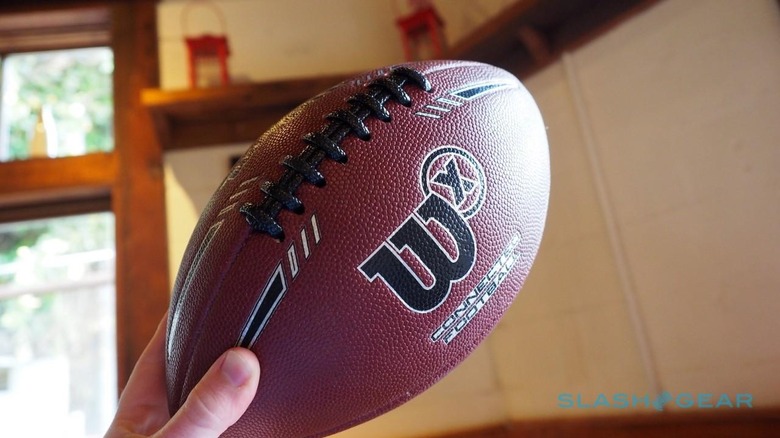 That frugality is important. The ball runs on a single watch cell-style battery which, Wilson says, should last for two years of typical use. After that, though, there's no way to change it: you have to buy a whole new Connected Football.
Your knee-jerk reaction to that was probably the same as mine, some degree of criticism. Wilson's argument is that not only does such a design keep the cost down and help achieve the waterproofing players would expect, it's also entirely in keeping with the lifespan of a typical football.
In fact, Thurman pointed out to me, its non-connected balls are generally replaced more frequently than every two years – either because they get too beat up, or lost, or worn down. Still, it seems fairly wasteful to have to bin the entire electronics side each and every time.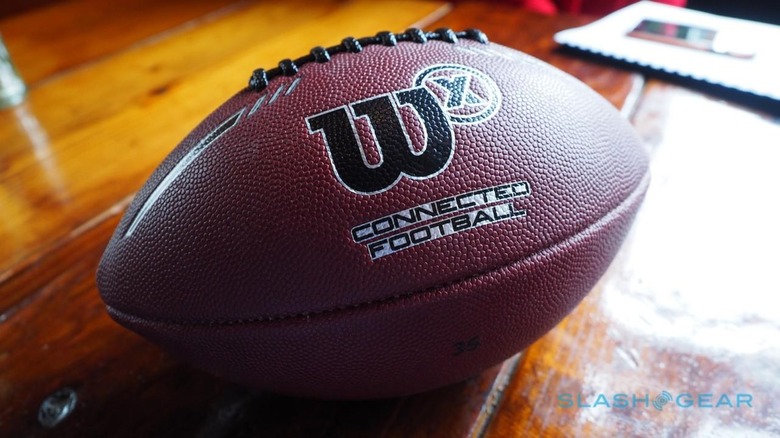 Then again, opening up a ball and slotting in a bundle of components – even if, as in Wilson X's case, they're only around half an ounce in total weight – would be counter to the company's goal to make the connected side of things as transparent as possible.
"People don't want to feel it," Thurman argues, though you'll need to have your iPhone on you all the time since the Connected Football requires an active connection in order to track data. That could in theory be done with an Apple Watch – it's unclear whether that'll be supported at launch – allowing you to leave your phone at home.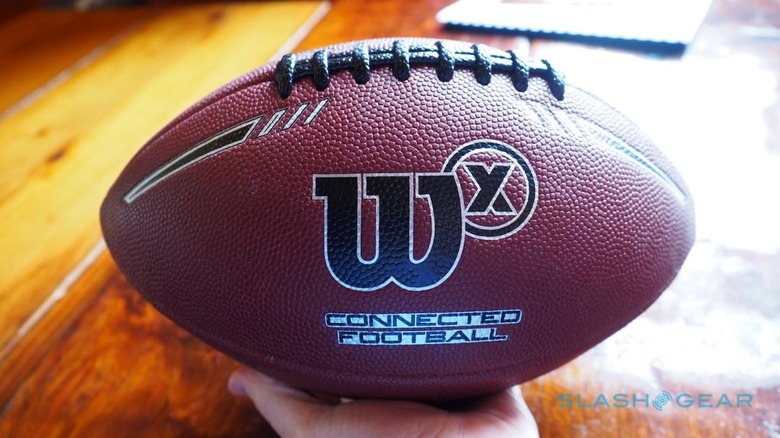 Better, though, would be some amount of onboard memory: then the ball could log all of the game data and synchronize it across when it's back in range. That way you could dispatch your kids to the park without having to worry that they could lose both an expensive phone and a wireless football too.
As for how expensive that Connected Football will actually be, Wilson says it's not settled on a final price yet. The launch is pencilled in for mid-August – in time for the new football season – but with the Connected Basketball priced at $200, it seems likely the football version will command a similar amount.
Beyond that, Thurman tells me, the company has plans to spread wireless smarts into other sports equipment. "The stadium is everywhere," the R&D chief observes, and even as virtual reality gaming begins to tip into the mass market, what could feel more real than actually throwing a physical ball.