Will Facebook's deals platform drive more location based service usage?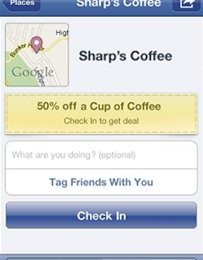 Yesterday Facebook launched, among other things, a new platform called "Deals."   The goal of this platform and the API's that come along are simply to offer businesses both local and national a way to offer consumers deals as they check into locations near retail outlets.   This has been one of the primary over arching goals and use-cases referenced when talking about the promise of location based services.
Today the Pew Internet Research Center in their Internet and American Life report stated that only 4% of online American's actually use location based services.   Their research also found that even though 4% of online American's use location based services it only makes up 1% of their usage on any given day.   The real question is what will drive more people to use location based services and can Facebook play a role in it.
[aquote]where the market stands right now there is no real end user value to check in[/aquote]
The problem lies with the fact that as of where the market stands right now there is no real end user value to check in. What is the benefit to the end consumer to checking in currently other than to let people know where you are?  The value on top of that could also be to let business know where you are and that you may be interested in promotions.
Facebook's Deals platform intends to change that by offering a way for people to get incentives for checking into or around certain locations.   For Facebook the whole experience centers around their "Places" feature.  The incentives are completely up to the retailer and can be anything from discounts on products, rewards, and even free items. The purpose is to obviously entice consumers to shop or enter a retailer's store when they otherwise may not have had any interest.
Facebook and retailers will need to find a healthy balance between a valuable promotion and an intrusive one. There is certainly a great deal of work to be done in this space. This market is still early and working toward maturity but with companies like Facebook, Loopt, Foursquare, Gowalla, Yelp and more pushing their platforms forward I am optimistic. Below are some other key findings from the report and the definition Pew used of a location based service.
- 7% of adults who go online with their mobile phone use a location-based service.
- 8% of online adults ages 18-29 use location-based services, significantly more than online adults in any other age group.
- 10% of online Hispanics use these services – significantly more than online whites (3%) or online blacks (5%).
- 6% of online men use a location-based service such as Foursquare or Gowalla, compared with 3% of online women.
Defintion:
Location-based services such as Foursquare and Gowalla use internet-connected mobile devices' geolocation capabilities to let users notify others of their locations by "checking in" to that location. Location-based services often run on stand-alone software applications, or "apps," on most major GPS-enabled smartphones or other devices.