Wilkhahn ON: seating as "supple as thighs"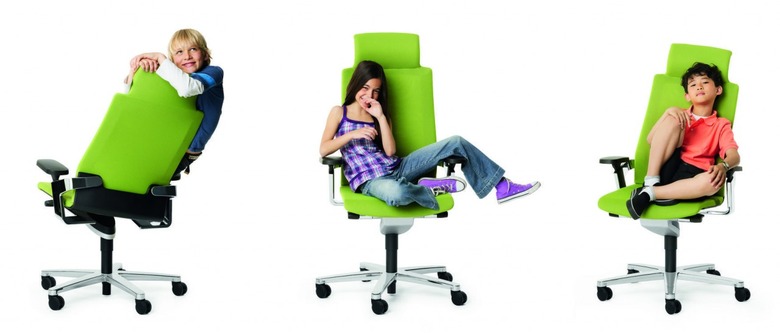 If you eyed up the flexible spine of the Herman Miller Setu earlier this week and thought "nice, but I'd like more rotational combination of axial forwards, backwards and sideways movements" then you're obviously bizarrely well-read on ergonomic seating and probably already know what we're about to say.  If, however, you know little about pivotal sections but would just like to sit for a few hours without ending up stiff, then Wilkhahn's ON chair may be the answer.  Unlike regular task chairs, which mainly permit forward/backward movement, ON has an artificial hip-joint with "two swing plates that are just as supple as thighs".
Supple thighs or otherwise, Wilkhahn claim the ON's movements follow those of your own knees and hips, tracking the body's center of gravity and supporting you as you lean in any direction.  Best of all, there's minimal setup to be fathomed: two buttons and your ON chair is set up.
Of course there's no replacement for going down to your local chair emporium and trying a few out, but with more people spending the majority of their days desk-bound we won't argue with something that promises less strain and more comfort.  The Wilkhahn ON is available now, priced from €569 ($848) plus tax.
Press Release:
New concept to combat back pain: office chair ON teaches seating to walk

After five years in development and with four decades of expertise in dynamic seating, German office furniture manufacturer Wilkhahn is presenting the world premiere of a unique office chair concept. A chair that gives our bodies the freedom to sit the way they want and can. At the core of the innovative office chair lies Trimension®, a mechanism that precisely follows the positions, functions and scope of movement in the knee and hip joints. As a result, sitting does not cause fatigue and assured movement is encouraged. Just like when we walk about. The Centre of Health confirms that the chair activates the entire metabolic system, making office work more healthy and productive.

Scientists, healthcare professionals and ergonomists have long been advocating as frequent changes of posture as possible. The goal is to combat back pain which is now the number one medical complaint. Recent scientific studies, such as those produced by the Centre for Health at the renowned German Sport University Cologne, cite a permanent lack of physical stimulation and exercise as the main cause of virtually all illnesses in the modern world. Extensive studies carried out by the Bertelsmann Stiftung underscore these findings. Prevention-based therapies even prolong back pain, because instead of activating they switch off the body's natural regulation mechanisms. Millions of people worldwide are then caught in a vicious circle. Back pain occurs because we do not take enough exercise. We then take preventative measures because of the back pain. This in turn hampers the metabolism, makes the situation worse and leads to degeneration in our bodies.

Forced postures and a philosophy of prosthetics in the office

Back pain is becoming a progressively worse problem for office workers. And this comes as no surprise. Thanks to computer technology, the only exercise we take at our desks is typing on keyboards or using a mouse. Nowadays, the majority of filing is also done electronically, without even having to leave our desks. If we want to maintain our concentration and work on the computer using digital (from the Latin for digitus = finger) fine motor skills, pressure on the body needs to be relieved. We often sit for hours at the computer without a break. This forced posture has catastrophic results. By sitting still, our muscles are forced into a posture which in turn leads to disruptions in our metabolism, ill-health and strain. As a result, for many decades office chairs have been developed with diverse adjustment mechanisms that aim to counteract the consequences of sitting still. However, the increase in ill-health shows that this philosophy of prosthetics removes the body's natural inclinations to move about. And the problem gets worse instead of better. Today we know that any physical skills that are not activated degenerate. Activating and stimulating concepts are required, not the opposite. So body and mind are in top form – and both employers and their workforce benefit.

Away from two-dimensional movement towards natural freedom of movement

Prevalent office chair concepts limit freedom of movement to leaning backwards and forwards. When developing ON, the goal was therefore to achieve the natural freedom of movement advocated by the experts. In addition to flexing and stretching the back, three-dimensional flexibility of the hip joints is the key to stimulating the elasticity of the spine, the shoulder joints, as well as the back and neck muscles. The aim is not just to provide for axial forwards, backwards and sideways movements, but to combine these as rotational movements. Over a five-year period, Wilkhahn engineers developed Trimension® with this goal in mind. It consists of the integrated interaction of two swing plates that are just as supple as thighs, with an extremely flexible seat and backrest design (Flexframe®). The pivotal sections' positions and movement follow the knee and hip joints. Consequently, it goes without saying that a completely natural flow of movement is encouraged that becomes a matter of course. The chair follows and supports the body in any movement it makes, the body's centre of gravity automatically remains between the swivel sections and therefore in perfect balance. Prof. Ingo Froböse from the Centre for Health accompanied and verified the development procedure. "This office chair stimulates a new range of natural postures and movement in seating that activates the entire body. You could say that ON teaches seating how to walk".

Design and ease of use as a new dimension in health

Recent preventative healthcare studies indicate that the design of a chair also has a direct impact on people's feeling of well-being. Seating contraptions that resemble medical equipment, tend to hamper a proactive, intuitive and natural approach to the way we control our bodies. Incorporating sitting problems into the design of the chair becomes part of the problem. So ON's design fully embraces the new sense of freedom to sit how we want. This new dimension in seating becomes a matter of course. Together with design company wiege, the movement functions were incorporated into the design in the simplest conceivable way. ON offers clarity and space and you could almost imagine it in your own home. ON immediately conveys trust, assurance, value and comfort. Form follows simple and intuitive handling. By pressing just two buttons and the integrated rapid counterpressure adjustment, the office chair is immediately ready to go. Your body and the chair will do the rest, so that you can keep your mind on the job.

New seating: from the home office to the executive environment

The wide range of models with three backrest heights and three types of upholstery provides office chairs for the home office to the luxury executive chair. A variety of upholstery options complements any interior design.

The longstanding and painstaking development process led to a very high quality, but technically simple solution. Combined with state-of-the art design and manufacturing processes, we have created a chair that is exceptionally good value. The list price for the basic model is 569 EUR plus VAT – including everything that is synonymous with the new dimension in seating. So there are many reasons why ON is set to become a new milestone in healthy seating.