Herman Miller Setu gets reviewed: ergonomics on a budget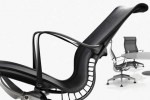 Like any geek who spends more time on their hiney than in sunlight, we've a soft spot for high-priced ergonomic furniture, and when it comes to such things the inescapable name is
.  Father of the classic Aeron and the bizarrely-beehive-like
, they also have more affordable options such as the Setu.  Nearly half the price of an Aeron, it's billed (almost) as Herman Miller's sop to the masses, and Core77 have not only
but caught up with the team responsible for its manufacture.
Manufacturing overview video after the cut
Unlike the seemingly dozens of controls you'll find on an Embody, the Setu leaves most of the adjustments to its ergonomically-curved, flexible back.  Herman Miller call this a"kinematic spine", and Core77 found it works well to support movement without being too "insistent".  Meanwhile the mesh fabric is both breathable, reluctant to pick up dust and supports the user well.
Perhaps the best thing about the Setu is that it removes any "who moved my chair?!" office arguments; with the seating responsible for its own adjustment, rather than the user, it's ideal for hot-seating.  Core77 certainly seem convinced, and while $579 isn't small change, compared to the $1,199 upwards of the Embody it starts to look like something of a bargain.