Wild Planet Spy Video TRAKR R/C programmable robot packs kid-friendly app store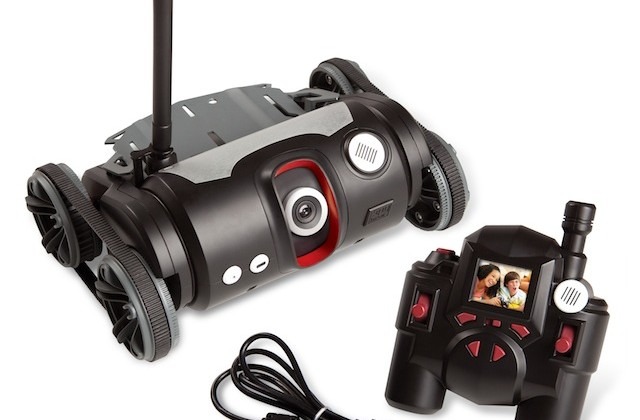 There's been some talk recently of the Big Trak re-release, but if you're looking for a truly modern reinterpretation of the programable robot then Wild Planet's new Spy Video TRAKR may better fit the bill.  The remote-control 'bot comes with a child-friendly PC-based programming system, which allows users to create custom routines and load them onto the TRAKR.  As for the robot itself, it uses 2.4GHz wireless and has an integrated camera, speaker and microphone, and comes preloaded with motion-sensing and night-vision apps.
The idea is that Wild Planet will set up a distribution and sharing site for Spy Video TRAKR apps, so that owners can upload there code and try out other peoples'.  Alternatively they can directly control the TRAKR via the remote control, viewing what it sees on the remote's LCD display.  There's also an SD card slot for saving photos.
Unfortunately we'll have to wait a while to get our hands on the Spy Video TRAKR (what can we say, we're big childish geeks here at SlashGear); it's not set to arrive until October 2010.  Still, at $120 it'll be cheaper than a WowWee Rovio.
Press Release:
First App-Enabled Toy Debuts at American International Toy Fair

Spy Video TRAKR Puts Toy Technology into the Hands of Children

Toy Fair 2010

SAN FRANCISCO–(BUSINESS WIRE)–2010 will be the first year in which kids are given the tools to create and share custom apps that can be downloaded, at no cost, onto a toy. The first app-enabled toy, the Spy Video TRAKR from Wild Planet, will debut at Toy Fair in New York in February, eight months before its public release.

"With the Spy Video TRAKR, we're teaching kids how to write their own applications and program their toys to do exactly what they want them to do."

"Play should not be confined by the concepts and programs toy companies create," says Daniel Grossman, CEO of Wild Planet Entertainment, Inc. "With the Spy Video TRAKR, we're teaching kids how to write their own applications and program their toys to do exactly what they want them to do."

The Spy Video TRAKR is a remote-controlled vehicle that digitally transmits color video, audio and data and allows users to create, download and share custom programs. Once kids create new programs, they have the option of posting them on a designated website for other kids to access, at no charge, from all over the world.

"We believe kids will fuel the spread of app-sharing in toys," says Grossman. "It's empowering when something you created becomes of interest to other people. Kids will take pride in having programs they designed downloaded by others."

Like the iPhone, and other app-enabled consumer electronics, the Spy Video TRAKR will have the ability to perform its main function immediately upon purchase, right out of the box. It will come with three apps already installed, and a collection of free apps will be available online when the product launches, giving users instant access to a wide variety of programs.

Though the Spy Video TRAKR can be used without ever being hooked up to a computer, tech-minded kids will be quick to connect their toy and start the customization process. Beginners can access an online application modulator that will allow them to modify existing apps as they familiarize themselves with writing code. All the tools they need to write their own unique programs will be available online, for free.

"App-sharing will inspire kids to make more apps and better apps," says Grossman. "They'll come up with things toy industry executives would never think of. The apps that will be downloaded the most will likely be the ones created by kids."

The Spy Video TRAKR will come pre-loaded with a night vision app. Kids can drive their Spy Video TRAKR in total darkness, yet see everything in the vehicle's path on the color screen on their remote. If they've installed a motion alarm app, they can park the vehicle in front of a doorway and convert the camera into a sensor that will trigger a siren when someone enters the room. If they've created and downloaded a custom app, the vehicle can snap a picture of the person who crosses the threshold, call out "You're busted little brother, I've got a picture of you sneaking into my room," then squeal its tires and automatically navigate its way back to the driver.

The options for custom programs are as vast and varied as the imaginations of children. The Spy Video TRAKR's 2.4GHz digital RF transmission, internal processor, full-color LCD, SD Card slot (for recording capabilities), integrated speaker and microphone, and development kit provide kids with the materials to make the toy of their dreams. The Spy Video TRAKR puts toy technology where it belongs, in the hands of children.

The Spy Video TRAKR will have a mass retail price of $120 when it hits store shelves in October 2010.