Wild Planet Spy Video TRAKR gets reviewed: good for kids, great for geeks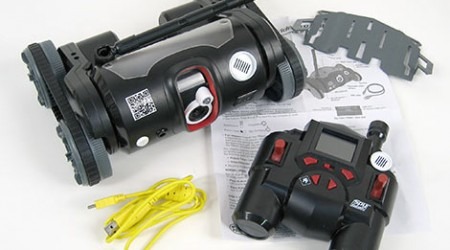 What can we say, we're big childish geeks and we love remote-controlled gadgets that beam back video footage.  That's why Wild Planet's Spy Video TRAKR camera-enabled tank proved so appealing (in a Rovio sort of way), and why Hack A Day's review of the $130 toy is so interesting: turns out, Wild Planet left plenty of fun for mod-friendly geeks to enjoy.
On the surface of it, the Spy Video TRAKR is a decent kid's toy with a sensibly designed remote control – complete with an LCD screen so you can watch what the webcam is seeing – and infrared lighting for those nighttime raids on your siblings.  Unfortunately, while the app store – for downloading games and other add-ons – is running, the App Builder tool isn't; apparently the software will be ready in October.
For the hackers among us, though, it's Wild Planet's liberal scattering of URLs, controls and other tinker-handy things that makes the TRAKR a keeper.  Open the casing and Wild Planet has printed a link to trakrhakr.com, a site for "official unofficial" modding, and you can write your own software in C to run on the ARM9 CPU.  Hack A Day are promising a full breakdown soon; the Spy Video TRAKR is apparently already in stores.