WikiLeaks: Amazon Denies Government Pressure; DNS Yanked & Servers Moved To Switzerland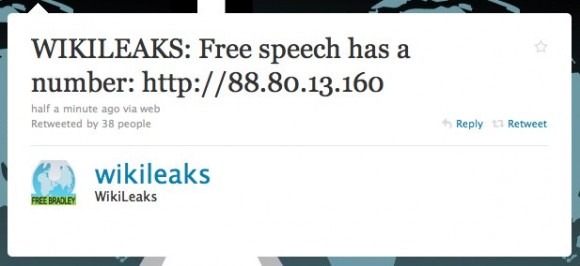 The cat-and-mouse game to keep WikiLeaks content online and available continues today, with Amazon Web Services (AWS) denying that government intervention was their motivation for pulling the controversial site. In a new statement, the hosting company blames WikiLeaks' contravening of AWS terms of service for the decision to yank their content. Meanwhile, everydns.net ceased resolving WikiLeaks.org – effectively making the site impossible to find without knowing its IP address – claiming the ongoing DDoS attacks were impairing service for its other users.
This morning, WikiLeaks responded by tweeting their IP address, http://88.80.13.160, along with the message "Free speech has a number." The group subsequently announced that it had shifted its hosting to a server in Switzerland, and had a new URL, wikileaks.ch.
Meanwhile, the US government has announced plans for a multi-agency investigation into security methods, to balance the greater information sharing that has been blamed for the leaked information. While that investigation gets underway, however, the government has also outlined what steps it will be taking in the interim period to tighten security.
Amazon Statement:
There have been reports that a government inquiry prompted us not to serve WikiLeaks any longer. That is inaccurate.

There have also been reports that it was prompted by massive DDOS attacks. That too is inaccurate. There were indeed large-scale DDOS attacks, but they were successfully defended against.

Amazon Web Services (AWS) rents computer infrastructure on a self-service basis. AWS does not pre-screen its customers, but it does have terms of service that must be followed. WikiLeaks was not following them. There were several parts they were violating. For example, our terms of service state that "you represent and warrant that you own or otherwise control all of the rights to the content... that use of the content you supply does not violate this policy and will not cause injury to any person or entity." It's clear that WikiLeaks doesn't own or otherwise control all the rights to this classified content. Further, it is not credible that the extraordinary volume of 250,000 classified documents that WikiLeaks is publishing could have been carefully redacted in such a way as to ensure that they weren't putting innocent people in jeopardy. Human rights organizations have in fact written to WikiLeaks asking them to exercise caution and not release the names or identities of human rights defenders who might be persecuted by their governments.

We've been running AWS for over four years and have hundreds of thousands of customers storing all kinds of data on AWS. Some of this data is controversial, and that's perfectly fine. But, when companies or people go about securing and storing large quantities of data that isn't rightfully theirs, and publishing this data without ensuring it won't injure others, it's a violation of our terms of service, and folks need to go operate elsewhere.

We look forward to continuing to serve our AWS customers and are excited about several new things we have coming your way in the next few months.
everydns.net Statement:
EveryDNS.net provided domain name system (DNS) services to the wikileaks.org domain name until 10PM EST, December 2, 2010, when such services were terminated. As with other users of the EveryDNS.net network, this service was provided for free. The termination of services was effected pursuant to, and in accordance with, the EveryDNS.net Acceptable Use Policy.

More specifically, the services were terminated for violation of the provision which states that "Member shall not interfere with another Member's use and enjoyment of the Service or another entity's use and enjoyment of similar services." The interference at issues arises from the fact that wikileaks.org has become the target of multiple distributed denial of service (DDOS) attacks. These attacks have, and future attacks would, threaten the stability of the EveryDNS.net infrastructure, which enables access to almost 500,000 other websites.

Thus, last night, at approximately 10PM EST, December 1, 2010 a 24 hour termination notification email was sent to the email address associated with the wikileaks.org account. In addition to this email, notices were sent to Wikileaks via Twitter and the chat function available through the wikileaks.org website. Any downtime of the wikileaks.org website has resulted from its failure to use another hosted DNS service provider.