Wii UNLimited Edition: Water-cooled, wall-mounted Nintendo case mod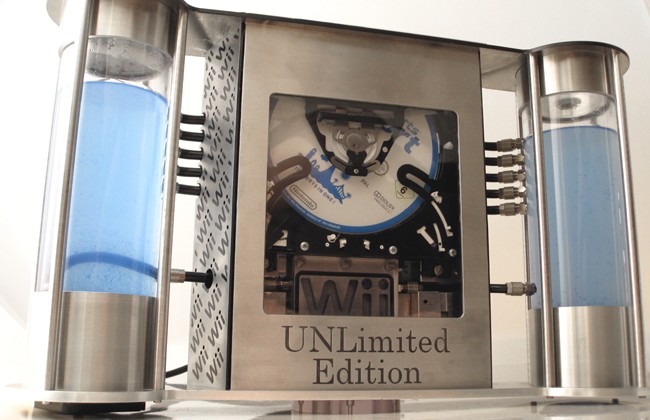 The PS3 and Xbox 360 get plenty of case mods, but the smaller Wii – perhaps because, in its compact monochrome pleasantness, it's already relatively slick – seems to miss out on most of the more ambitious tweaks. No more, however; Martin Nielsen – "Angel OD" on Bit-Tech – has taken the Nintendo console and turned it into the Wii UNLimited Edition, a wall-mounted, water-cooled, aluminum-milled slice of beauty.
Two coolant reservoirs flank the central, CNC-machined console housing, each standing 22cm high and filled with suitably tinted liquid. The water pump itself is hidden at the base of the left tube, and all the piping is fed through aluminum panels with Wii etched into them. On top is a digital thermometer to keep track of temperatures.
Finally, the mechanics of the console are visible through the glass panel at the front, with discs loading through a slot on the top. No word on quite how much the whole project cost, but we can't help but think it was all worth it
[via Case Mod Blog]