Wii U Announced and Detailed in Full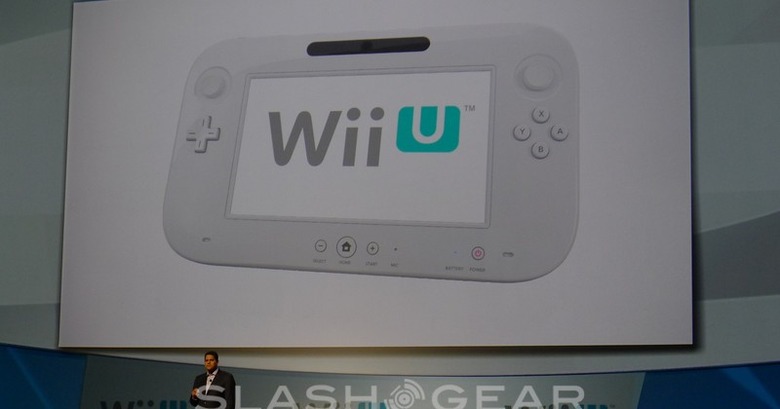 Nintendo's opening E3 2011 keynote took a wild turn near the end with an announcement of a brand new piece of hardware. "In thinking about a new Nintendo system we knew the prevailing thought would be this: yes, the game would probably be right for all of us, but could it also be a perfect fit just for you," said Satoru Iwata, Nintendo's Global President. "The answer to that question is an emphatic: Absolutely. Today, welcome to the world of Wii U." A bright and simple Wii with an inverted U in a blue/green square appeared on the screen, and there was much rejoicing.
What was seen on the stage next was a controller for the Wii U. While it might seem that this is the entire system since we've seen similar looking handheld devices in the past, Iwata assures us that this is only a single piece of the puzzle. Dual analog sticks, start/select buttons, y/x/b/a buttons, home, power, up/down/left/right, basically every button in the whole world is here on this still simple device. The other major piece of this puzzle is the console. This little piece of hardware sits next to your television and pretends to be invisible while you're effortlessly able to play your video games on the big screen or on the screen on your tiny handheld device.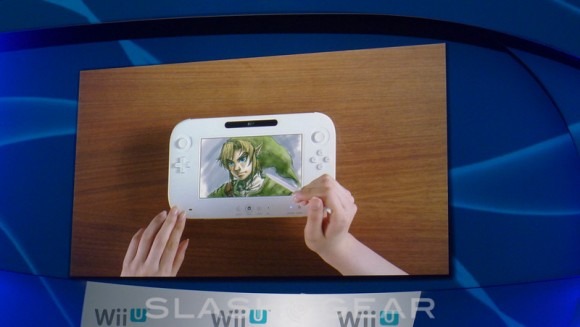 And what's this? There's a stylus with which the video we were treated to at this event showed a rather nicely drawn vision of Link being created on what we're certainly going to be seen called a gaming tablet if Nintendo isn't careful how it promotes this new system. We saw then another separate piece of hardware that sat on the floor, judging the location of the Wii U as it flew across it to play golf, and that big black bar across the top of the device is, indeed, a camera with which you can make video calls.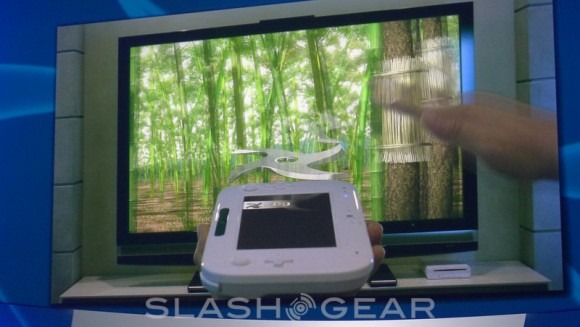 Another bomb: this device, Iwata noted stepping back onto the stage after a lovely presentation video of the system had been shown, will be out inside 2012. This system would also be backwards compatible with all current Wii accessories, so no death to old consoles yet!
"Up until now, home console games had to occupy the TV screen in order to be played. But, the new controller for Wii U with 6.2-inch screen means you won't need to give up your gameplay when someone else comes in the room and wants to watch a TV program."

You can even use some of the old accessories without the television at all. For example, you can use your Wii Fit to weigh yourself, getting your super secret weight numbers conveniently on your handheld Wii U controller. The controller itself, again, Iwata notes, is indeed host to a bevy of buttons and features:
Circle Pad L
Circle Pad R
ZR Button (for your index finger on the back of the device)
ZL Button
Control Pad
Speaker L
Speaker R
Touchscreen
Microphone
Front-Facing Camera
Gyroscope
Accelerometer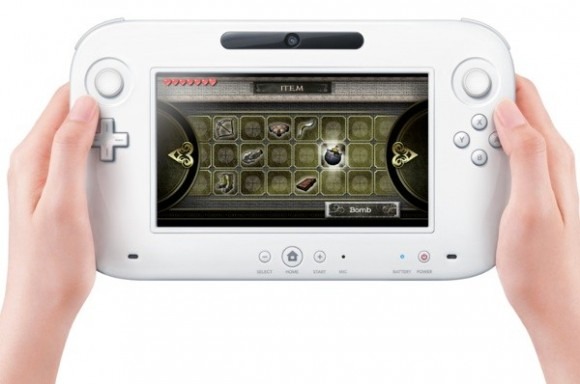 Iwata is forced to mention that the Wii U is not a mobile device, instead saying that all of the images on the Wii U controller are indeed created by the Wii U. That said, developers are already hard at work, said Iwata, creating games specifically for the versatility offered by this new system. These include thus far big names like Kid Icarus Uprising, Smash Bros, and more. Reggie Fils-Aime stepped back onstage at this point with the following words: "I'm going to focus on how the new controller can change things. The first is simple: something that looks a lot like New Super Mario Bros. WIi, but it's called New Super Mario Bros Mii." This game will be able to be played with the Mii character you've created on your Wii!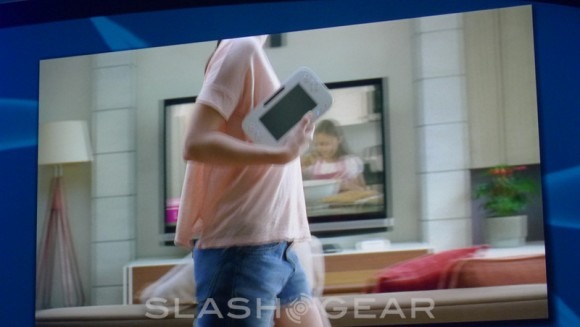 Next there appeared on the screen a game called Shield Pose which will require that you use the display on your controller and your television to block incoming pirate arrows. Weird! Next was a party game that had several Mario mushroom people running around in a four-pronged screen game, the display showing how you'll indeed be able to use this new controller or the old WiiMote. A LEGO game was next, impressive 3D action going on, this game called LEGO City Stories. A fighter by the name of TEKKEN Wii Successor, Assassin's Creed, Ghost Recon Online, Batman Arkham City, and EA's masterpiece collection of sports games as well!
We'll be grabbing a hands-on with this device as soon as possible, by the way, folks, so stick with us here on SlashGear for all your Wii U updates! Also note that we've now got an article by the name of SlashGear 101: What Can the Nintendo Wii U Do? that will help you understand the basics of awesomeness.