Why The Best Galaxy Note 10 Experience Won't Reach Verizon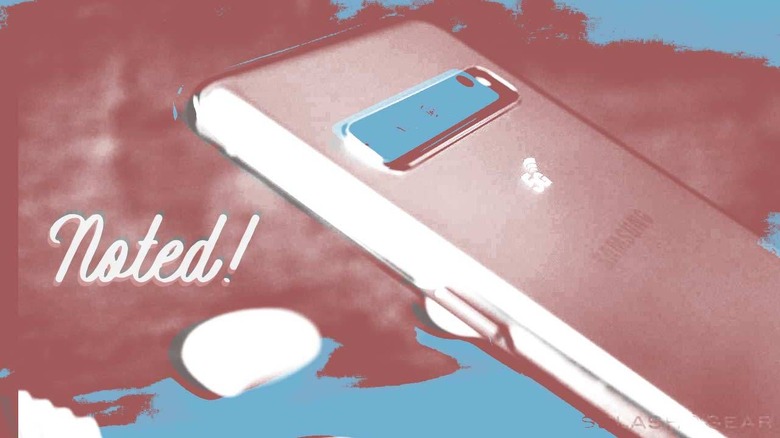 Samsung is at the center of a confusing time in the mobile smart device industry, what with the release of several new eras in connectivity technology. The Samsung Galaxy Note 10 is key to the company's strategy in continuing to dominate the Android smartphone market, not only because of its release timing, but because of the way Samsung's positioned the phone in the market – as the PRO smartphone to beat.
If precedent holds in 2019, the Galaxy Note 10 will similar to the Samsung Galaxy S10 Plus – both in size and in price. With the release of the Samsung Galaxy S10 5G, things might change just a bit. One rumor suggested we'd see more than one Galaxy Note display size at once – for only the second time since the Note lineup was launched.
This is sort of like the time Samsung released the one-shot phone called Samsung Galaxy Note Edge back in December of 2014. That was the one and only time Samsung released more than one Galaxy Note phone in a single season.
But it's not the smaller display or the larger display we're thinking about here when we're seeking the "best Galaxy Note 10 experience." It's the 5G edition, and not just the phone, but the coverage. Verizon confirmed a Galaxy Note 10 with 5G for their network earlier this week.
Verizon and AT&T are releasing what they call 5G "coverage" with mmWave spectrum. As the USA focuses on 5G with mmWave, and carriers aren't allowed to use sub-6 bands in the states because they're exclusive to the Federal Department of Defense, they're sorta stuck with mmWave (for now).
Samsung CEO Hans Vestberg spoke about mmWave coverage plans using mmWave spectrum on the same earnings call where the Note 10 5G was confirmed. "We all need to remind ourselves, this is not a coverage spectrum," said Vestberg. "We will do it as far as economically sustainable."
"Millimeter wave (mmWave) spectrum has great potential in terms of speed and capacity, but it doesn't travel far from the cell site and doesn't penetrate materials at all," said T-Mobile's Neville Ray. "It will never materially scale beyond small pockets of 5G hotspots in dense urban environments."
Testing of 5G mmWave sites by reporters and analysts over the last few weeks resulted in some less-than-enthusiastic reactions. "Verizon has insisted that it can use their existing cell site footprint to roll out 5G technology on millimeter wave spectrum. That seems very hard to believe," said BTIG analyst Walter Piecyk after a test visit to Verizon's Chicago 5G coverage area.
"In our limited testing, the 5G small cells provided coverage of just ~350 feet," said Piecyk. "In fact, 5G performance suffered from reduced reliability beyond 200 feet when faced with street obstructions. That's not even close to the 800-2,000 feet radius that Verizon and their vendors have promised."
If the 5G footprint doesn't get a whole lot more massive by the time August rolls up, there's no way we'll get our hands on the full Samsung Galaxy Note 10 experience. Not the "best" Galaxy Note 10 experience in the world, that's for sure.
Head back to September of 2013 and you'll find NTT DoCoMo in Japan testing 5G real, real early. South Korea sorta launched the first 5G network in the world via SK Telecom earlier this year. According to one Nikkei report, the world's first 5G network is "fast but patchy."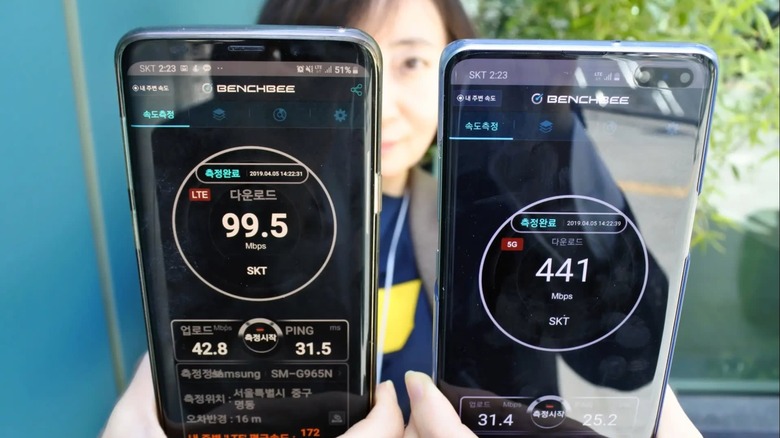 "The 5G service cut out frequently," said Kenichi Yamada of Nikkei. "When walking around Seoul, the icon showing that the phone had tapped into the 4G network was lit up more than 30% of the time." Little did Yamada seem to realize, (or maybe knew, but didn't say), even 70% 5G connectivity uptime far out-performed any sort of 5G coverage we've seen here in the United States.
If such an experience appeared here in the United States anywhere other than a couple hundred feet from a 5G mmWave site, we'd be shocked. Shocked and excited. But for now, the best Galaxy Note 10 (5G) experience looks like it'll be relegated to South Korea.