Why Apple's All-SSD, Light Peak MacBook Pro Makes Sense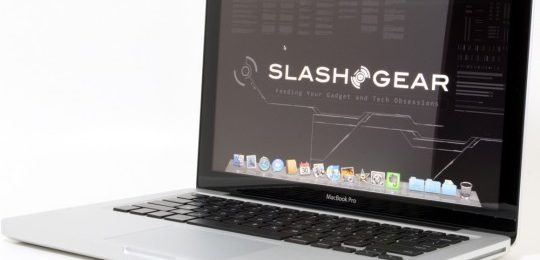 Apple's intentions for their flagship laptop range, the MacBook Pro, made headlines this week with a new set of rumors suggesting 2011's model would mark the transition to not only solid-state storage but Intel's Light Peak connectivity for high-speed data transfers. Whether this particular speculation turns out to be accurate or not, SSD – and abandoning optical drives – certainly seems the most likely route for Apple to take.
As the tipsters would have it, Apple's 2011 MacBook Pro – set for an April launch next year – will see traditional, platter-based hard-drives dropped in favor of standard SSDs across the line. At the same time, Apple supposedly intends to throw out the integrated SuperDrive DVD burner, following the path set by the MacBook Air, instead relying on external optical drives should users want to burn discs. Finally, the last significant change is a new, high-speed connection type, bypassing eSATA and USB 3.0 and instead jumping to Intel's Light Peak, capable – in its first iteration – of 10 Gbps bi-directional throughput.
SSD's have been available as options on MacBook Pro notebooks for years now, and you can currently specify the existing 15- and 17-inch models with up to 512GB examples. Apple's change would be remarkable because it would see, barring the fans, the MacBook Pro lose all its moving parts. It would also reintroduce a significant differentiator between the entry-level MacBook line and the high-end machines, where currently it's all relatively blurry. Apple could also well use the MacBook Pro refresh to debut official SSD TRIM support in OS X, something that's being mentioned in the About This Mac dialog in Snow Leopard but not currently enabled: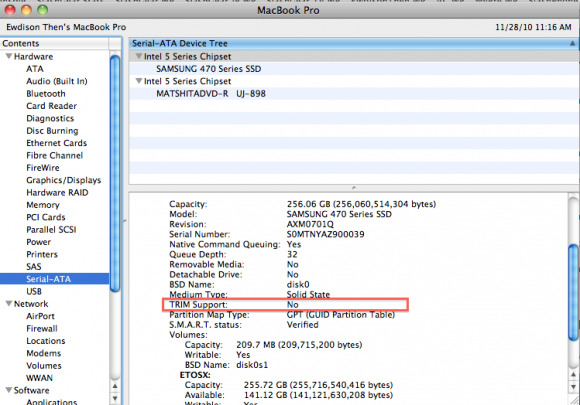 Dropping the SuperDrive, meanwhile, would create more space for batteries, which as we've seen in the iPad, the MacBook Air and other recent Apple models with non-user-replaceable power packs, have become the largest occupiers of the company's sleek aluminum casings. Bigger batteries mean longer runtimes – the MacBook Pro line already offering significantly greater longevity than many Windows-based rivals – or the ability to offset faster processors. Steve Jobs has already said that he sees no place for Blu-ray in Apple's machines, instead preferring online distribution of content and data; those still requiring "legacy" options would be welcome to pick from the low-cost array of external disc burners, but it's clear that, by eschewing Blu-ray, Apple considers optical media a dying technology. We've seen the same ostensibly draconian decisions in the past, when Apple cut out floppy drives and parallel/serial ports.
It's all a path to more speed, with the various components – and decisions on which to leave out or replace – conspiring to rid the flagship notebook line of its current weak links. Light Peak offers super-fast connectivity with peripherals and other hardware, but traditional hard-drives could present a weakness in the data chain. Fast solid-state memory would correct that. Simultaneously, Light Peak is intended not only as a USB 3.0 replacement, but a universal successor to SCSI, SATA, USB, FireWire, PCI Express, ethernet and HDMI. Rather than accommodating an array of ports – each taking up chassis space and making assumptions as to what connectivity users will demand – Apple could eventually offer just a few Light Peak ports. Not in this first new iteration, perhaps, but you can bet the company has an eye on the second, third and fourth revisions down the line.
Beyond bare speed, it also gives Apple more opportunity to keep users within their ecosystem: just as the Apple TV lacks a DVD player, meaning rentals and purchases generally have to be through iTunes, so the MacBook Pro will present another way for DRM-enabled content and connectivity to take hold. Oh, there'll be a halfway house on offer, an entry-level "legacy" MacBook Pro for those not quite brave enough to make the jump, but from the shape of the rest of the range it'll be clear that those who opt for it are missing out on what's considered "the future".
That offering will be alluring, certainly. Fast, slim, slickly-designed and long-running notebooks, with access to Apple's ever-broadening iOS and OS X software catalogs and the speed of consumer devices like the iPad. On the other hand, Jobs & Co. haven't been shy in their play for a connected ecosystem, one in which they have a strong hand in how data is managed, distributed and paid for, and while abandoning things like optical drives could lead to lighter or otherwise improved notebooks, there are compromises that will turn off many who resist the relatively controlled Apple world. Still, where Apple goes, the PC industry arguably follows, and what's considered high-end is likely to stick closely to Cupertino's idea of MacBook Pro perfection.