Whoops! WhatsApp isn't all encrypted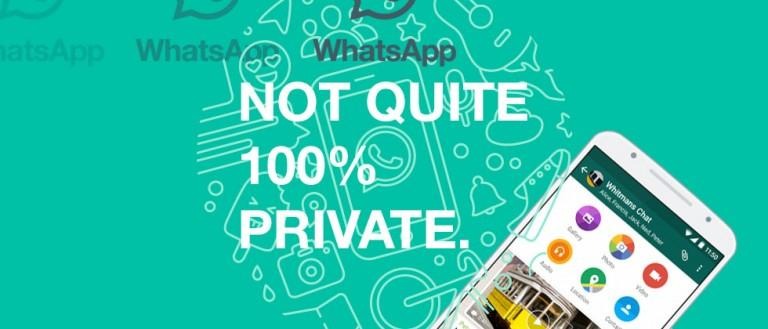 Wait just a second here – just yesterday WhatsApp announced they were completely encrypted, end-to-end, right? Apparently not. While messages and phone call content are, indeed, encrypted, some of the details surrounding these bits of communication are not. As it turns out, a deeper look at the terms and conditions included in this latest update for WhatsApp includes mention of what's not going to be hidden – and might indeed never be hidden should WhatsApp be called upon to share them with a legally-bound 3rd-party group.
As uncovered by the folks at LiveMint, there's a clause in the terms and conditions delivered with the newest version of the WhatsApp app – and all related services. Inside, you can find the following:
ALSO SEE: Let's Try WhatsApp with end-to-end encryption
"WhatsApp may retain date and time stamp information associated with successfully delivered messages and the mobile numbers involved in the messages, as well as any other information which WhatsApp is legally compelled to collect."
You'll also find the following:
"We may collect and release Personally Identifiable Information and/or non-personally-identifiable information if required to do so by law, or in the good-faith belief that such action is necessary to comply with state and federal laws (such as U.S. Copyright Law), international law or respond to a court order, subpoena, or search warrant or equivalent, or where in our reasonable belief, an individual's physical safety may be at risk or threatened."
Could it be that there's more information that WhatsApp can collect that they've previously suggested that they can't even see? WhatsApp's release this week included the following:
"The idea is simple: when you send a message, the only person who can read it is the person or group chat that you send that message to. No one can see inside that message. Not cybercriminals. Not hackers. Not oppressive regimes. Not even us."
It's likely that WhatsApp only included the clause in their terms and services for the date and time stamp information associated – and to cover their butts legally should they ever be called upon to deliver said information. But we'll be keeping our eye out for irregularities that could very well pop up in the future – we shall see.