Novel Coronavirus (COVID-19, 2019-nCoV) was given a risk upgrade from the World Health Organization on Friday, February 28, 2020. "The continued increase in the number of COVID-19 cases, and the number of affected countries over the last few days, are clearly of concern," said WHO Director General Tedros Adhanom Ghebreyesus. "Our epidemiologists have been monitoring these developments continuously, and we have now increased our assessment of the risk of spread and the risk of impact of COVID-19 to very high at a global level."
The most important element at this moment on the list of items spoken about during the press conference with WHO was a direction for people who become sick. "If you feel unwell, stay at home and call your doctor or local health professional," said Ghebreyesus. "He or she will ask some questions about your symptoms, where you have been and who you have had contact with."
Below you'll find a map generated via the WHO.INT site. This map can be found at the ARCGIS site: "Novel Coronavirus (COVID-19) Situation" dashboard. And don't freak out about that spike in early February – that's the "surge" explained by a simple change – in short, the change was in the way "cases" were counted – there wasn't actually a major BLAST spread of the virus itself.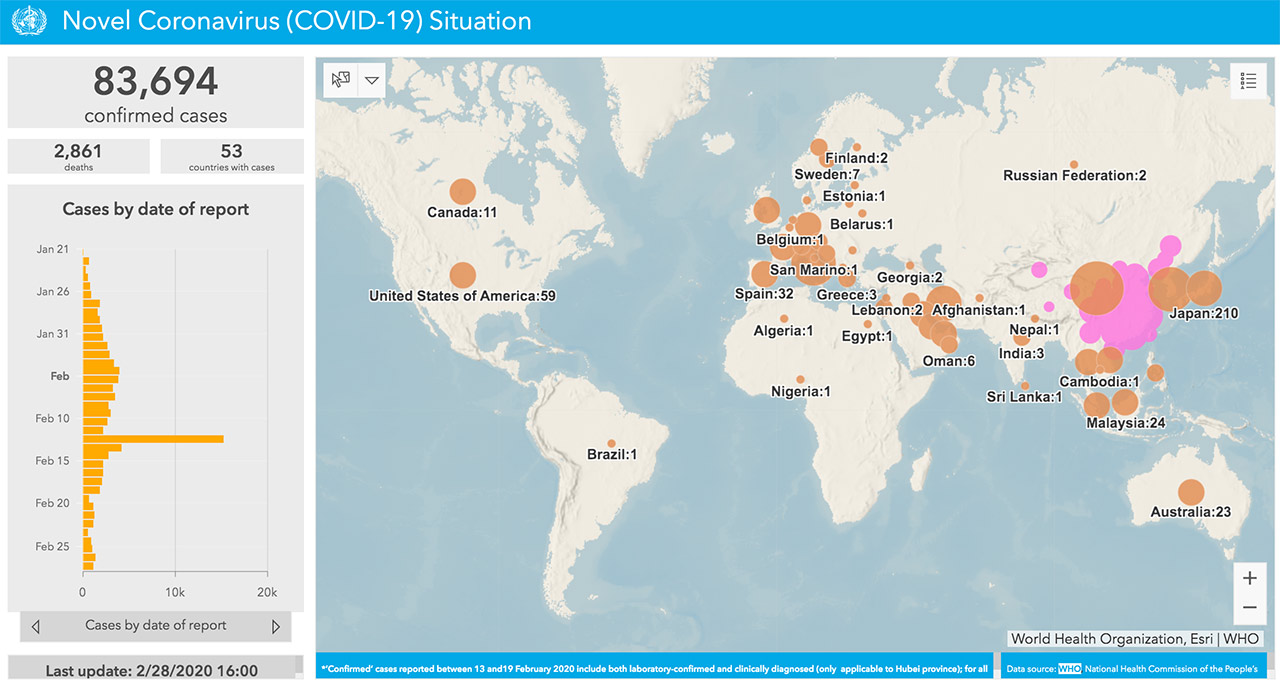 The map above was captured on Friday, February 28, 2020, at 13:25 Central Time via the World Health Organization at ARCGIS. "Data source: WHO, National Health Commission of the People's Republic of China." Source: World Health Organization, Esri | WHO.
A CDC Media Telebriefing was announced for February 28, 2020 re: "The Centers for Disease Control and Prevention (CDC) will provide an update to media on the COVID-19 response." This call was with Nancy Messonnier, M.D., Director, National Center for Immunization and Respiratory Diseases. SlashGear will report on the results of this call asap – stay tuned!