White Nokia N9 due Q1 2012?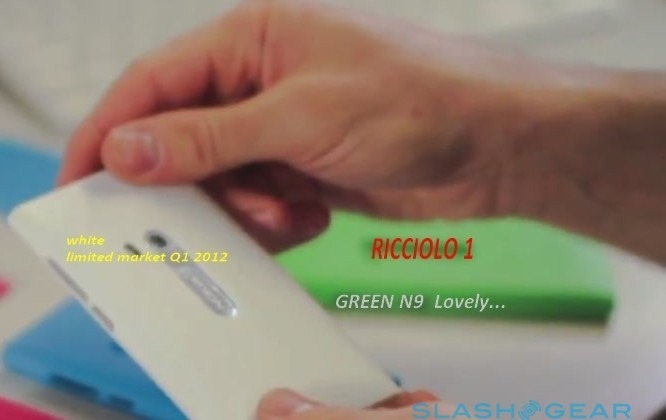 Nokia could be readying two new N9 color variants, it's suggested, with white and green versions of the MeeGo smartphone spotted. According to the picture shared with SlashGear from Ricciolo1, the white N9 will be part of a limited market release in Q1 next year, though there's no telling exactly which markets those will be.
Meanwhile, the green Nokia N9 has no suggested availability, at least at present. It's possible it could be a prototype not intended for actual release, as Nokia finesses the polycarbonate machining process used in the production of the N9 chassis (and, we expect, the chassis of select Nokia Windows Phones).
It's not the first time a white N9 has been caught in the wild. Back in August the phone was caught taking a photo in the hands of model Sanja Suzanna, who has also been featured on Nokia's own N9 mini-site. At the time it was suggested that it could be a close-fitting case, though no official explanation has been given and, according to Nokia, red, blue and black are the three colors the N9 comes in.
Update: We're told the white N9 was originally cancelled, but now it seems some locations will receive a limited number of them. Similarly, the green N9 will also be a limited edition.
[Thanks JOE!]