White iPhone 4 prototype hits eBay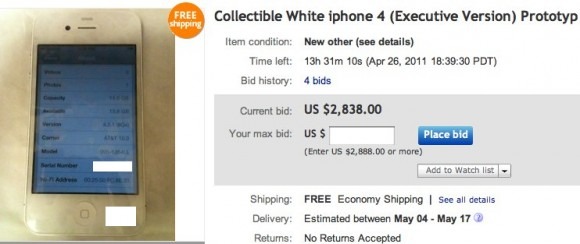 With the white iPhone 4 expected to go on sale later this week, now's obviously the time to throw any prototypes you might have access to up on eBay. That's just what seems to have happened here, with one hapless developer's white handset going up on the auction site, and promising plenty of trouble for the individual responsible for it.
It's not clear whether this is someone trying to sell a lost iPhone 4 prototype or trying to make some money on a device they were trusted with. Unfortunately, thanks to the fact that the employee ID is clearly visible on the handset (we've blanked it out, along with the handset's serial number), we imagine Apple will be moving swiftly to get to the bottom of it.
Bidding is up to $2,838 at time of writing, with half a day left to run, but we'd be wary of throwing your hat into this particular ring. If you really have to have a white iPhone 4, wait until later on in the week when there'll likely be cheap, legitimate versions to pick up instead.
[via @chronic]