Where can I get stickers for my MacBook?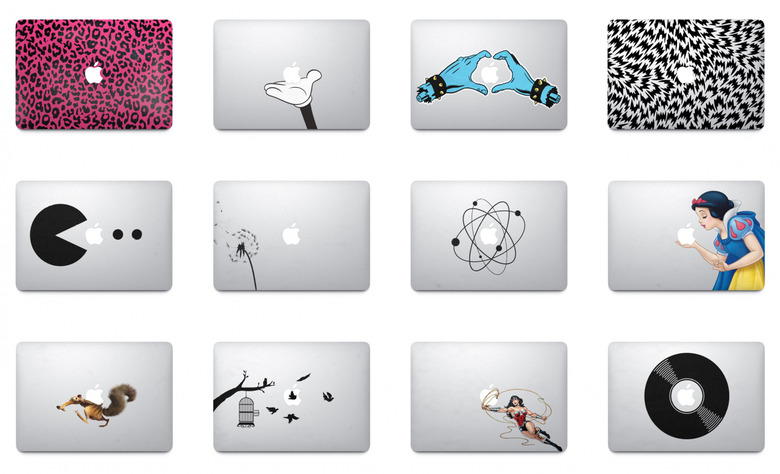 This morning Apple put out a video spot engaging with a wide variety of MacBook Air stickers and skins. These stickers surround the lit-up Apple logo at the back of your MacBook display, often using the logo in odd and creative ways. What we're going to do here is to tap into the sources for these stickers for you as best we can.
This article is part of SlashGear's Family IT Support collection. This is a collection of posts that are designed to help you, a family member, or whoever you generally give advice to with some easy-to-understand guidance or simple help. Pass it on!
First you're going to want to see this video. It's an advertisement, yes, but it's also gorgeous. Especially if you already own a MacBook Air, this video spot is designed to make you feel good about your purchase. Once you buy a MacBook or MacBook Air, it's yours – on the outside, at least.
The music in this ad comes from Hudson Mohawke, and it's called "Chimes". In addition to some Hudson Mohawke stickers on MacBook Airs in this ad, you'll see stickers from musical acts and subversives LuckyMe, Kompact, Warp, Ed Banger, Fool's Gold, Stones Throw, and Maaad Decent. Clothing lines/accessory makers Undefeated, Beats Audio, Pretty Sweet, Diamond Supply Co, Chocolate, and SUPREME are also represented in this one shot.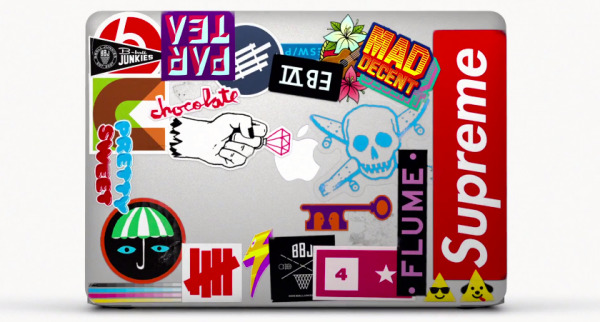 You'll have to get these stickers from your local skateboard shop or DJ station. Some are free, others don't come cheap.
The following set shows a couple of images from Nuvango. There you'll be able to get the lips and the full-back Tokidoki skin – that's the one in the upper right-hand corner.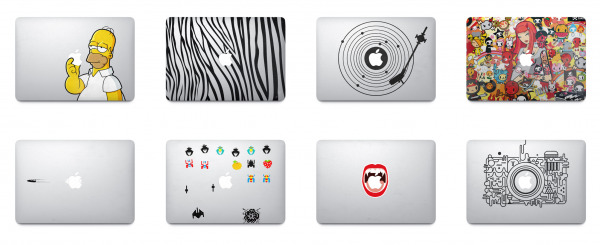 The Homer Simpson skin is one you'll be able to find from a wide variety of retailers – it's a "no origin" sort of deal, not necessarily officially licensed by FOX or anyone affiliated.
For most of these decals, we'd recommend you head to Etsy. Look up "MacBook Decal" and you'll be well on your way. For super-minimalistic stickers – none of which were featured by Apple, sadly, but still – Space Invaders – you should head to Stickerlicious. The folks at Nuvango make some massive artwork covers for the back of your MacBook Air as well.
For those of you looking for some ultra-strange 3D coverings for your MacBook, there's Nexgen Skins. If you want to go all-out sticker style, Nexgen is the key.