WhatsApp can now be locked down with Face ID on Apple's newest iPhones, allowing users of the instant messaging service to secure their chats from prying eyes. The update, released to the App Store this week, also includes support for Touch ID security on versions of the iPhone that have the fingerprint sensor.
The new option comes as part of WhatsApp 2.19.20. It can be found in the app's settings page. Head to Settings, then "Account," and then "Privacy," where there's now a Face ID or Touch ID option called "Screen Lock," iPhone depending.
When turned on, there's also control over how quickly WhatsApp will re-lock itself when you exit the app. The default is to do so immediately, so that you will need to unlock it every time you open it. However, you can also change that to after 1 minute, after 15 minutes, or after an hour, if you prefer.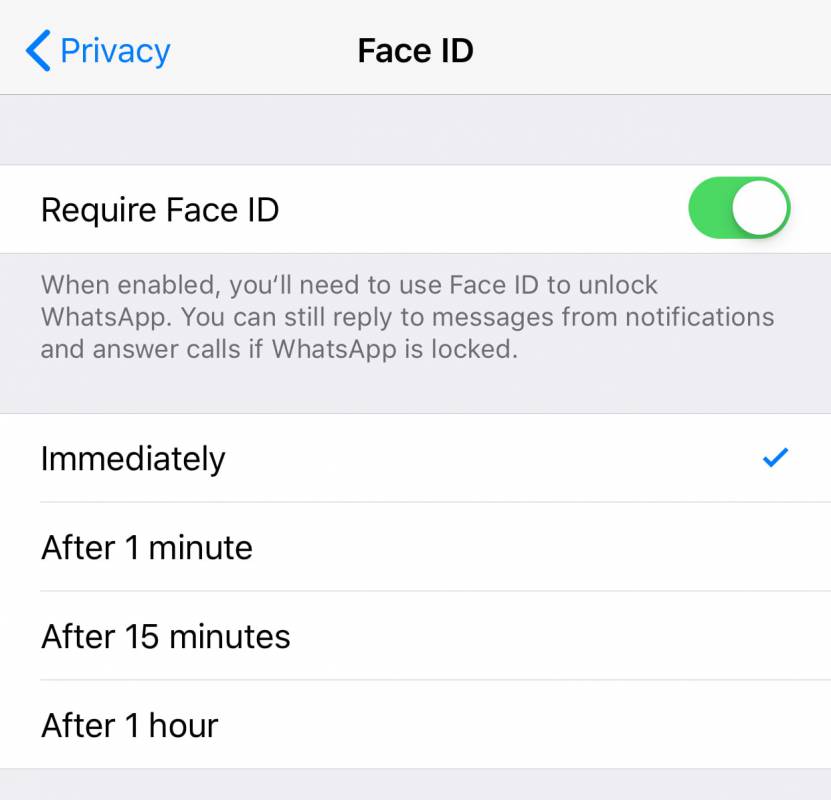 Of course, there are still some privacy caveats to bear in mind. For a start this new biometric security for WhatsApp only controls access to the app itself, not to conversations on a per-chat basis. If you're hoping to secure only certain IM chats but not other, you're out of luck.
Arguably more important, however, is the fact that you can reply to WhatsApp message notifications – even if the WhatsApp app itself is locked. If you're an iPhone X, iPhone XS, iPhone XS Max, or iPhone XR user looking for maximum security, therefore, it's probably worth adjusting the notification previews in the iOS settings. With that set to "When Unlocked" details in each notification will only be revealed – and actable upon – when Face ID or Touch ID has first unlocked the device.
Another consideration is that incoming WhatsApp calls also bypass the app's new security feature. Much like a regular phone call, anybody will be able to answer incoming WhatsApp voice calls, even if your iPhone is locked.
While the new security may not be absolute, then, it's still a welcome improvement. One of the benefits of Face ID has been how readily it integrates into day to day use of the latest iPhones, presenting far less of a hurdle than being regularly reminded to press your finger against a Touch ID sensor or punch in a PIN or password.
Apple offers APIs for developer creating apps for iOS to tap into its biometric security. However while they've become commonly used for features like signing into online banking accounts, it's less common to see them used for access on a per-app basis.