What's up with the 'deep blue' iPhone 7 rumors?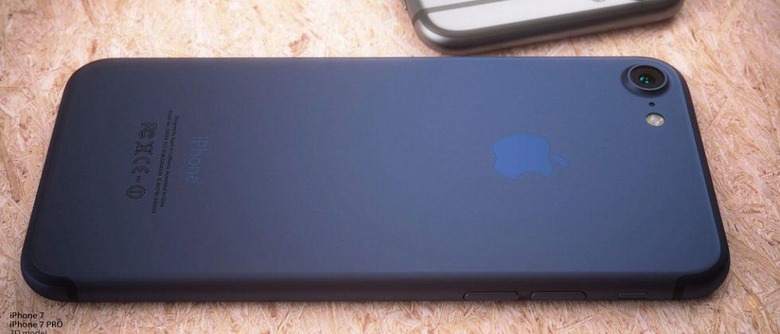 We saw an iPhone 7 rumor resurrected today: that there's a 'deep blue' iPhone 7 color in the pipeline. Rumors about this fabled blue phone surfaced earlier this year, and again resurfaced today on a Czech website that posted high-resolution photos of a gold-colored iPhone 7 and iPhone 7 Plus dummy unit. According to the website, the source of its photos, an online retailer called Topp Ten, claims there is a deep blue version of Apple's upcoming handset, though it didn't supply any photos of the supposed model.
Apple releasing such a phone color would certainly turn heads, and probably just in a confused way. The company has been working its way toward the pastel end of the color spectrum for a while now, giving buyers things like a soft rose and light silver color. Offering an iPhone in 'deep blue' would harken back to the days of black iPhone 5 handsets...something there just doesn't appear to be any particular demand for.
The answer, though, may lie in a misunderstanding of what the sources of these rumors are seeing — a different shade of Space Gray, an established Apple color and a far more reasonable explanation. There is a precedent for Apple tweaking the Space Gray shade — it's easy to find two different Space Gray Apple products that aren't quite the same when held up together.
The previous (before today) 'deep blue' iPhone 7 rumors surfaced in early June. In case you missed it, Apple Insider posted in late June on behalf of Macotakara's Danbo, who told them info from his own sources and a possible explanation for the rumors: that the phones some people were interpreting as 'deep blue' may in fact just be a darker, different shade of Space Gray compared to the iPhone 6s. The color is described as being "not quite black," and apparently it has some kind of affectation that is striking some people as blue.
Assuming all of this is true, what kind of Space Gray iPhone 7 can we expect? Perhaps it will be something similar to the "Space Black" Apple Watch.
Note: the image above is a concept created by Martin Hajek to imagine what a 'deep blue' iPhone 7 may look like. Check out his website to see other concept images.