Westinghouse 4K Amazon Fire TV Review: Great for anyone, especially cord-cutters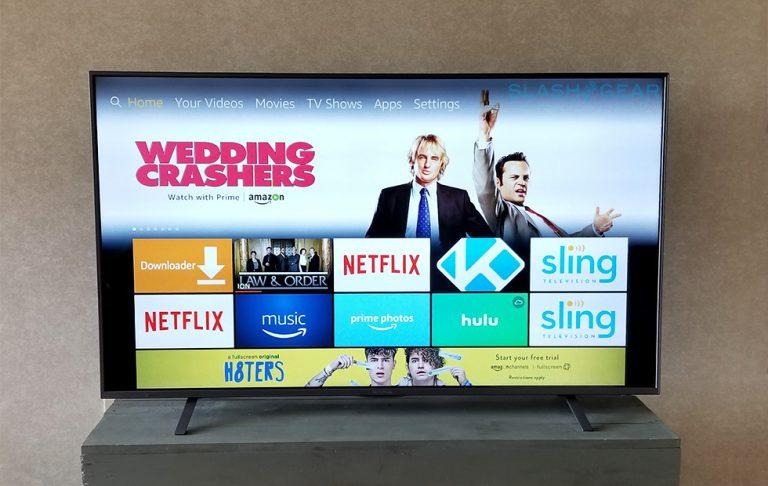 Roku got a jump on the budget smart TV market, but Amazon's own platform is ready to battle for top spot. The company first introduced its media box product in the form of the Fire TV and then the Fire Stick, and now that same system has been built into select televisions to bring the same features (and more!) without the actual dongle or box. Chief among these televisions is Westinghouse's new 4K lineup.
Smart TVs are the natural progression of at-home entertainment. For every user who prefers Kodi or their own Plex media server, there are countless others who want something simple and ready-to-use out of the box. Set-top boxes like Android and Apple TV, Roku, and Amazon Fire have filled that void, but tides are again changing.
Is a smart TV worth it?
For every upside that comes with a set top box — the ability to take it with you on vacation, to use it on any TV — there are downsides: it takes up room on your entertainment stand, it uses up one of the HDMI ports on your TV. Beyond that, the integration between box and TV is never quite perfect; you have two remotes to toggle between, an input you regularly toggle back to.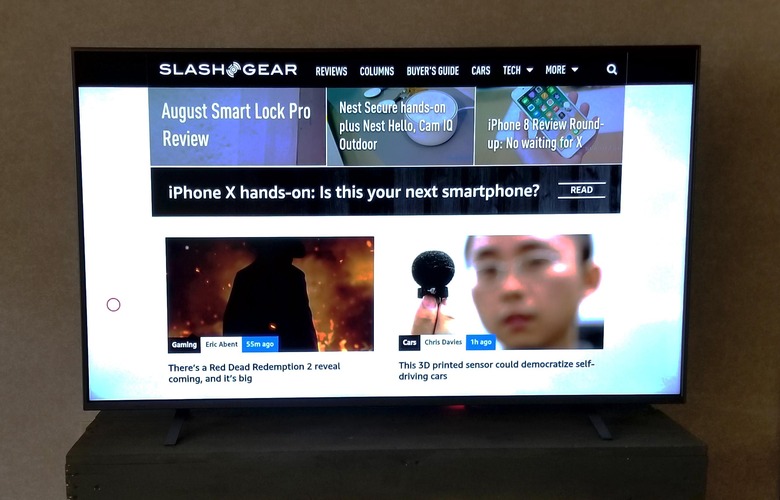 With a smart TV, that little bit of hassle is gone. The box is no more because the software is baked into the television itself. You have one remote and it controls everything: volume, inputs, TV antenna. Pair that with the Fire TV platform and the end result is a convenient and highly capable TV with Alexa to round things out.
One may be tempted to think there is no difference between Westinghouse's Amazon Fire TV and a non-smart TV with a Fire Stick plugged in, but that's not the case. There's the single remote for both the Fire system and the TV, for example, but more notably there's software for an OTA TV antenna baked in and it's pretty great.
TV antenna software features
Westinghouse's 4K lineup features all the hardware necessary to use an antenna built into the TVs. The Fire platform on the televisions cover the software side of this, offering a dedicated input labelled 'Antenna' amidst the apps and others inputs. Click that for the first time and the system will scan to find your available OTA channels.
Once the OTA channels are discovered, the Fire TV pulls up a channel guide for those free networks, showing you what is on, what will be playing later in the day, and more. It is sleek and indistinguishable from an ordinary satellite or cable channel guide. Go back to the Fire TV home screen and those OTA channels are shown in thumbnails that present which show is currently playing on each channel.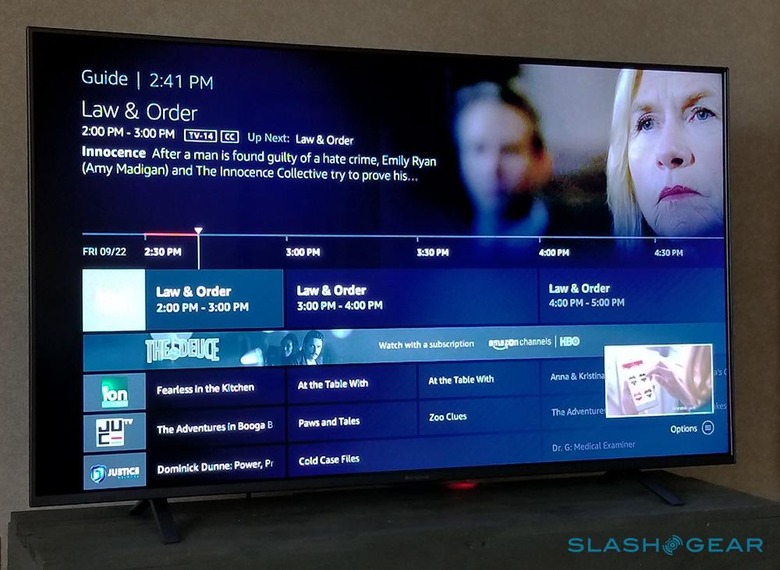 In addition, the OTA software supports fast-forwarding and rewinding live TV out of the box. This means, for example, that you can watch your favorite primetime show from a TV antenna live on the TV's software, pause it while getting a drink, then resume it when you get back and fast-forward through the commercials. Thanks to these features, Westinghouse's Amazon Fire TV makes using a TV antenna indistinguishable from ordinary cable or satellite.
Image quality
It's the most important element for any television, and the one upon which Westinghouse's Amazon TV will no doubt flounder or thrive: the display. There's a caveat that must be immediately stated, and it's that this is a budget TV. As with any budget television, you're not getting the best on the market because you're not paying for the best. The goal in this market segment is clear — striking the best balance between quality and price.
How does this Westinghouse model do? Not bad. I introduced several people to the television over the course of a couple weeks, some for playing video games, others for watching movies or TV. Mentioning that this was a review model removed the social barrier that would otherwise block them from expressing their true opinions on it.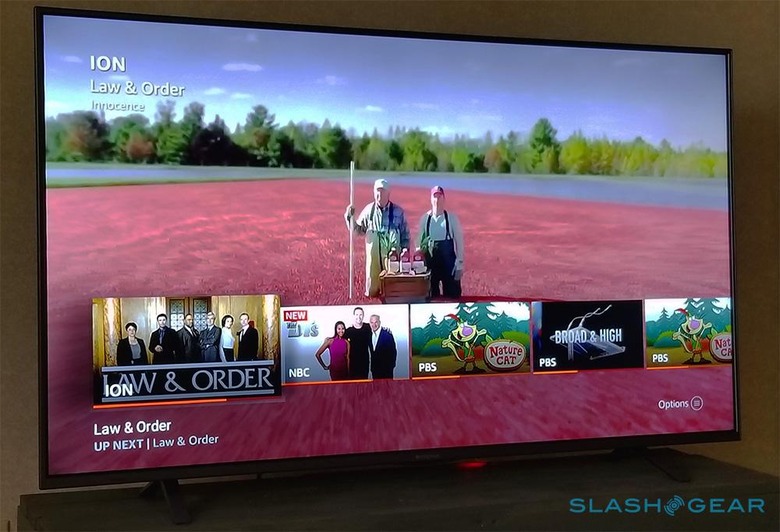 All but one person had exclusively great things to say, and that one negative comment revolved around the image quality as it existed out of the box. Manually changing it — increasing backlight, decreasing brightness, and tweaking contrast — completely improves things. The bright, seemingly washed colors because saturated and crisp. The darks were dark enough that many people wouldn't realize there are better (much more expensive) alternatives.
Westinghouse's TV supports 4K video but not HDR, and so that's something to keep in mind when shopping for your ideal model. Blu-ray and 4K videos indeed look great on this TV — they're crisp, the colors are reasonably expansive, and saturation is good. But. There are better television displays on the market, and anyone familiar with them will notice that this is a budget panel, relatively speaking. That's just the nature of buying a budget television.
With "Amazon Fire TV Edition", 4K TVs now come with Alexa
The question comes down to, then, what kind of quality are you looking for? We all know someone who scrunches their nose in disgust at the audio quality of our favorite headphones, and the same is true for TVs. Are you coming from a smaller, expensive, high-quality TV looking for similar quality in a larger size? Then look elsewhere or be prepared to adjust (read: lower) your expectations. Are you coming from a smaller budget TV with a less-than-4K resolution? Then Westinghouse's model will probably make you happy.
Audio Quality
While I found the image quality pleasant (again, relative to other models in its price tier), the audio wasn't to my liking. It isn't tinny, but it is also lacking in bass, barely covering what you'd need to consider it anything but tinny. It isn't muddy, though; the audio is clear, just flat.
If you're going to go so far as to buy a large 55-inch TV — which by its nature becomes a focal point in the room — you should go the extra mile and get a surround sound system, or at least a sound bar. It doesn't need to be very expensive to be an upgrade over the built-in audio quality.
Ports and other stuff
One thing that separates cheap TVs from not-so-cheap TVs is the variety and quantity of ports they offer. If you only have one HDMI port, the TV is going to be useless as anything more than a simple display for a cable box. Two HDMI ports is the bare minimum for most people, but more is always better. This Westinghouse model has 4 HDMI ports, which is a good number.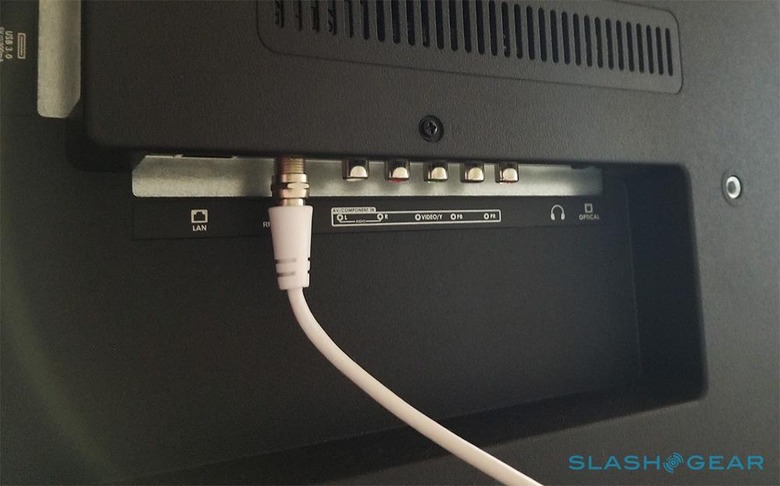 Keep in mind that because the Fire TV platform is baked into the TV, you're not using up one of the ports just for a streaming stick/box. That effectively leaves you with four extra ports. That's enough for another media device, such as a Chromecast, a couple gaming systems, and some other thing. There's also component and composite video options, a pair of USB ports, RF-in, SD card slot, Ethernet, 3.5mm audio-out, and optical audio.
This television has Alexa built-in, and that's pretty neat if you're someone who plans to use it. You can summon Alexa directly from the television remote and tell her your commands the same way you would an Echo. Getting that functionality paired with a huge display was a welcomed experience.
Finally, you have two placement options: a pair of feet that you'll need to screw into the bottom of the television yourself, enabling it to be placed on a stand, or a VESA mount for mounting the television on a wall. Given its ~30lbs weight, wall-mounting isn't terribly difficult.
Issues
I don't have many complaints about this Westinghouse TV. After using it daily for a couple weeks, I could easily see making this my everyday television and I wouldn't feel like I was missing out. Having a single remote for both the television and the Fire platform is great, as is the software tweaks that makes using OTA television so convenient.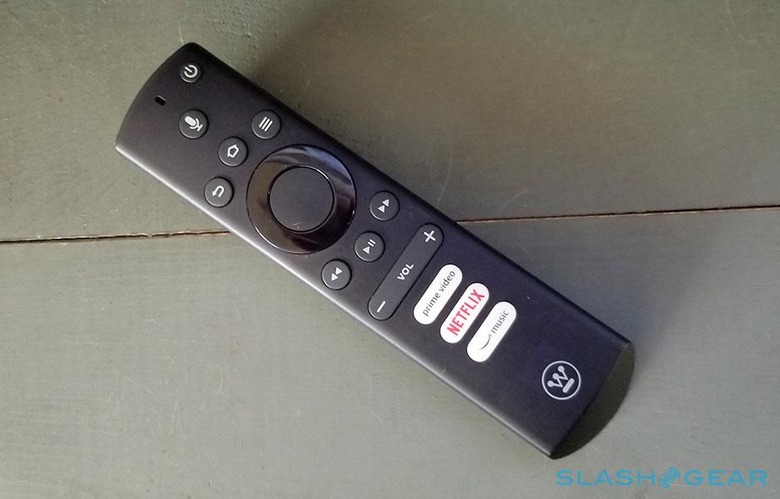 That said, this isn't a perfect model. The biggest omission for many people will likely be the lack of HDR support; if you're going to the trouble of getting a 4K Ultra HD smart TV, you'll probably find it worthwhile to go just a nudge further and tack HDR onto that list. There's really no reason not to.
I would have also liked to see the addition of picture-in-picture, which used to be a basic TV feature, but one sadly being left out on an increasing number of modern flat screen televisions. That's odd given the ever-growing screen sizes for consumer television; if you have a 55" (or greater) display, PiP is more appealing than ever.
Finally, because the remote control is so minimalist, adjusting actual television settings, such as colors and brightness, isn't very intuitive and I found myself having to experiment (and consult Google) to get the answers. It isn't clear just by using the TV that you must, for example, press and hold the 'home' button on the remote to pull up the settings to adjust the TV panel. It doesn't take long to learn all of the shortcuts, however.
Wrap-up
Westinghouse's Amazon Fire TV is a great addition to the budget smart TV market, and it offers enough features to feel like more than just a budget television. There are some notable lapses in feature, HDR being the most obvious, and the display quality will leave some wanting more. Many people will no doubt be very pleased with this model, though, and so if you're looking for a big 4K smart TV at a sub-$1,000 price point, definitely give this TV a long look. The model is available now from HSN and Micro Center for prices ranging from $599.95 to $1299.95 (43" to 65").