Western Digital working on 20,000rpm HDD to rival SSD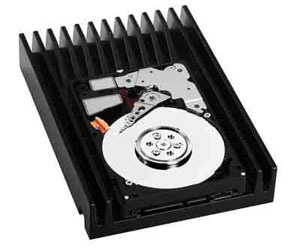 Last Friday, when Seagate announced its intention to build Enterprise-level SSDs, iSuppli analyst Krishna Chander described rival Western Digital as "too deeply lost" in traditional hard-drives.  Today, rumors are spreading that WD, far from being "lost", are in fact planning a platter-based alternative to high-speed solid-state storage.  According to sources close to the hard-drive industry, WD are working on a new unit in the company's Raptor range that would run at an astonishing 20,000rpm. 
The drive, reportedly in development, is apparently a 2.5-inch model with a custom 3.5-inch 'caddy' similar to that of the VelociRaptor VR150.  However, where the VR150's casing acted merely as a heat-sink, the new 20,000rpm Raptor would also serve as noise-reduction; Western Digital are, according to the sources, looking to market the drive as "silent".
Platter-based drives have always been cheaper than SSDs, but analysts are predicting that the solid-state market will develop a lower entry-price over the next 12-18 months.  It's tough to tell whether this is Western Digital putting all their eggs in the HDD basket or, more cunningly, using the high-speed drive as a stop-gap while they fund their own SSD development.