Western Digital WDBAAN0000NBK WD TV Live gets official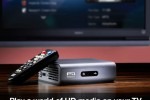 I mentioned yesterday that the Western Digital WD TV Live media player had turned up at Best Buy. Today Western Digital went official with the new media player and offered up the full laundry list of specifications for the device. The most important feature is that the media player supports 1080p video.
The device can transfer movies from PC or Mac computers to networked storage devices like external hard drives to the TV in the living room. The device can support a wide variety of file formats without needing to encode the content differently. Internet programs can be viewed on the TV and streaming music from Pandora is supported.
The device has dual USB ports and can play HD media content from most popular USB drives directly. Video can also be transferred to the USB drive from other network sources using the on-screen menus. The device features a HDMI 1.3 port, composite video, and component video outputs along with SPDIF digital sound output for surround sound. The WD TV Live Media Player is available now for $149.99.