Western Digital WD TV Live media player WDBAAN0000BK-NESN hits Best Buy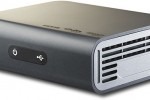 We may receive a commission on purchases made from links.
About this time last year we talked a bit about the first generation Western Digital WD TV Live Media Player. A newer version of the device has now hit the Best Buy website for purchase at $119. The new version of the media player looks much like the old version.
Features of the new player include DNLA and Bonjour allowing you to network the device with your home network for access to media. The device also has USB 2.0 for connecting to PCs and HDMI port for connecting to your TV. The device can play both audio and video files.
Supported formats include AAC, MP3, JPEG, and H.264/AVCHD. The device also has Dolby Digital and DTS decoders for home theater quality sound. The navigation screen is also designed to allow users to find media easily. A compact remote control is included as well. Other features include support for YouTube, Flickr, and Pandora.