Western Digital WD TV Live Hub packs 1TB, 1080p, streaming & more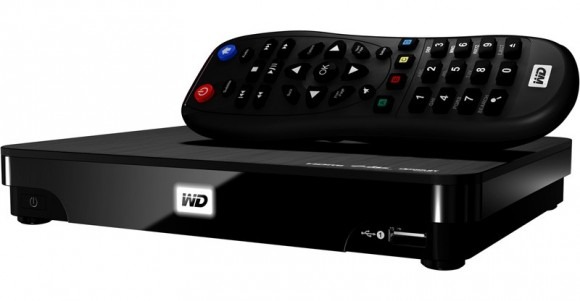 Western Digital has outed its latest media-streaming set top box, the WD TV Live Hub, a low-profile 1TB drive with Full HD 1080p playback support and Netflix, Blockbuster on Demand, Pandora and YouTube.  As you'd expect, there's a fulsome list of supported file types – including MPEG4, Xvid, MKV, H.264 and MOV – while ports include gigabit ethernet, two USB 2.0, HDMI, composite and component video, and optical audio.
Wester Digital throw a remote control into the box as well, and there's support for DLNA and UPnP streaming so you should be able to squirt content to the TV Live Hub from your PC, Mac or smartphone.  In fact the only thing missing for your $199.99 is integrated WiFi, though the company will happily sell you a WiFi dongle.
The team over at DesktopReview has been putting the WD TV Live Hub through its paces, and they seem more than impressed, particularly given a WD 1TB standalone drive on its own is around $129.99.  They criticize the absence of third-party apps but generally can't fault it; however, they also say that Western Digital has been making suspicious noises over Google TV, and while the company won't confirm they have such a box in the works, that's certainly what it sounds like.
[Thanks Kevin!]
Press Release:
WD'S NEW HD MEDIA CENTER STREAMS POPULAR MOVIES AND THE BROADEST RANGE OF PERSONAL CONTENT

WD TV® Live Hub™ Media Center With 1 TB Storage Allows Users to Centralize Video, Music and Photos and Play Full-HD 1080p Video on HD TVs Throughout the Home

LAKE FOREST, Calif. – Oct. 26., 2010 – Western Digital® (NYSE: WDC), the world's leader in external storage solutions and maker of the popular WD TV media player family, today introduced the WD TV® Live Hub™ media center (photo), a Full-HD 1080p media player with a 1 terabyte (TB) built-in network hard drive that gives users the freedom to play all their personal media on any screen in the home. The WD TV Live Hub media center brings new experiences to the WD TV family, including instantly renting or purchasing the newest releases through the Blockbuster On Demand® service, the same day as DVD/Blu-ray release, as well as interacting with personal Facebook® communities. In the U.S., the WD TV Live Hub media center is initially available exclusively at Best Buy online and at all 1,093 Best Buy stores nationwide.

The WD TV Live Hub media center plays a wide variety of media file types, including popular Full-HD 1080p video formats such as .mkv, .mp4 and .mov. The integrated, compact and quiet 1 TB hard drive enables users to centralize their digital media from multiple sources for smooth, glitch-free playback of even the highest resolution videos. Digital media can be easily transferred to the internal drive from shared folders on PCs and Mac®s on the network or directly from external hard drives, thumb drives, camcorders or cameras connected via one of the two USB ports. Users also can stream videos from home network drives with a DLNA/UPnP™ server such as the recently announced My Book® Live™ home network drive.

The WD TV Live Hub media center also is a media server: HD video, music and photos can be streamed from the onboard hard drive to any DLNA/UPnP-compatible TV or multimedia device, anywhere in the connected home, including the WD TV Live Plus HD media player, connected TVs, Blu-ray Disc™ players, Xbox 360®, and PlayStation® 3 game consoles. Users also can stream content from their WD TV Live Hub media center to iPads™, iPhones® or Android™ smartphones using third-party applications.

The WD TV Live Hub media center offers unique Facebook integration, which lets users upload photos and videos, share their status, view their wall and get the latest newsfeed from their network of friends – all on the big screen TV. In addition, the WD TV Live Hub media center provides viewing of Netflix® for movie streaming, YouTube™ for user-generated videos and Flickr® for photo sharing, as well as listening to Pandora®, a personalized Internet radio service. Additional content includes local and international weather forecasts from AccuWeather.com®, and MediaFly® daily video podcasts from CNN®, NBC®, MTV® and ESPN®.

The customizable WD TV Live Hub media center's user interface enables personalization of screen backgrounds and user interface themes, as well as setting of favorites and content ratings. Standard wired or wireless USB keyboards can be used for simpler text input for activities such as searches of local content and YouTube and Facebook interaction.

"The WD TV Live Hub media center lets users create a personalized media jukebox that brings your entire personal content collection and the best of Internet content to the biggest screen in the house," said Dale Pistilli, vice president of marketing for WD's branded products group. "With the WD TV Live Hub media center, consumers can take their home entertainment experience to the next level, streaming personal content to multiple rooms at the same time, so they can play a Netflix video on their HDTV screen in the family room, while sharing vacation slideshows on the computer in their home office."

"People are looking for a versatile, easy-to-use media player that gives them a smooth streaming experience regardless of where they are in the home and whether they're viewing Internet content or personal media content. That's exactly what the WD TV Live Hub media center delivers," said Frank Bedo, merchandise director in computing at Best Buy®. "We are excited to collaborate with WD on this innovative entertainment product."

"Connected media players are an exciting new category that is helping to redefine home entertainment," said Wendy Fritz, senior vice president, computing, at Best Buy. "The WD TV media player series' broad ability with personal content has made it a leading seller. Add to that the premium content services, and the new WD TV Live Hub media center is bringing a whole new dimension to home entertainment."

Other key features of the WD TV Live Hub media center include:

Compatibility with virtually all TV sets thanks to an HDMI 1.4, composite video and component video output;

Automatic sync of shared digital media folders from PCs and Macs on the network with the internal hard drive to provide easy playback of new content;

Customizable user interface and programmable remote;

Ultra-compact design that easily fits into almost any entertainment center;

Two USB ports that allow seamless media playback from USB drives, camcorders and digital cameras;

WiFi-readiness (with adapter); and,

A 1-year limited warranty in PanAm.

The full set of features and list of file compatibility is available on WD's website.

Capacity and Compatibility

The WD TV Live Hub media center is available in 1 TB storage capacity and supports a large variety of the most popular file formats, including HD camcorder video formats. It is also compatible with Windows® 7, including the Windows 7 Play To feature, and any DLNA/UPnP-enabled device.

Price and Availability

The WD TV Live Hub media center is available worldwide (Netflix, Blockbuster and Pandora services are available only in the U.S.) and can be purchased in the U.S. exclusively at Best Buy and online at wdstore.com. MSRP for the WD TV Live Hub media center is $199.99 USD.