Western Digital VelociRaptor VR150 - insane performance from 2.5-inch drive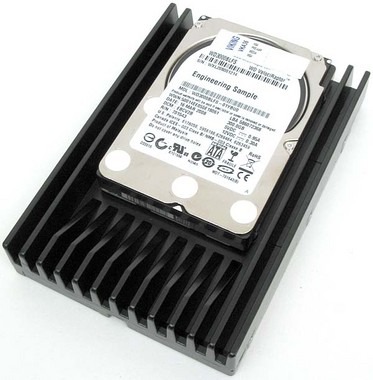 Western Digital know how to make a decent drive, and with the VelociRaptor VR150 they've shown they can create an eye-catching one too.  Proclaimed as the world's first 2.5-inch Serial ATA drive with a 10,000rpm spindle speed, the unit sits inside a mean looking "IcePAK" drive caddy that performs double duty as a heatsink – courtesy of the thirteen cooling fins – and as an adaptor to make the VR150 compatible with standard 3.5-inch bays.  A good thing, too, as the $300 drive wouldn't be much good in a laptop: at 15mm thick it's almost double a standard 2.5-inch notebook drive.  Tech Report have been putting the VelociRaptor through its paces, to see whether the drive lives up to Western Digital's performance promises.

The short answer is yes.  Offering up lashings of speed – courtesy of a smaller platter area for the drive heads to travel, together with that high spindle rpm – and the potential for lower power demands, assuming you don't thrash it, the VR150 sounds to be ideal for both enthusiast and server-builder.  Review author Geoff Gasior even gives it the Editor's Choice award.
"It wasn't the fastest drive in every test and was even beaten by 7,200-RPM drives on a handful of occasions, but the VelociRaptor's combination of blazing-fast transfer rates and lightning-quick access times is a tough matchup for any Serial ATA drive" Geoff Gasior, The Tech Report
Of course, there's a payoff to performance like that, and it's cost.  At $300 for 300GB, this isn't a cheap drive.  Thankfully, the sort of people who need – or just plain want – hardware like this tend to budget accordingly, and from the sound of it they won't be disappointed.