WePad Tablet Gets Second (Working) Video Demo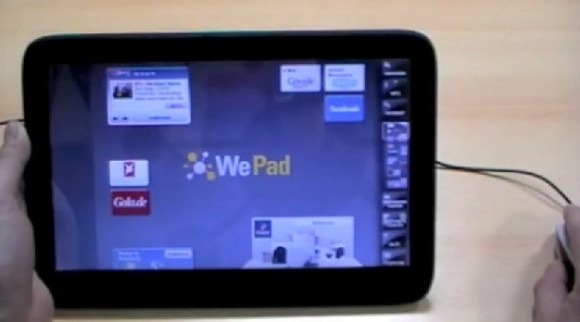 After the first – surprisingly promising – hands-on report about the WePad, there's now a second video of the 11.6-inch tablet in action.  Just as the last video had a little oddness to it (in that the WePad looked to be occasionally doing things of its own accord, because it was actually running a UI demo video rather than being locally controlled), this time around the tablet's touchscreen isn't working and so navigation is via a plugged-in USB mouse.
Video demo after the cut
Still, it's an opportunity to see what the Neofonie custom UI looks like, and if you were disappointed by the lack of widgets on the iPad desktop then you should be overjoyed with the WePad.  Icons can be mixed up with widgetized information and customized on a big grid, while the extra screen size is put to good use with two persistent columns of controls on either side.
Later in the video there's a brief demo of a prototype WePad – with a less curvy case but a working touchscreen – just to prove that everything does work together.  Whether it's worth €450 ($609) remains to be seen, but at least this is a tablet that's actually functional.
[via CrunchGear]