WebOS 1.3.5 update supports Pre gaming video authenticity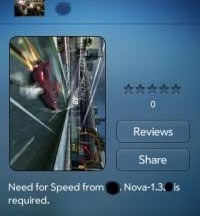 I mentioned yesterday that update 1.3.5 for WebOS on the Palm Pre was inbound. Prior to the update coming in there was a video floating around that showed the Need for Speed game being played on the Pre. Many claimed that the video was a fake since the Pre really didn't have any gaming chops to speak of.
Screenshots of the updated App Catalog that landed with the new update were also floating around at the time the gaming video was unveiled. Those App Catalog screens have been proven now to be the real thing. This leads Pre Central to decide that the Need for Speed video that was floating around was the real deal.
Base files were also found that add in GPU support making the prospect of GPU accelerated gaming on the Pre more believable. It would be interesting to see GPU accelerated gaming on the Pre, but will that make the device more popular? I would say that adding the phone to a carrier other than Sprint would go further towards getting more users than gaming capabilities.