WeatherSignal Is A First For iOS, Uses Sensors For Science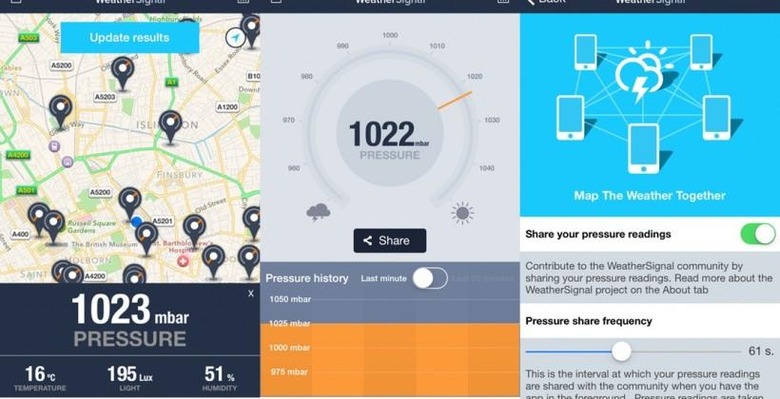 Apple's door to the walled garden has been left cracked open, and as Developers start to find their way in, things are getting awesome in iOS land. One of the Development teams to meander through the garden is OpenSignal, who have a new app for iPhone 6 and 6 Plus in WeatherSignal. Like the famed (and downright amazing) OpenSignal, WeatherSignal will rely on crowdsourced info to provide real-time, local weather info. The app also represents a first for the iOS platform and Developers alike.
WeatherSignal will take full advantage of the new barometric pressure sensors found on the iPhone 6 and 6 Plus. It's the first app to use those sensors for scientific purposes, too.
Users of WeatherSignal for iOS will have the same functionality of their Android comrades (where the app is already live, and downloaded more than 270,000 times!). Reading the barometer on your iPhone 6, the WeatherSignal app crowdsources the info, which the OpenSignal team hope will improve weather forecasting and help us understand the urban climate system a lot better.
If you don't have an iPhone 6 or 6 Plus — don't worry, you can still download the app. You'll still be able to see readings, letting you check the largest crowd-sourced, local weather platform on the earth.
The iOS app dovetails nicely with those already using it on Android, but also comes at an opportune time. OpenSignal's StormTag Kickstarter campaign — which saw them crush their $17,500 goal, ending up with $112,000 — will use WeatherSignal as a back-end solution (and it comes available next month). For those iPhone 5S or earlier holdouts, StormTag will be necessary to contribute your info.
WeatherSignal also needs iOS 8 to work, so if you've not updated yet — now's a good time.
And if you're not convinced yet, check out OpenSignal's blog post announcing WeatherSignal (link below). I won't spoil it for you, but it's THAT good.
Source: OpenSignal, App Store