Wearables expert releases new alleged assault image arguing McDonald's denial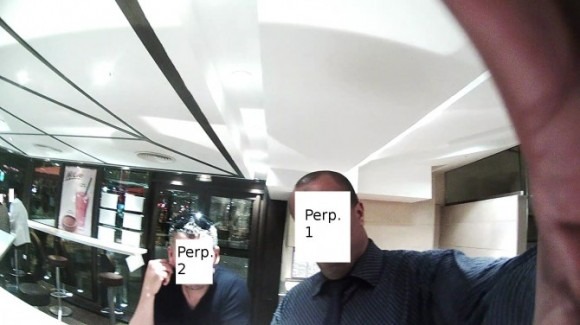 Professional cyborg Professor Steve Mann has responded to McDonald's denials that its staff physically assaulted him, releasing a new photo that reportedly shows one employee in the process of striking his wearable computer. In an update to his original report, Mann added another image captured by his EyeTap headset itself, seemingly showing the primary perpetrator accused in the assault reaching out and making contact with the gadget.
"Perp. 1 struck my Eye Glass" Mann wrote, clarifying that it was "not a direct hit like a punch in the face, but a side-swipe, grabbing motion." Previously, the released photos had only shown Mann surrounded by three individuals supposedly working for McDonald's, including tearing up what Mann says was the letter from his doctor explaining the nature of the EyeTap device and how it is permanently attached to his head.
Mann publicly called out the Parisian restaurant this week, claiming that during a vacation with his family he was challenged by staff unhappy with the possibility of him recording photos or video with the device. According to Mann, the staff grew aggressive and damaged his wearable computer before ejecting him from the restaurant.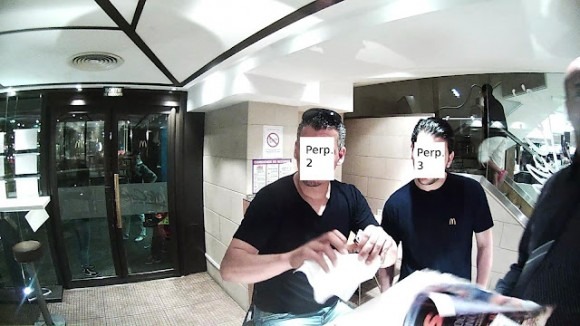 McDonald's countered with a denial, saying that its French management had spoken to staff at the location and all denied any argument and that the incident "did not involve a physical altercation." After the internal investigation, McDonald's insisted that "our crew members and restaurant security staff have informed us that they did not damage any of Mr. Mann's personal possessions."
Not so, according to the longstanding mediated reality researcher. As well as releasing the new image apparently showing contact, he points out that ripping up his doctor's letter counts as damage. "They can't deny tearing up the letter from my doctor," Mann told LAPTOP, "so that also would seem to suggest ill intent, e.g. that in itself is also willful damage to customer's property."
Although the EyeTap Mann was wearing does include a camera, capable of grabbing HD-resolution stills at 120fps, in normal use the headset does not actually store any of those images. However, the device is programmed to shift the transient photo stream into a buffer memory if damaged, hence the apparent record of Mann's incident.
Update: McDonald's declined to comment further on the incident, telling us only that its French team is talking with Professor Mann.